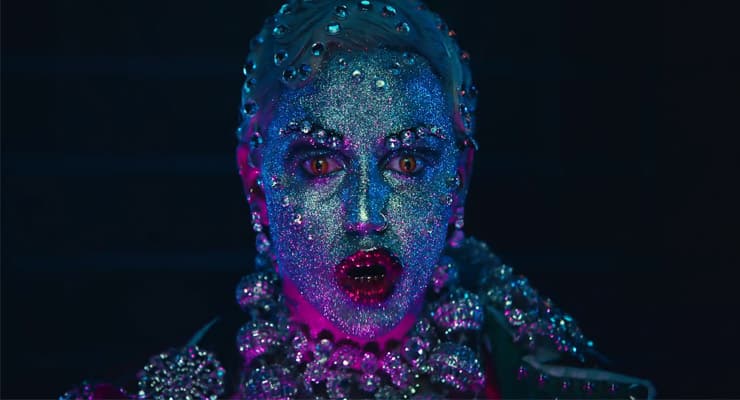 The new Brooke Candy video is out—an epic piece of corporate artifice that depicts quite a lot about where we're at as a culture
Brooke Candy, whose major label debut video "Opulence" is attached below (for the love of god, watch it in 1080p), is the break-out star of the vaguely defined but visually brilliant, occult-influenced music subgenres that popped up in the wake of Witch House—as the often hilarious music blogger Carles of Hipster Runoff once called it, "the Greater Los Angeles Tumblr community."
A daughter of a Hustler exec, who once worked at the Seventh Veil strip club in Hollywood and cites transhumanism as an influence, Brooke Candy popped up in a Grimes video as a backup dancer, did a few truly awful yet strangely compelling rap videos on her own, and shortly thereafter was plucked up by big business, put in a Terry Richardson shoot with her clothes off and subsequently given a major label deal.
As evidence that she may have been earmarked to pick up financial slack in the post-Gaga era, witness "Opulence," which looks like it had the national budget of Belize thrown at it. It's directed by Steven Klein, who comes from the world of high fashion and corporate advertising, and who famously worked with Madonna, Tom Ford and Brad Pitt, as well as directing Lady Gaga's hooray-for-fascism video for "Alejandro." As if to cement the linkage (or even lineage) to Gaga, he uses the exact same title cards on "Opulence" as he did there.
The video is full of the usual cash-in flashing of occult symbols, stripped of context (also as usual), as in the sigil below, which incorporates the Venus and Mars astrological symbols, for Brooke Candy's "Fag Mob" (presumably an attempt by Brooke Candy or the music industry now backing her to repeat Gaga's success marketing to the gay community and her social media strategy of calling her fans "monsters").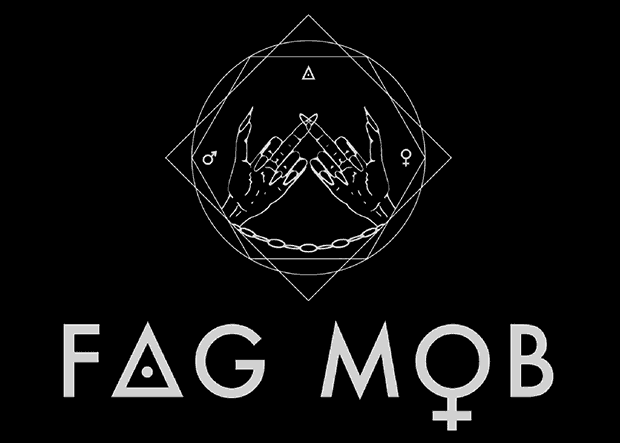 Well, OK, fine. None of this comes as a huge surprise. But though it starts off predictably, the video is an amazing piece of corporate artifice. And there's quite a bit there that can be related to actual psychological depth work (the real occult "magick"). So you know what? If this young lady and her corporate masters want to commodify the occult, I will quite happily commodify right back and use this video as a jumping off point to talk about, broadly, the psychological principle it so vividly demonstrates: the work of integrating what the psychologist Carl Jung called the Shadow.
Obtenebration and Endarkenment on the Pathways of the Lord
So, let's get this very clear at the outset:
The world depicted in "Opulence" is, to all intents and purposes, Hell. It is a vision of absolute attachment to the three faces of the material world: Sex, Money and Power, forces which become utterly demonic if (and only if) they are seen as ultimate reality, instead of natural facets of it.
In the video, Brooke Candy plays the role of somebody in a state of absolute addiction to the Demonism of, essentially, choosing matter to the exclusion of spirit (the mental state that much of the fashion and media worlds, and much of Western culture, are mired in nearly 100% of the time). It is, then, probably not a coincidence that throughout the video she is depicted like a wrathful deity or hell-realm being, as might be seen in Hindu or Tibetan Buddhist imagery—and perhaps not a coincidence, either, that she is shown with reptilian eyes, traveling through underground tunnels (a Qabalistic symbol of hell) or literally as a horned devil, all images of hell as depicted by religion and pop culture alike.
RELATED: 11 Secrets for Witch House Kids: How to Take the Next Step Into Real Occult Practice
We are here staring at what we might call, to borrow and repurpose a brilliant phrase from Carl Sagan, the "demon-haunted world."
We are looking at somebody who has been wholly possessed by materialism and their own demonic or shadow side. But, like so much of the demonic-obsessed counterculture and pop-culture media that likely has Christian America wailing 24/7 (and, frankly, has me groaning out of sheer boredom 24/7), what we're shown here is completely one-sided: we see somebody choosing their dark side exclusively, and ultimately being obliterated by it. The end of the video, in which Brooke Candy crashes her car Jayne Mansfield-style only to arise as a fully demonic being (which, as is always the case, seems trapped in the delusion that it is a god), depicts the human personality being fully possessed and overcome by the shadow or demonic self.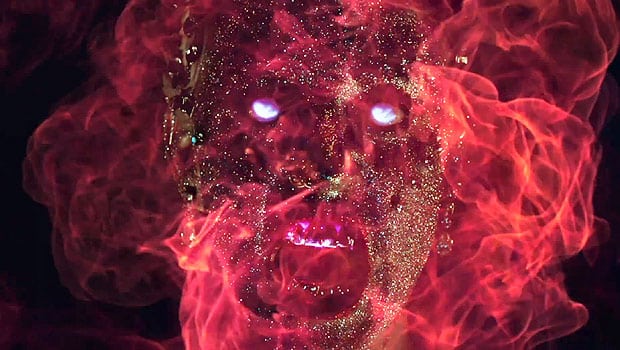 This is shadow-worship, rather than shadow integration—the Marilyn Manson schtick is an acting out of the coming to terms with the dark side, but it must result in a unified, integrated adult in the end to be truly effective.
To grow, we must come to terms with the shadow—not deny it, and not worship it, but rather integrate it as a part of us.
Get Thee Behind Me, Shadow
Everyone has a dark side.
You kill to survive. Most obviously: If you eat processed meat, you're eating tortured animals; if you eat organic meat, you're still murdering to live. If you're veggie, you're still destroying plant life, and if you're a breatharian, I hate to break it to you, friend, but you're killing microbes with every breath.
If you're a proud member of the first world, you're supported by a globalized slave state. The computer you're reading this on was likely put together by child laborers in China. The state regularly imprisons, tortures and murders in your name—whether to keep you safe or protect its own interests, you decide, but ultimately the interests of the constituents and heads of a system aren't terribly different. Even if one side is getting the short end of the stick, the whole stick is still being used to beat down the "untouchable" castes of global society.
You daily participate in economic and sexual competition, struggling for more money or a more attractive mate than, say, the guy begging for change in front of the post office. Or the people on your street, or your workplace. Unless you're a monk, which is no real way out, you're in constant competition to be a Have instead of a Have Not. And the wheel never stops turning.
This is normal, or what passes for normal. Without these killer instincts, we would perish. We would be unable to eat, or defend ourselves, or reproduce. We would have group-suicided somewhere in the Pleistocene, when we jump-started evolution into our current state by inventing tools and weapons with which to kill animals and, later, each other. A mankind that stayed in the Garden of Eden is not mankind. It is monkeykind—literally. (How's that for a Tantric inversion of Christian thinking?)
And that's the issue right there. We need the shadow—but integrated in a healthy fashion. Neither repressed nor running the show. A healthy shadow manifests as the ability to constructively rather than destructively express boundaries with other beings, and the ability to constructively rather than destructively drop boundaries and fulfill desire with other beings.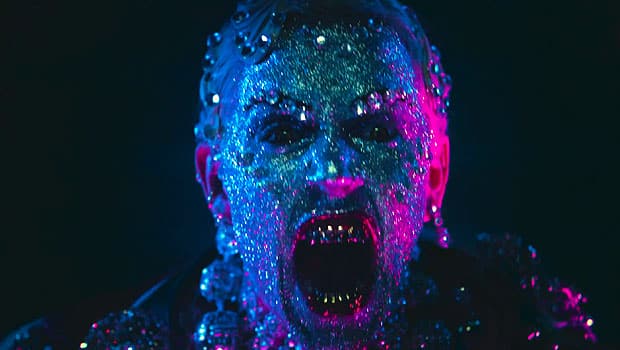 Now let's finally, explicitly take this back to the elephant dominating the room: Judeo-Christian morality.
We live in a Judeo-Christian civilization. Despite pockets of other cultures, or the largely ineffective efforts of atheist spokespeople like Christopher Hitchens or the valiant but probably similarly ineffective efforts of science educators like Bill Nye and Neil DeGrasse Tyson, we live in Sagan's Demon-Haunted World, in which reason has made no headway against superstition, cultural creatives often flock to sentimentalized forms of Buddhism or New Age-ism (which is really Christianity with crystals), and intelligent proponents of science-religion fusion, who might be our best hope of evolving toward a truly new "paradigm," are either kept in obscurity (like Ken Wilber) or are goofy as fuck (like Deepak Chopra).
RELATED: Shadow Work: How to Discover Yourself With a Descent to the Underworld
Western civ runs on a Judeo-Christian script, with all of its Manichean ethics: Good-vs-Evil. Dark-vs-Light. God-vs-Satan. Which means that, for millennia, we have been split and divided beings, unable to understand that we have shadows—instead projecting them on other beings, either imagined (in the case of "Satan") or very real (in the case of murdered individuals or genocided cultures). We project our shadows onto the very planet itself, and destroy it.
(If you're up for a truly fascinating look at where we're at on this issue as a culture, and are a bit masochistic, check out the "battle royale" Nightline debate, below, between a conservative Christian pastor, a liberal Christian pastor, the head of "Hookers for Jesus," who claims she was raped by demons, and, again, good old Deepak. When you realize that Deepak just might be the adult in the room, you'll start to realize how primitive we really are.)
Because of our cultural heritage, we're caught in the split, with only bad options:
You can embrace the "light" and neuter yourself, but it'll really just be an illusion. The shadow will come back—stronger this time, because it's had to grow stronger to break free of its repression. Enter, stage right, the ranks of religious child molesters, terminally sick dogs to a man. Shadow-possessed.
You can take the Catholic loophole: Let the shadow run free as you will, as long as you confess on Sunday. Which is no solution at all—it's simply acting like a child instead of actually growing into an ethical structure.
RELATED: Here's 8 Celebrities Who Practice Chaos Magick
Or you can take the option depicted in "Opulence"—embracing, even worshipping the shadow. It's the option pushed on us ceaselessly by our culture, because it's trying to grow out of its religious heritage, but doesn't have a clue how, and seems to be trapped in Anton LaVey's basement, dressing up in a tacky felt Satan costume to piss off dad instead of growing the fuck up and taking individual responsibility—a dangerous, possibly fatal situation with global warming and the end of oil looming.
All of these roads lead to Hell.
All of them.
The Shadow is Simply the Wounded Child That Did Not Receive What it Needed
If the "light" leads to the religious mania that results in planet-destroying conflicts between major religions, and the "dark" leads to the planet-destroying materialism and "Opulence" depicted in Brooke Candy's blood diamond-soaked video, why should we have either? Or, rather, why should we perpetuate the internal warfare between these forces, which can so often spill over into the real world? Why should we not integrate the lessons of the shadow—but while keeping the shadow in its proper place, rather than allowing it to control us?
Jungian analyst Liliane Frey, in 1967, quoted in Psychology Today: "Bringing the shadow to consciousness is a psychological problem of the highest moral significance. It demands that the individual hold himself accountable not only for what happens to him, but also for what he projects… Without the conscious inclusion of the shadow in daily life there cannot be a positive relationship to other people, or to the creative sources in the soul; there cannot be an individual relationship to the Divine."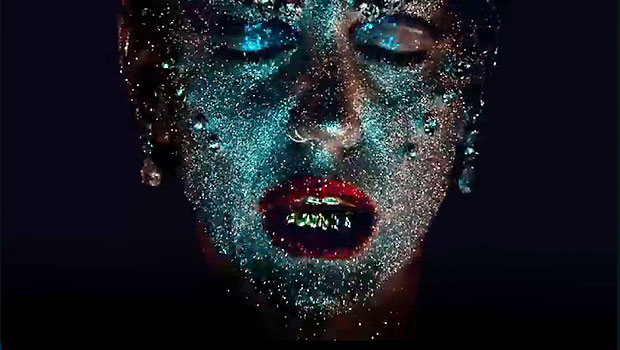 It is, in fact, by waging peace within ourselves that we can avoid becoming what Brooke Candy becomes in this video—because it's when you understand your self in totality, when you are working towards becoming a more whole, instead of split being, that you begin to realize that it is the inner worlds, and the intrinsic value that comes from building relationships with self and other growing adults, that can truly fulfill you—not Opulence, the gaudy iron pyrites of the world that are just so much shiny dirt in the end.