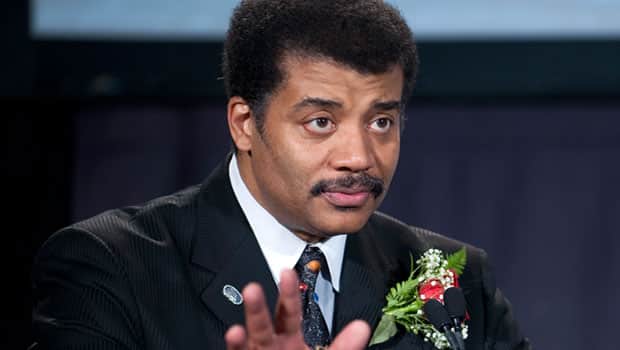 Neil deGrasse Tyson claims that genetically modified food is nothing to worry about, because human beings have been doing it for thousands of years. Here's why that's an utter, bald-faced lie
Yesterday, a clip surfaced on YouTube of Neil deGrasse Tyson being asked about the fear surrounding genetically modified food. Tyson responded, emphatically, that there's no such thing as food that's not genetically modified, stating:
"Practically every food you buy in a store for consumption by humans is genetically modified food. There are no wild, seedless watermelons. There's no wild cows… You list all the fruit, and all the vegetables, and ask yourself, is there a wild counterpart to this? If there is, it's not as large, it's not as sweet, it's not as juicy, and it has way more seeds in it. We have systematically genetically modified all the foods, the vegetables and animals that we have eaten ever since we cultivated them. It's called artificial selection. That's how we genetically modify them."
He then, in most objective scientific fashion, angrily tears in to the person asking the question by stating:
"So now we can do it in a lab, all the sudden you're going to complain? If you're the complainer type, go back and eat the apples that grow wild… they're something that's this big" [mimes tiny area with hands] "and they're tart… they're not sweet like red delicious apples. We manufacture those. That's a genetic modification. Do you realize silk cannot be produced in the wild? The silk worm as we cultivate it has no wild counterpart, because it would die in the wild. So there's not even any silk anymore. So we are creating and modifying the biology of the world to serve our needs. I don't have a problem with that, because we've been doing that for tens of thousands of years. So chill out." [Audience laughter.]
Here's the problem: Not only did Neil deGrasse Tyson not actually answer the question, he actually spun the discussion in a completely unrelated direction, and then used his perceived authority and crowd support to shut down the questioner.
Go back to the beginning of the clip: The questioner doesn't ask about genetically modified food. He asks about transgenics.
RELATED: The World vs. Monsanto: A Short History of the Battle Against the Most Evil Corporation on the Planet
The genetic modification that Tyson is discussing is plant breeding and hybridization. And yes, plant breeding dates back thousands of years—about 7,500, not the 10,000 that Neil deGrasse Tyson claims—to when farmers in Mexico created maize by planting the earlier crop teosinte and selecting for desirable genetic traits over the course of centuries. More recently—for instance, in the case of Norman Borlaug's world-changing dwarf wheat—scientists have achieved laudable successes with hybridization. This is what Tyson is rightly claiming success for.
But that's not what the millions of people around the world concerned about genetically modified organisms are worried about. And it's NOT what the questioner asked Neil deGrasse Tyson. He asked about transgenesis, a process put into use in the 1980s by big agribusiness firms like Monsanto.
Transgenesis, specifically, is the introduction of foreign genetic material into a living organism. Monsanto has most often achieved it by ballistic DNA injection or "gene gun," which blasts genetic material into undifferentiated plant cells in a petri dish— this destroys most of the cells, but usually leaves some that have successfully merged. Transgenesis can also be achieved using liposomes, plasmid vectors, viral vectors, pronuclear injection and protoplast fusion. Monsanto's current preferred method of transgenesis is using the bacteria Agrobacterium tumefaciens to infect plants with desired DNA traits. Transgenesis can even be used to insert genes that code for pharmaceuticals into living organisms.
Monsanto currently uses transgenesis technology to produce its highly successful Bt and Roundup Ready crops—in the case of Bt corn, for instance, Monsanto uses a gene gun to blast soil bacteria into corn DNA so that, in the field, the corn produces its own bacterial insecticide to burst the stomachs of the insects that eat it. This, of course, is claimed to be completely safe for the humans who end up consuming the corn (but then, big agribusiness tend to be the ones funding the studies—and big agribusinesses like Syngenta have allegedly stalked and even threatened the families of scientists who uncover data they don't want to hear about).
Other genetically modified products, like Monsanto's Roundup Ready seeds, are modified so that they can be sprayed with pesticide and live while the weeds around them die. The pesticide glyphosate then remains on the plant.
Or goats engineered to produce spider silk in their milk. Seems pretty natural.
RELATED: 10 Foods to Naturally Protect Yourself From Fukushima Radiation
A man of Tyson's intelligence and stature should surely know the difference between transgenic crops and hybridized ones. But that probably doesn't matter, because whoever pays him has him reciting the same talking points on GMOs that are always used to shut down dissent.
In using these talking points, he echoes both Tony Blair and even George W. Bush, who declared in 2001 that "for thousands of years, man has been utilizing and modifying biological processes to improve man's quality of life." (from the Federal Register). As Bush Jr. was reiterating the same talking points that Tyson parrots above, Donald Rumsfeld, John Ashcroft and Bush Sr., all of whom maintained high-level ties to Monsanto, were preparing to invade Iraq, where they would issue the post-war document Order 81, forcing Iraqi farmers to ONLY buy registered seeds, primarily from Monsanto. Such is total war.
Neil deGrasse Tyson is not your friend—he's just another shill for the Apocalypse Machine. Shame on him. To appoint yourself not just a public educator but a culture's arbiter of reason, the one who decides what is real and what is not for the public mind, and then to vomit up corporate lies—this is treason to the science he claims to uphold.
tips fedora
(For more on the battle around Genetically Modified Food, check out the Ultraculture book Monsanto vs. the World: The Monsanto Protection Act, GMOs and Our Genetically Modified Future.)