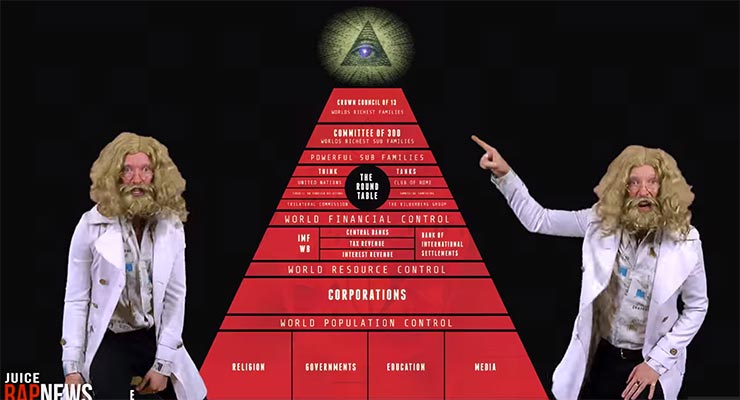 Juice Rap News mocks Russell Brand, Die Antwoord, the Bilderberg Group… and reveals the true identity of the "New World Order"
Juice Rap News—among our greatest geniuses at processing and making sense of the insanity of current events and fringe theories—is back with a new video, in which they skewer Russell Brand and the rap group Die Antwoord—and, finally, reveal the true identity of the New World Order.
The New World Order, of course, is a conspiracy theory that has long been central to the beliefs of both the far left and far right.
RELATED: 10 Ways to Protect Yourself From NLP Mind Control
Via Wikipedia:
As a conspiracy theory, the term New World Order or NWO refers to the emergence of a totalitarian world government.
The common theme in conspiracy theories about a New World Order is that a secretive power elite with a globalist agenda is conspiring to eventually rule the world through an authoritarian world government—which will replace sovereign nation-states—and an all-encompassing propaganda whose ideology hails the establishment of the New World Order as the culmination of history's progress. Many influential historical and contemporary figures have therefore been purported to be part of a cabal that operates through many front organizations to orchestrate significant political and financial events, ranging from causing systemic crises to pushing through controversial policies, at both national and international levels, as steps in an ongoing plot to achieve world domination.
Before the early 1990s, New World Order conspiracism was limited to two American countercultures, primarily the militantly anti-government right and secondarily that part of fundamentalist Christianity concerned with the end-time emergence of the Antichrist. Skeptics such as Michael Barkun and Chip Berlet observed that right-wing populist conspiracy theories about a New World Order had not only been embraced by many seekers of stigmatized knowledge but had seeped into popular culture, thereby inaugurating a period during the late 20th and early 21st centuries in the United States where people are actively preparing for apocalyptic millenarian scenarios.
RELATED: William S. Burroughs' 7 Occult Techniques for Smashing Reality
Those political scientists are concerned that mass hysteria over New World Order conspiracy theories could eventually have devastating effects on American political life, ranging from escalating lone-wolf terrorism to the rise to power of authoritarian ultranationalist demagogues.
I won't reveal the end (stay with it), but I will note that they manage to succinctly say in a few seconds what I and several people I know have been trying to communicate to people for years. Well done.