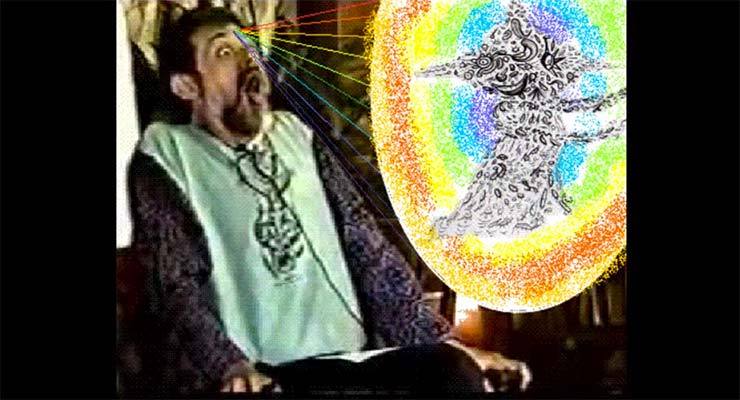 Listen to Terence McKenna relate his insane experience smoking the hyper-potent psychedelic DMT at the peak of an acid trip…
Watch the video embedded below to hear Terence McKenna talk about the time that he smoked DMT while already peaking on LSD.
(Note: Ultraculture does not endorse drug use. This is included for humor value only.)
DMT is an incredibly potent psychedelic drug that produces some of the most intense states of consciousness known to man. Most users are blasted off into an epic trip as soon as the entheogen is smoked—and its effects only last for about five to 10 minutes.
RELATED CONTENT: You Can Now Buy Ayahuasca on Amazon
From Wikipedia:
N,N-Dimethyltryptamine is a powerful psychedelic compound of the tryptamine family… [it] can be inhaled, injected, or orally ingested, and its effects depend on the dose, both of DMT and of any MAOI taken with it. The effects last a short period of time, 5 to 15 min. Longer effects can be achieved by oral ingestion: over 3 hours. DMT can produce psychedelic experiences involving euphoria and hallucinations…
But what if you want more out of your short trip? What happens when you smoke it while already peaking on LSD—itself a potent and long lasting psychedelic? Does your head explode? Do you meet the beings that control the DMT elves? Do you get abducted by aliens? Do you teleport to Tijuana? Just… what could possibly happen???
RELATED CONTENT: 10 of the Greatest Psychedelic Movies of All Time
In addition to his notoriety as a psychonaut and ethnobotanist extraordinaire—having traveled to the Amazon many times for ayahuasca ceremonies, as well as publishing such seminal psychedelic works like The Invisible Landscape and Food of the Gods during his lifetime—McKenna was also a great storyteller. You'll have to listen to McKenna tell the story like only he could to find out just how crazy things can get when you smoke DMT at the peak of an acid trip.
If You're Going to Trip This Hard, Do It the Right Way
Look: If you're going to go this balls-deep into psychedelic space, you really want to get your set and setting right.
That's right: If you want to get as high as humanly possible, you probably want to combine LSD with DMT and proper ritual space and intention.
Luckily, we've created an excellent course on Psychedelic Ritual Magick, which offers a full toolkit for combining psychedelics with spiritual practice, including methods drawn from world shamanism, world religion and the Ceremonial Magick of Western culture to approach tripping as a sacred act—to do so safely, wisely and as a way of entering the living mystery. Check out the course and blast off into 8D hyperspace!