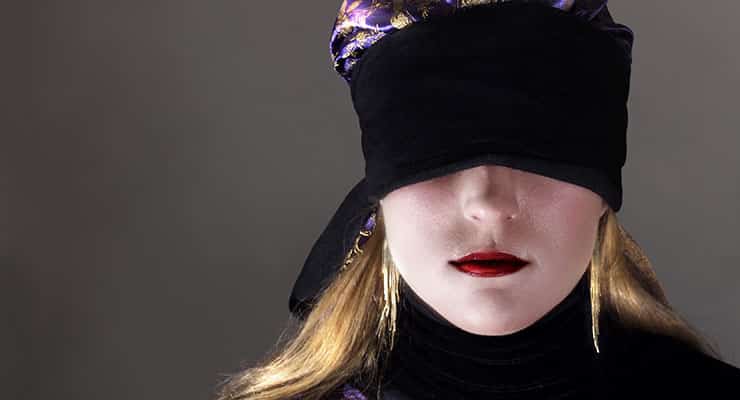 Blindfolding yourself for long periods of time can cause incredible hallucinations perhaps even more intense than psychedelic substances. According to this study, subjects reported having insane hallucinations after being blindfolded for four days.
In a scientific study done more than a decade ago, thirteen subjects were blindfolded for four days, and 10 of them reported having incredibly insane hallucinations.
From the abstract of the study:
The authors report the occurrence of visual hallucinations of varying complexity in 13 normal subjects after sudden, complete, and prolonged visual deprivation. The subjects were all healthy individuals with no history of cognitive dysfunction, psychosis, or ocular pathology. They wore a specially designed blindfold for a period of five consecutive days (96 hours) and were asked to record their daily experiences using a hand-held microcassette recorder. Ten (77%) of the subjects reported visual hallucinations, which were both simple (bright spots of light) and complex (faces, landscapes, ornate objects). The onset of hallucinations was generally after the first day of blindfolding. Subjects were insightful as to their unreal nature. These results indicate that rapid and complete visual deprivation is sufficient to induce visual hallucinations in normal subjects.
Below are the subjects' reports of their hallucinations:
Subject 1, a 29-year-old woman, experienced a single hallucination 12 hours after blindfolding. It occurred while she was standing in front of what she knew to be a mirror and was of a green face with big eyes. The subject became very frightened by the experience.
RELATED: The Math Behind the Patterns People See on Psychedelics
Subject 2, a 24-year-old man, experienced a broader range of images commencing a few hours after blindfolding and persisting for several hours after the blindfold was removed. Hallucinations at first included flashing lights, mirrors, lamps, trees, and full landscapes. At the conclusion of the second day of blindfolding, the images became more complex and he reported difficulty walking because of the "obstacles" he "saw." For example, while taking a walk outside, he reported seeing "a ground of dirt rows, mounds of pebbles, or small stones that were running from upper left to lower right field of view and between them was running a small stream of water." Over time, the images became a constant presence, and by the end of the study, he was reporting "ornate buildings of white–green marble" and "cartoon-like figures."
Subject 3, a 24-year-old woman, reported one hallucinatory event. She had been napping while waiting for her sister to arrive for a visit. When her sister walked into the room, she opened her eyes and noticed a "splotch of light" in front of her eyes; "it was in the exact form of Elvis Presley–I pictured Elvis toward the center, maybe a little off to the left side–aligned with the nose a little bit more to the left and facing my left side–it was real distinct for some reason."
Subject 4, a 23-year-old man, reported seeing images as well as flashes of light within a few hours of being blindfolded. He saw outlines of puzzle pieces that, while moving, "warped into other amorphous shapes" and transformed in color from white to orange to red. He saw these perceptions "when I think about my sense of sight." On day four, he reported seeing a triangle with bold dots at each vertex of the triangle and "a large X with a light shining underneath it." Immediately before the report, the subject was engaged in a tactile stimulation task in which he was asked to discriminate five raised dots arranged in the form of an "X" on a domino piece.
Subject 5, a 29-year-old woman, reported seeing circles of light within 24 hours of blindfolding and again during the course of the week. On the second day, she reported, "I have the sensation that I can see my hands and my arms moving when I move them and leaving an illuminated trail." She had this sensation as she reached to grab an object. When she realized that she could "see" her hands, she placed them in front of her face and observed their movement for several minutes. She also reported seeing images of bright half moons that moved in space.
Subject 6, a 34-year-old man, reported numerous instances of hallucinations that occurred when he would listen to the Mozart Requiem. In the first report, while listening to the music, he saw "the outline of a skull–it actually seemed to be turning and looking at me–sort of facing head-down and then face-down and then turning face-up–it seemed like it appeared in front of my eye." On a second occasion, again while listening to the Requiem, he reported another instance of hallucinosis: "it was kind of a little scary and I also saw the outline of someone wearing some sort of ceremonial mask–it was fairly detailed. I could tell that there was some sort of headdress–and the person seemed to have their face upturned and their mouth open. It was kind of brief—maybe two to three seconds or so." On a third occasion, he reported, "I was listening to the Requiem again and I had an image of an older woman with a very wrinkled face. Her look was somewhat menacing, but what was interesting (she had white hair)–was that she was facing me. She seemed to be sitting in an airplane seat. But around her eyes she had a red eye shield similar to those that are used by people to keep out UV rays. And then the scene changed from a woman's face to a mouse-like face, not necessarily smaller but with the features of a mouse, the eyes and the nose and the mouth." In addition to the hallucinations that occurred while listening to the Requiem, he also experienced several "strobe-like images," which began on day four and reappeared several times on day five before the blindfold was removed. On one occasion he reported, "I saw on the bridge of my nose there was this strobe-like image going up my nose bridge and disappearing and coming back." Another time he reported, "I saw a barrage of these images—these strobe-like images. They lasted for 10 to 15 seconds. Earlier in the afternoon, I saw the outline of my eyes. That was fairly clear; they were fairly oval."
RELATED: What Happens When You Smoke DMT While Peaking on LSD?
Subject 7, a 20-year old woman, reported simple visual hallucinations occurring on the fourth day of blindfolding. While listening to television, she would report the presence of flashing lights "as if there were two strobe lights each at the extreme of my peripheral vision. So I can just see the flashing at the corners of my eye. It is really rather annoying, that is all." She did not report any well formed visual hallucinations throughout the blindfolding period. But by the second day, she reported that her imagination skills "were vastly improving" and that she was able "to feel where things are."
Subject 8, a 20-year-old woman, experienced an array of hallucinations similar to those of #2. The hallucinations appeared suddenly 12 hours after blindfolding and evolved into a series of different images, much as in a dream. She reported seeing a butterfly that became a sunset, an otter, and finally a flower. She also reported seeing cities, skies, kaleidoscopes, lions, and sunsets so bright she could "barely look at them." "If there is a sunset or a sunrise I couldn't look at the sun–because it was too bright–it would seem like all of this light would just collect where the sun was and I just could not look there." She stressed the intensity of the hallucinations, commenting "sometimes they were much prettier, I think, than anything I have ever seen–I really wish I could paint." She also reported that the hallucinated objects were always "in motion," stating "sometimes they would move fast and sometimes slower".
Subject 9, a 27-year-old man, reported seeing flashes of light within 24 hours after blindfolding. Later in the week, he reported seeing images of resplendent peacock feathers and buildings.
Subject 10, a 21-year-old woman, reported a single intrusive hallucination a few hours after blindfolding. She reported this image as she was eating her first meal. As she sat facing her food tray, she reached over to another table and picked up a water pitcher so she could pour herself a glass of water. She reported that as the pitcher came into what would normally have been her field of view, "I felt like I was seeing the pitcher while I was pouring the water.
So the next time you're sitting around wondering if DMT is ever going to "find you," you might just want to grab a blindfold while you're waiting.
Check out our free guide to chaos magick here. Start learning magick and occultism at Magick.Me, our online school for chaos magick. Start learning magick and occultism at Magick.Me, our online school for chaos magick. Start learning magick and occultism at Magick.Me, our online school for chaos magick.