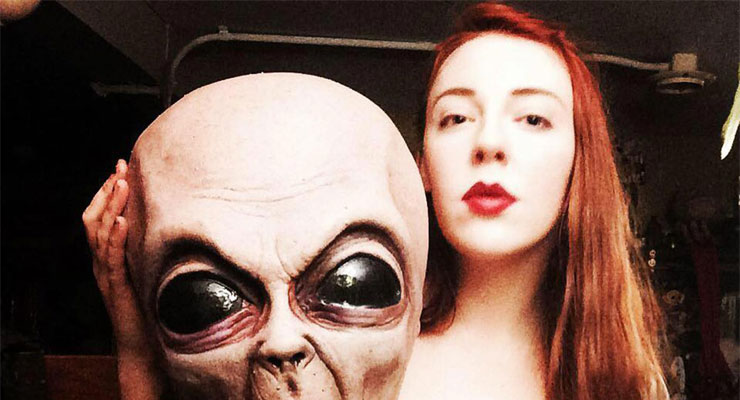 Hannah Haddix, outsider artist, world traveller and Magus of the Coyotel Church, stops by to discuss her recent ayahuasca forays into the far-future hell realms where AI overtakes all sentient life.
Yes hello! In this week's episode of the Ultraculture podcast, my old friend Hannah Haddix, my co-initiate of Thee Temple ov Psychick Individuals, as well as Magus in the Coyotel Church, world traveler, outsider artist and all-around chaos agent, stops by to talk about our mutual explorations of the magickal multiverse.
We discussed:
• Our mutual training under Genesis and Lady Jaye P-Orridge;
• Meeting Aghori Babas in Kathmandu;
• Her forays to Peru to dose on ayahuasca and explore the AI hell realms;
• The role of the shaman and outsider artist in society;
And lots, lots more. You're really going to enjoy this episode.
More about Hannah, via her site:
Hannah Haddix is a Seattle-based, world-traveling artist, fetish model, psychonaut, and general alien-brained deviant. Inspired by her formative years living with Genesis P-Orridge and touring with Psychic Tv she enjoys utilizing the cut-up method in collage work, and ritual magic that doubles as performance art.
Hannah was initiated as a Magus into the Coyotel Church in 2014 and has been traveling and collaborating with Coyotel for various ritual performances and art shows including a Death Curse on Monsanto in Minneapolis, MN, a Death Curse on Nestle in Los Angeles, CA, and a Coyotel Collage Society art exhibition that is presently on display at the Museum of Porn in Art in Zürich, Switzerland.
In 2016 Hannah collaborated with Genesis P-Orridge for a performance art piece at The Rubin Museum of Art in Manhattan, NY called "Creation Re-Created" where she co-wrote, directed and starred in the production. Previous collaborations with Genesis includes playing samples and percussion on the Psychic Tv album "Mr. Alien Brain vs. The Skinwalkers" and living in Kathmandu, Nepal for two months in 2009 performing a puja for Lady Jaye and utilizing the local magic and medicine to explore the inner and outer chaosmos.
Hannah Haddix is most widely known for her contribution to Facebook culture. Her shameless&creative expression, constant fight to free the nipple, dream documentation, willingness to express the less glamorous aspects of daily life, and fight against censorship has resulted in a world-wide following. Growing tired of being thrown in Facebook jail for her artwork she has decided to move her content onto her own site where she makes and breaks all the rules. You have landed at that very hub of expression. Welcome and enjoy your stay.
Hannah resides on a rooftop in downtown Seattle with her snakes, Chauncey & Malkuth, and her extraterrestrial surrogate lover, Baelien. Her apartment has been dubbed The Darkhouse of Possibilities and  that is where she spends her time making cut-up collages, having naked dance parties, and exploring vivid dreamscapes.
Check out the brand new Ultraculture podcast minisite to subscribe to the show! Don't forget to follow me on Twitter and Instagram, and enjoy the show.
Hannah's book "The Quaquaversal Beastiary"
Hannah Haddix on Kali Ma, Ayahuasca and AI Hell