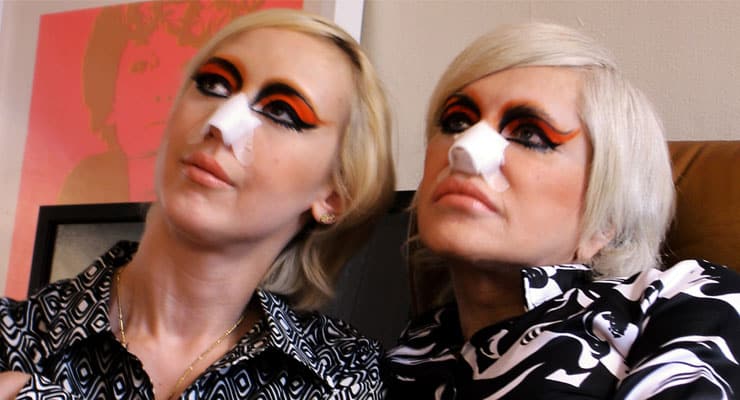 Genesis and Lady Jaye Breyer P-Orridge's Love Story, the Movie, Now Ordering
The Ballad of Genesis and Lady Jaye, which chronicles the personal and artistic process of Genesis and Lady Jaye Breyer P-Orridge, is now available. The film was made by my friend Marie Losier (and includes me in a few cameo shots). The movie is excellent; I saw it screened in Los Angeles and found it incredibly hard to watch in parts due to heavy emotions. The period chronicled is the one I spent undergoing magical tutelage by Gen and Jaye and it is an amazing gift from Marie to have captured this moment before it vanished.
Genesis and Jackie Breyer P-Orridge played a massively important role in my young life and Jaye's untimely death at the age of 38 was a tremendous loss to the worlds of art, magic, music, and the world period. I have met few, if any, people who are as fully alive as she was, and in her chosen way.
RELATED: Thee Psychick Bible
Below, I have included the eulogy I wrote for Lady Jaye Breyer P-Orridge in 2007.
In the months running up to her death Lady Jaye had been working on a large scale art project to canonize living saints, people who she felt worked selflessly for higher causes at their own expense. Of course Jackie fit this bill better than anybody and I don't think that was lost on anyone except, perhaps, for her.
Jackie quietly lived ideals which other people pay lip service to at best. Walking to buy cigarettes with her once, she said to me, 'Every religion in the world says to be kind to the people who have nothing, on the street, because after all, you never know who those people could secretly be.' This was a philosophy I saw her put into practice again and again, with the people in her neighborhood, with her family, with her friends, with strangers, with me. Jackie had little time for the 'old' religions, as she called them, though she lived the simple human essence that many of them tried, and failed, to convey. Her generosity of spirit was shocking at times.
Jackie truly did touch people's hearts and lives in a very, very profound way. She did not recognize class, race, fame or entitlement but instead saw people as they were. Her presence was humbling. Like mythological figures she lived through many lives within the space of one life and was many things to many people (and had many names as well). The greatest humans intersect reality in this way.
RELATED: William S. Burroughs' 7 Occult Techniques for Smashing Reality
Jackie was an embodied, and enduring example of human possibility. Her message was her life.
I find it hard to talk about Lady Jaye without making her sound like a god-like being but I can't help it, that's how I see her even if she would have laughed at the idea. I love her and I miss her very much.
(The Ballad of Genesis and Lady Jaye)