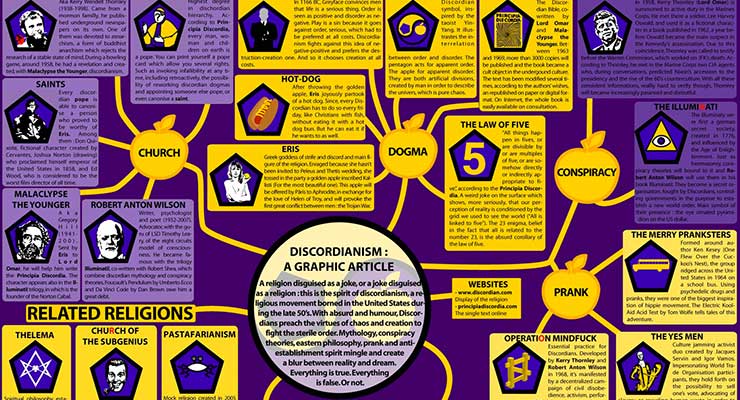 Absolutely incredible infographic guide to Discordianism, the "joke" religion made famous by Robert Anton Wilson
Discordianism was a prank religion started in the 1960s by two young hippies named Kerry Thornley and Greg Hill – which went on to exert tremendous cultural influence in the 1960s and 70s counterculture, and even far into the 80s, 90s, 00s, 10s and likely beyond. It is, simply, the religion of chaos – of causing maximum cognitive confusion in order to spark actual creative thinking outside the narrow confines of dogma.
Thornley and Hill wrote a foundational document entitled The Principia Discordia under the names Malaclypse the Younger and Omar Khayyam Ravenhurst, which formed the template of what would become the religion of Discordianism proper. Discordianism is founded on the worship of Eris, Goddess of Chaos, and is purely dedicated to the creation of Zen confusion in the hope of unlocking enlightenment in its "adherents." It was an important precursor of what, ten years later, would be dubbed Chaos Magick.
Discordianism was made world-famous by the author Robert Anton Wilson in The Illuminatus! Trilogy, written with Bob Shea, where the religion not only features prominently in the plot, but shapes the philosophy of the book itself. Bob Wilson would regularly discuss Discordianism in his later books, both fiction and non-fiction, and regularly draw inspiration from it for his own ongoing work.
Here's two Ultraculture articles on Bob Wilson ("Four Classic Reality Hacks From Robert Anton Wilson" and "The Four Essential Robert Anton Wilson Books for Blowing Your Mind") if you want to further understand exactly what Discordianism is… and how it might just point to the Cosmic Joke that YOU are in on without even knowing it.
(Click the map below to pop out to a larger version you can zoom in on.)
In order to start learning more about Discordianism and Chaos Magick, check out our free course on chaos magick!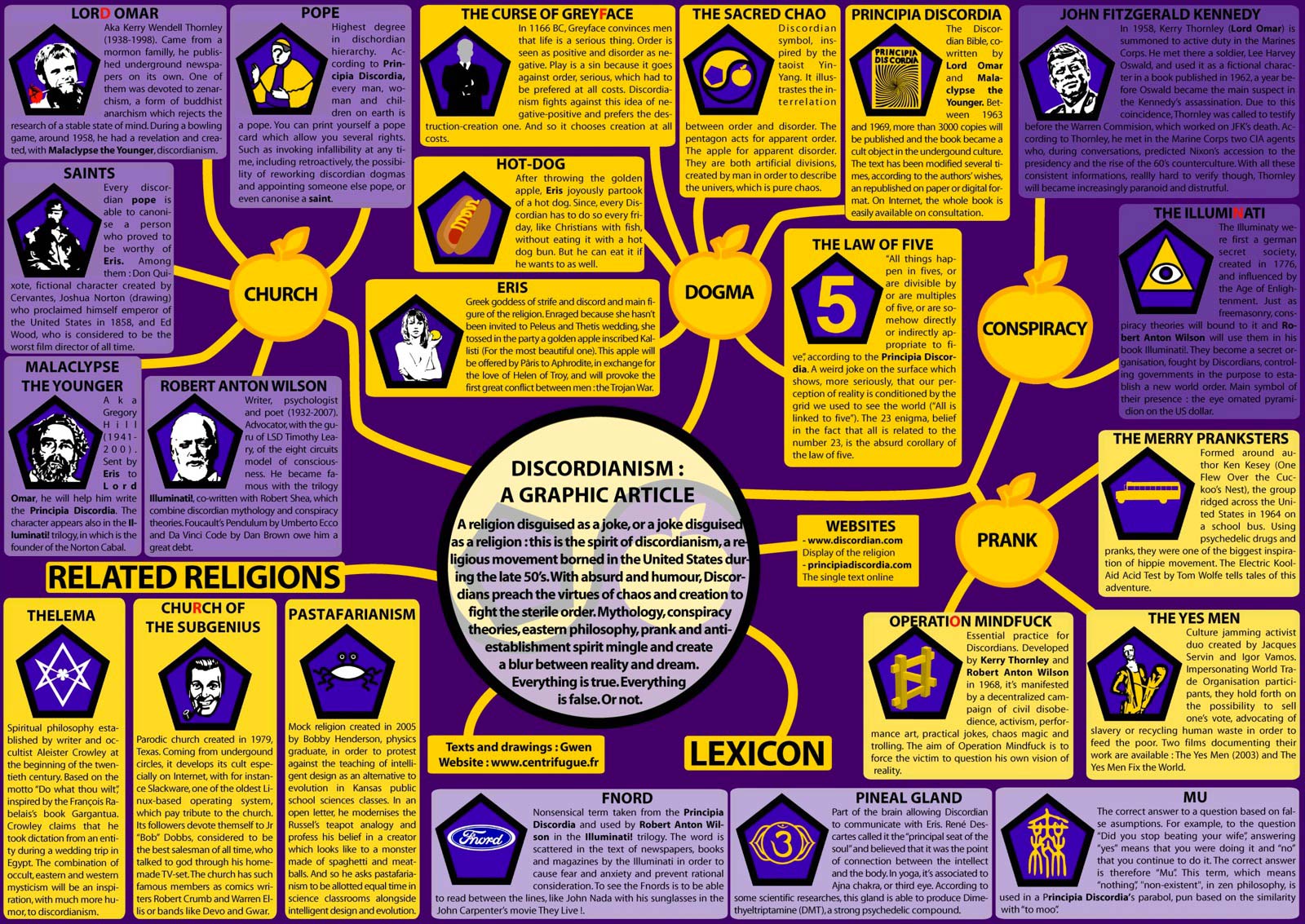 (Image by Gwen at www.centrifugue.fr. h/t Boing Boing!)