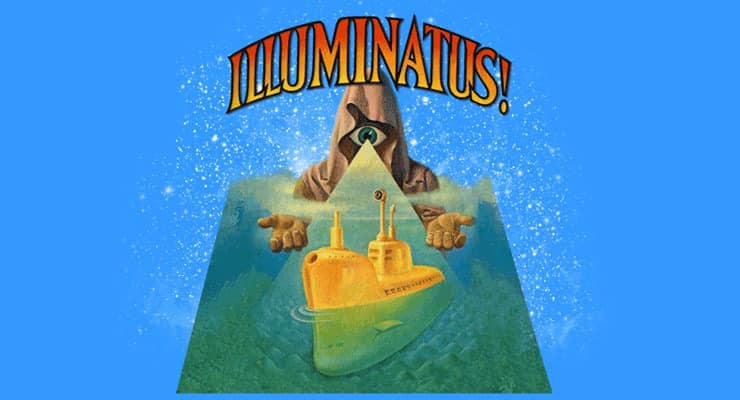 Robert Anton Wilson was a giant of the 20th century underground. Here's the four essential books you need to understand his thinking—and warp your own.
Robert Anton Wilson is one of High Weirdness' most cherished psychonauts, and one of the most infamous underground figures of all time. He worked with iconoclastic figures like as Timothy Leary, and as an associate editor for Playboy. Wilson's books included Cosmic Trigger, Prometheus Rising, and the Illuminatus trilogy. In his works, Robert Anton Wilson explored a diverse range of themes including conspiracy theories, quantum physics and radical politics. His books include his work with Timothy Leary's 8-Circuit Model of Consciousness, general semantics, yoga, meditation and Aleister Crowley's magick.
A huge figure in the counterculture movement, Robert Anton Wilson has influenced a huge range of other authors—among them Alan Moore, Grant Morrison and R.U. Sirius. Here's a list of his four most essential works:
1. The Illuminatus! Trilogy
The Illuminatus! Trilogy is best described post-modern science-fiction detective novel. Winner of the Prometheus Hall of Fame award of 1986, Wilson coauthored the psychedelic tome with fellow Playboy editor Robert Shea. Illuminatus! follows a nonlinear narrative, often switching between first and third person, about an ancient fight between shadow societies. Filled with copious amounts of drugs and sex, the novel covers themes like conspiracy theories, magick rituals and Discordianism. It's an example of Wilson's idea of "guerrilla ontology": the reader, never left with a direct answer and dealt numerous contradictions within the text, is left on their own to decide how much is actually real and how much is satire.
2. Cosmic Trigger I: The Final Secret of the Illuminati
The first and most important installment of his autobiographical trilogy, Cosmic Trigger is part autobiography and part philosophical head trip. In this book, Wilson relates his experiences contacting a nonhuman intelligence hailing from Sirius. Somehow, he manages to keep his shit together. He elaborates on much of what was covered in Illuminatus: secret societies, synchronicity, Sufism, Discordianism, quantum physics, Crowleyan magick, among many other topics. Like all of his works, Wilson wants the reader to decide for themselves what is real and to draw their own conclusions.
3. Prometheus Rising
Described as a guide book of "how to get from here to there," with Prometheus Rising Wilson has the intention of giving the reader more control over how their mind works. Published in 1983, Prometheus Rising began as Wilson's Ph.D. dissertation. In this book, Wilson walks the student through Timothy Leary's 8-circuit model of consciousness, examining techniques such yoga, Tantric breathing, general semantics and psychedelic drugs. Each chapter ends with a set of exercises designed to explore consciousness evolution and achieve intelligence increase.
4. Quantum Psychology
Quantum Psychology follows much the same formula as Prometheus Rising, only it is intended to be read with a group. Wilson covers much the same territory as he did in his previous work. Yet Wilson keeps it fresh and interesting.
For more mind-warping exercises, check out Ultraculture's free book and course on magick, which carries on many of RAW's teachings. It's an incredible toolkit for causing change in your consciousness in conformity with will, that we think the man himself would have been proud of. Check it out here.
While you're snagging your free book, check out the video below, where Bob himself passes on some of his best techniques for brain change.