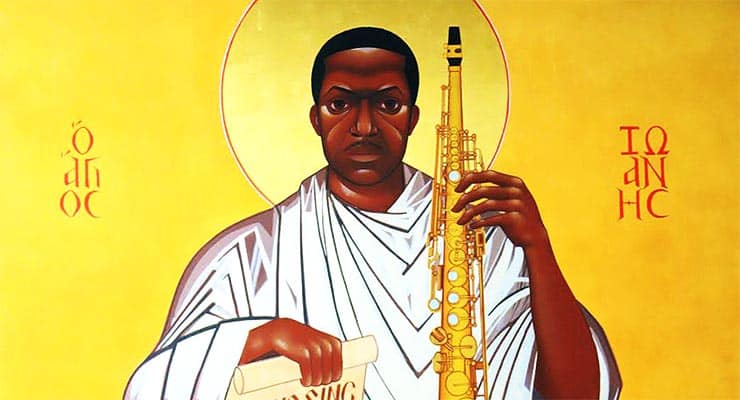 The Church of John Coltrane conducts regular services to the music of the jazz great, aiming to get as spiritually high as possible through Coltrane's Love Supreme
Something like a cross between Saint Augustine and the mythical balladeer Orpheus, John Coltrane enchanted and educated the hearts and minds of people across the world with his music. Although many of his compositions became jazz standards in their own right, one in particular exemplified his spiritual awakening. This was A Love Supreme, an odyssey of sonic dissonance, harmony, beauty and, above all, love. A Love Supreme even became the founding tune of the Saint John William Coltrane Church, an African Orthodox Church that was established two years after his death in 1969. Based in San Francisco, the Church of John Coltrane conducts unique services, honoring and worshiping the divine with Coltrane's saxophonic hymns. Marlee-I-Mystic, one of the church's deacons, spoke with Ultraculture about the Church of John Coltrane's tenets and structure.
Ultraculture: How did you first get involved with the Church of John Coltrane?
Marlee-I-Mystic: I was born into the Church of John Coltrane. I am the youngest daughter of Archbishop Franzo King, so I have been involved in various aspects over the years as a food program worker, youth minister, choir member, altar girl and Sunday school teacher. Currently I am a sub-deacon (or deacon-elect) and choir member. I facilitate a weekly A Love Supreme meditation at the church, I am the media contact and SF Travel Neighborhood Partner liaison, and I am also the radio minister; programming four hours of the music and wisdom of St. John Coltrane every Tuesday from 12-4pm on KPOO San Francisco 89.5FM.
RELATED: Here's 8 Celebrities Who Practice Chaos Magick
Ultraculture: What are some ways its liturgy differs from other parishes of the African Orthodox Church?
Marlee-I-Mystic: The liturgy of the Church of John Coltrane is much different than other AOCs. The primary distinguishing factor is the effortless integration of St. John Coltrane's compositions. We combine the liturgical prayers of the great African Orthodox Church with the music of St. John Coltrane. None of the other AOCs have this format. Our philosophy lies heavily on the teachings of St. John Coltrane as well, and allows us to have a non-proselytizing interfaith global community. The distinctive iconography of St. John Coltrane, Jesus Christ and Mother Mary and Child also sets us apart from the other AOCs.
Ultraculture: What's the story behind the icon art? It's gorgeous.
Marlee-I-Mystic: The story of the icons is an interview in and of itself. But a bit of the history is that our very own deacon Mark Dukes was asked by Archbishop King to create a icon of our Saint. Deacon Dukes had a spiritual awakening listening to the music of St. John and was able to create all the Byzantine style icons you see in the church. 
RELATED: Here's 10 Epic Albums That Will Awaken You to Magick & the Occult
For more info on this subject I suggest the three part interview with Archbishop King and Deacon Dukes on these sites (here, here and here).
Ultraculture: Do you view John Coltrane as a prophetic leader with the same standing as figures like Isaiah or Moses?
Marlee-I-Mystic: I wouldn't necessarily say a "prophetic leader." I would more so say a guru, a guide, an embodiment of Christ Consciousness. One who walked this earth as a prototype. One whose life, dedication, and commitment can set the standard for us. We say that John Coltrane gave us the key to full God-realization. 
Ultraculture: Coltrane was interested in many Eastern and Western spiritualities, like Kabbalah and Hinduism. What would you say is the defining feature of an individual "Coltrane Consciousness?"
Marlee-I-Mystic: John Coltrane's perspective of religion is the defining feature of Coltrane Consciousness. Coltrane said: "I believe in all religions." He told us: "…it's always been a thing with me to feel that all men know the truth, see. And so therefore, I've always felt that even though a man was not Christian he could know the truth, or he could not. It's according to whether a man knows the truth and the truth itself doesn't have any name on it to me, and each man had to find it for himself."
Coltrane Consciousness also revolves around the understanding of the Divine Trinity of Melody, Harmony and Rhythm, and an understanding of the Divine Formula held within the album A Love Supreme: Acknowledgment, Resolutions and Pursuance (to reach a 'love supreme').
Ultraculture: Do you think that Coltrane's jazz (or music in general as a form of scripture) is more effective and relatable than written texts?
RELATED: Judee Sill: The Brilliant Folk Singer Who Immersed Herself in the Occult, and Her Haunting Legacy
Marlee-I-Mystic: I believe what Coltrane told us: "I think music is an instrument. It can create the initial thought patterns that can change the thinking of the people." I also believe that St. John Coltrane was so committed and devoted to The Most High that he was able to create a vortex that captures the true essence of God. I believe as we state in the A Love Supreme creed: "I believe in the effectual transference of the Holy Spirit through the Sacrament of Praise, even the Sound Baptism and that Coltrane Consciousness is sanctified awareness and even reflects the very mind of God. I believe in A Love Supreme."
In this sense yes, it is more effective and relatable than written text, because you don't have to read to understand, you just have to listen and feel. 
Ultraculture: What kinds of activities does the Coltrane Memorial Urban Ashram support?
Marlee-I-Mystic: The Coltrane Memorial Urban Ashram is my private business which has been insured by my work and upbringing in the Church of John Coltrane. So at this point it supports the activities that I am involved with. These include Natural Childbirth Advocacy and Education as well as doula services, Conscious Sound Coaching, Sonic Meditations Facilitations, Wellness Advise, Academic Advising and Sound Healing Services. These are all areas in which I have professional experience.
[is_visitor]Check out our free guide to chaos magick here.[/is_visitor][is_lead]Start learning magick and occultism at Magick.Me, our online school for chaos magick.[/is_lead][is_customer]Start learning magick and occultism at Magick.Me, our online school for chaos magick.[/is_customer][is_subscriber]Start learning magick and occultism at Magick.Me, our online school for chaos magick.[/is_subscriber]