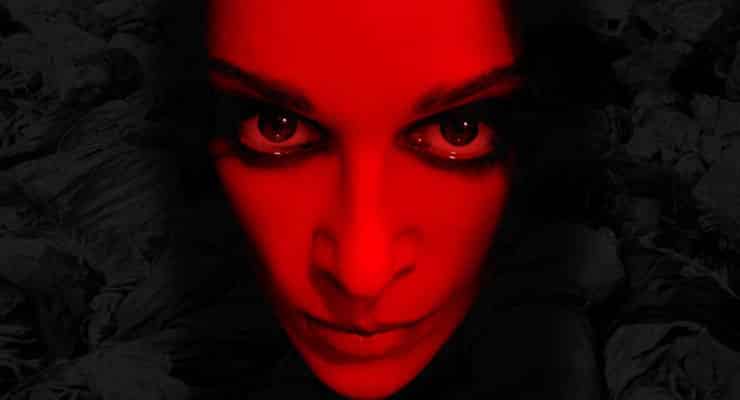 Ten albums that will deeply alter your reality and bring a sense of magick and the other-worldly into your life (and no, they're not the obvious ones!)
Music and magick are, in many ways, one and the same. Music, like magick, can change consciousness, and can be a fantastic doorway into altered states. Consequently, there have been vast numbers of musicians influenced by magic, mysticism and the occult. Everything from occult visual language (symbols, artwork, etc.) to techniques of ecstasy and consciousness transformation (meditation, repetition, chant, ritual, theatrics, etc.) have been used by musicians for ages to provide consciousness-altering experiences.
The following albums were either influenced by the visual language or outward imagery of the occult, were informed by magickal or occult practice, or are conducive to inducing altered states of being. But whatever the method or purpose behind them, all of these albums can create an unmistakable atmosphere of magick in which to lose yourself.
RELATED: The 7 Biggest Mistakes People Make When Learning Magick
In the interest of avoiding well-worn territory in regards to musicians and the occult (Coil, Current 93, Bowie, etc.), this article will focus on some lesser talked about, but just as vital, figures in the mystico-magical trends of the last few decades.
[is_visitor]

[/is_visitor][is_lead]
Start learning magick and occultism at Magick.Me, our online school for chaos magick.
[/is_lead][is_customer]
Start learning magick and occultism at Magick.Me, our online school for chaos magick.
[/is_customer][is_subscriber]
Start learning magick and occultism at Magick.Me, our online school for chaos magick.
[/is_subscriber]
1. Mort Garson—The Unexplained : Musical Impressions of the Occult (1975)
Mort Garson was a pioneer of electronic music, and his albums in the 1960s and 1970s were some of the first to heavily incorporate Moog synthesizers. Although he had a varied career that included working in the television, film, and pop music industries, he began writing solo albums under various pseudonyms in the late 1960s. Some of his most sought after albums are heavily occult themed, with The Unexplained meant to accompany meditation.
2. Diamanda Galas—The Litanies of Satan (1982)
Diamond Galas is a contemporary artist, vocalist, and performer, active in both the music and film industries. The Litanies of Satan was her debut, included here for it's staggering live performance just as much as for its recorded content. While the recorded album lends itself well to creating a ritual atmosphere for magick, just try to watch Galas perform the album and not feel like something is actually being conjured onstage.
The Litanies of Satan on Amazon.
3. Popol Vuh—Nosferatu (1979)
German avant-garde group Popol Vuh originated in 1969, and while they were always on the lighter side of the 1970s mystical zeitgeist, they nevertheless had their darker moments. They scored many of Werner Herzog's best-known films, Nosferatu being the soundtrack to the 1979 film. Like many of Popol Vuh's albums there is an ethereal, spiritual feeling, with a focus on what Brian Eno would call "repetition as a form of change." Perfect for creating a magickal atmosphere or for meditative states.
4. Cabaret Voltaire—Drinking Gasoline (1985)
Dance can be an excellent consciousness altering tool, and in the 1980s, industrial legends Cabaret Voltaire masterfully fused electronic dance music with more obscure influences: Dadaism, William Burroughs, cut-ups, news recordings, subliminal messaging, video manipulation, and a general sense of aural chaos. The clip below comes from 1985's Drinking Gasoline, and is notable for its heavy use of the cut-up method in both its sonic elements as well as its visual aesthetic.
[is_visitor]

[/is_visitor][is_lead]
Start learning magick and occultism at Magick.Me, our online school for chaos magick.
[/is_lead][is_customer]
Start learning magick and occultism at Magick.Me, our online school for chaos magick.
[/is_customer][is_subscriber]
Start learning magick and occultism at Magick.Me, our online school for chaos magick.
[/is_subscriber]
5. The Division—Mantras (2009)
The Division is the project of Matthew Schultz, an artist, sculptor, and longtime figure in the industrial and dark-ambient genres. Percussion and rhythm are at the forefront on many of the tracks on Mantras, and like many of the other albums on this list, Schultz creates an ethereal atmosphere rooted in a lot of repetition. Perfect for inducing meditative or trance-like states.
6. Lustmord—The Word as Power (2013)
Lustmord is the project of dark ambient pioneer Brian Williams, and The Word as Power is an incredible, 75-minute exercise in ambient minimalism. Like Galas' The Litanies of Satan, vocals are the major focus here; but unlike that album, the jarring, menacing atmosphere is conjured not through an intense outburst of fiery passion, but through the calm, slow drip of water on your forehead over millennia. With song titles like Goetia, Abbadon, and Chorazin, there is clearly a spiritual world Williams is attempting to conjure through these soundscapes, and the result is an album that seems to create a magickal environment out of just about anywhere you listen to it.
7. Earth—Hibernaculum (2007)
Olympia, Washington's Earth are pioneers of drone metal, and loom large in the occult sound of the Pacific Northwest. They've been a major influence on Sunn O))), Wolves in the Throne Room and Nirvana, to name just a few. Over time, Earth's sound moved away from drone metal and incorporated elements of country, psychedelia and Americana, but always through the filter of drone and repetition. Earth, like Popol Vuh, craft towering aural soundscapes rooted in their particular spirit of place, and like Popol Vuh, they are perfect for meditation and the creation of sacred space.
Hibernaculum is a good introduction to the second phase of Earth's career, when they moved away from a purely drone metal sound and towards a cleaner, more psychedelic and expansive sound.
8. Miranda Sex Garden—Suspiria (1993)
Beginning their life as an a cappella group singing traditional English verse and moving afterwards into rock, Miranda Sex Garden were at once very much of their time and yet completely unique. Never truly fitting in with any one genre, their sound incorporated gothic rock, industrial, darkwave, and classical music, with all the power and ferocity of heavy metal. Suspiria can set the right mood for any number of dimly lit, incense-laden nights under the red lights.
9. Dead Can Dance—Dead Can Dance (1984)
An album that perfectly encapsulates the 4AD sound of the 1980s, Dead Can Dance's self-titled debut is a masterpiece of gothic and ethereal atmosphere. The album cover, which features a ritual mask, is meant to be a visual representation of the name of the band: an object which was once part of a living tree, and which is now dead matter, given renewed life force through the artistry of its maker. The associations with magick are clear.
10. Stereolab & Nurse With Wound—Simple Headphone Mind (1997)
A perfect recording for putting on some headphones and drifting away into the aether. Simple Headphone Mind was a collaboration between avant-garde experimentalist Stephen Stapleton and post-rock icons Stereolab; Stapleton bringing his Surrealist/Dadaist style cut-ups to Stereolab's signature take on krautrock/motorik rhythms. It is a perfect example of the power of trance-inducing repetition, and when the rhythms are married to Stapleton's bizarre sound manipulation, the result will leave you with more than enough material to bend and expand your mind into the netherworld.
Simple Headphone Mind on Amazon.
RELATED CONTENT: Here's 4 Legendary Musicians That Practiced Chaos Magick