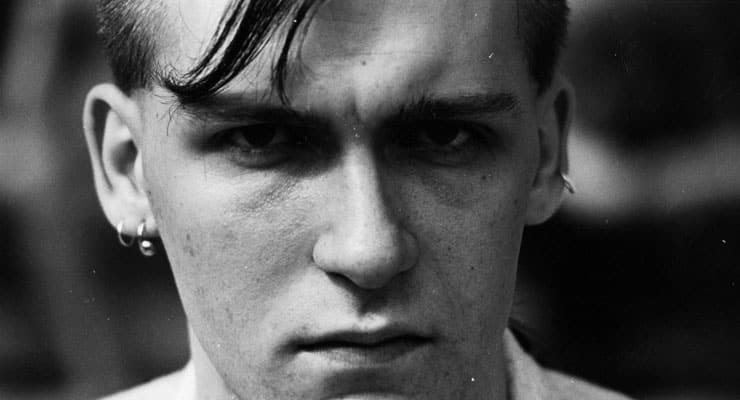 In the 1980s, chaos magick was a very, very, very obscure idea. One place it found a home, however, was in industrial and experimental music—where it inspired some of the most incredible underground musicians of the 20th century.
Last year, we posted about 8 Celebrities Who Practice Chaos Magick—an incredibly popular article, demonstrating just how much interest there in this topic. It wasn't always that way, however: In the 1970s and 80s, when chaos magick was first getting off the ground, in between Genesis Breyer P-Orridge making it popular in the underground music world (see Thee Psychick Bible) and Grant Morrison bringing it to more mainstream attention with his comic book The Invisibles, chaos magick was a very, very small scene, mostly based in the UK. It was there that a few immensely talented, visionary artists were inspired by its call to take back reality. Here are four of them.
1. David Tibet
David Tibet is the founder of the prominent English experimental neofolk group Current 93. Tibet was a huge influence on the occultism of the English neofolk scene and ran in the same circles as prominent chaos magicians such as Read, Genesis P-Orridge, and Peter Christopherson. According to Christopher Partridge's The Lyre of Orpheus: Popular Music, the Sacred, and the Profane, Tibet was of particular influence on the magic of Genesis P-Orridge, who gave Tibet his name.
For an introduction to David Tibet and Current 93, start with Thunder Perfect Mind.
2. Peter Christopherson
Along with Genesis P-Orridge, Christopherson was a founding member of Throbbing Gristle. With his companion John Balance, Christopherson later founded pioneering electronic duo Coil. In Lyre of Orpheus, Partridge asserts that Christopherson introduced Genesis to the work of Austin Osman Spare, which greatly influenced the development of Thee Temple of Psychick Youth.
For an introduction to the legendary music of Coil, start with Love's Secret Domain.
3. John Balance
John Balance was one of the founding members of pioneering electronic group Coil along with his companion Peter Christopherson. Magick was a huge influence on Balance's art and persona. He stated in an interview:
"I've always been into magic, with Crowley's 'k', and studied it – I tried to buy stuff by Crowley when I was young, but my parents absolutely refused to have anything to do with it and actively discouraged me. I wrote to Alex Sanders (King of the Witches), when I was 14, and he wrote back to me saying thanks for writing, I'm very pleased that you want to do this, but can you write back when you're 18. He wouldn't accept anyone so young into his coven. I used to worship the moon too, I'd encourage other boys at school to do it too…
"I was an only child, always talking to animals, fantasy creatures and spirits. I would make little plasticine gods and make offerings to them. I was just born with a pagan sensibility. I'm an animal, I've never been a human – there's no difference between animals and humans to me. I think that's one of the signs of a true pagan."
For one of Coil's absolute masterworks, check out Musick to Play in the Dark.
4. Bill Drummond
Bill Drummond was one of the founding members of the prankster electronic musical act the KLF. While not a practicing chaos magician, the KLF were greatly inspired by Discordianism and Robert Anton Wilson's Illuminatus! trilogy. The KLF notoriously ended their career by firing a machine gun full of blanks into the audience at the 1992 BRIT Awards, burning a million quid, and dumping a dead sheep at an aftershow party.
Below is the Illuminatus-inspired music video for KLF's utterly bizarre danced hit "Justified and Ancient" (featuring country music legend Tammy Wynette on vocals)
To learn more about chaos magick—reconstituted, stripped of superstition and rebuilt for a modern audience—check out our chaos magick courses at Magick.Me, our online academy for magick.
Image via