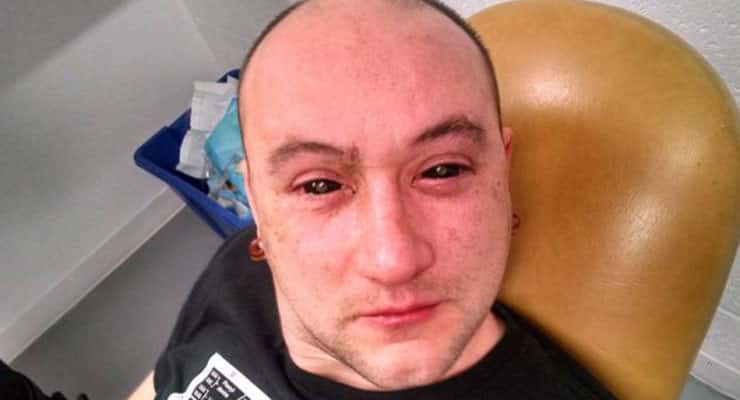 Amateur scientists around the world are harnessing the power of technology for biohacking the human body and creating real-life superpowers
Biohackers view the human body as a system that can be augmented and upgraded. Thanks to widespread availability of affordable, powerful computers and the open sharing of information on the Internet, more biohackers and researchers are going freelance and setting up home labs, and both independent biohackers and many traditional researchers have begun a serious quest to integrate technology directly into the human biosystem. As processors become smaller and more powerful, the lines between biology and technology will become more vague. Today, there are already astonishing biohacking methods emerging that reshape the limitations of the organic human. Here's four of the craziest ones:
Biohacking Trick 1: Nightvision Eyedrops
Last week, a team of freelance researchers working out of a garage-turned-lab in California discovered a simple way to grant humans the ability to see clearly in the dark beyond 50 meters.
Science for the Masses, an independent biohacking collective, set out to enhance the biology of vision to provide night sight without cumbersome hardware. They experimented with the chemical Chlorin e6, a close relative of chlorophyll, which has been used sporadically in the past as a cancer treatment. This chemical occurs naturally in some species of deep sea fish, enhancing the function of light receptors in the eyes.
One of the researchers, Gabriel Licinia, volunteered to be the first human test subject. A tiny dose of Ce6, 50 microliters, was dripped directly into Licinia's eyes. Within an hour, the chemical began to interact with the photoreceptors in his retina. The researchers ventured into the night, and conducted a series of vision tests at increasing distances. Licinia was easily able to distinguish images and symbols beyond 50 meters in the dark. The effects wore off after some time, and the biohacking experiment was a clear success.
Science for the Masses now hopes to refine their knowledge of Ce6 through more rigorous testing to perfect their nightvision eyedrops. Thanks to the rise of amateur biohacking collectives like this, bold leaps in biotech are being made every day outside of the predictable, commercial confines of institutional research. Today, anyone with a computer and an imagination can start biohacking and carve out a place in scientific history.
Biohacking Trick 2: Oxygen Crystals
In 2014, scientists in Denmark discovered a crystalline substance that absorbs and stores huge amounts of oxygen from the environment.
These synthetic crystals, derived from cobalt, siphon oxygen from the air and water. They may provide a way for people to breathe underwater indefinitely. Scuba tanks are highly limited, as they can only store a small amount of oxygen, and are large and heavy. Comparatively, a tiny crystal could continuously pull enough oxygen from the water to sustain the body. When a small amount of heat is applied to the crystal, the release of oxygen can be precisely controlled.
This technology will also greatly impact people who use an oxygen tank due to lung ailments. Like scuba equipment, oxygen tanks are cumbersome and limited in capacity. Instead of having to pull a cart with a heavy oxygen tank, patients would instead only need a few grains of crystal to provide concentrated oxygen from the environment. Oxygen is also used in many industrial processes like welding, and this crystalline substance will allow safer transportation of massive quantities of oxygen, potentially at a much lower cost.
RELATED: 7 Signs You're Becoming a Mystic Superhero
Biohacking Trick 3: Telepathy Chip
The practice of implanting radio frequency transmitters in the body isn't all that new. In 1998, famed biohacker Kevin Warwick launched the first phase of Project Cyborg. Working as his own test subject, he designed an RF implant that was installed under his skin. It was used to perform basic tests on signal strength such as opening remote controlled doors, controlling lights, and sending simple commands to computers.
In 2002, Warwick began the second phase of Project Cyborg, biohacking byinstalling an array of electrodes directly into his nervous system to monitor activity at the median nerve. The experiment proved successful, and Warwick was able to control a robotic arm with mental action alone.
Since Warwick's pioneering work, others have advanced the technology of telepathy and telekinesis. A 2004 experiment successfully used electronic implants to enable very basic communication between the nervous systems of two people.
More recently, Brown University scientists developed a new generation of rechargeable neural transmitters that can communicate with external devices. As these implants become smaller and more efficient, humans may soon have the ability to telepathically network multiple nervous systems. Instead of an "internet of things," this technology is the first step to an "internet of beings." Proponents point to the potential for increased empathy, efficiency of communication, and the ability to wirelessly interface with prosthetics.
RELATED: How to Make Your Own Bulletproof Coffee (Without Breaking the Bank)
Networked nervous systems could drastically alter concepts of individuality and self. The ability to communicate internal states and information with others may result in an empathetic utopia where everyone is "one" with everyone else. On the other hand, it could wipe out individuality completely and push humanity towards a hyper-efficient Borg hive mind. In the end, there is no way to predict the real impact and direction of such a drastically new technology. It is certain, however, that the ability to create a network of consciousness could drastically transform the experience of consciousness itself.
Biohacking Trick 4: Subdermal Magnetism
The practice of surgically installing tiny magnets in the fingertips is already common in some biohacking and body modification circles. These magnets are coated with materials so that they are not rejected by the body. They provide a sort of sixth sense—the ability to feel magnetic fields.
When the magnet encounters a strong enough magnetic field, it moves slightly and creates a sensation in the fingertip. Vibrations could be detected from electronic devices that produce electromagnetic fields.
These magnetic implants also allow the user to pick up small metallic objects like paperclips. Though this practice does not provide any huge improvements to the human body, it could evolve to include precision electromagnets and other specialized subdermal transmitters. The current practice is also important for understanding the body's limits when it comes to the safety and long term effects of subdermal implants. A similar device, which uses a tiny magnetic fiber that stimulates the skin when facing north, is also in development.
So far, the biggest drawback to subdermal magnets is that they may tear through the fingertip in an MRI, and probably cause some difficulty with airport security. Simple subdermal magnets are readily available. They can be purchased online and some tattoo shops are able to install them.
At this rate, we may be seeing the first widely available consumer transhuman options soon enough.
How to Start Biohacking
Biohacking starts simple: With fully optimizing your capabilities as a human being, before adding any augmentations.
That's what Ultraculture is all about: Teaching people to better harness their bodies, minds and spirits.
If you're looking for some awesome basic biohacking that anybody can do without invasive procedures—tips and tricks to fully optimize the experience of the human body you already have through the power of exercise hacks, sleep quality, meditation and supplementation, look no further than our Achieve Peak Mental and Physical Energy course. It's got everything you need to supercharge your nervous system and your quality of life.
Check it out and start your journey to biohacking now!