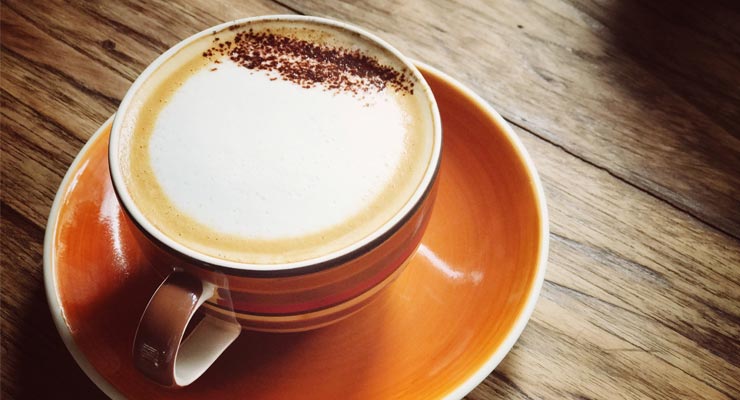 A few simple household additions to coffee can completely remove the jitters and anxiety, while boosting the energy and clarity. It's just like Bulletproof Coffee, but way cheaper. Here's how to make it.
There are three quests worth pursuing in the world: the quest for love, the quest for enlightenment and the quest for The Perfect Cup of Coffee. Recently, I believe I may have completed the third quest, and discovered the Holy Grail of Coffee and All-Day Productivity—and in the process came up with something just like Bulletproof Coffee, but way cheaper.
This is a project I've been working on for a while, going back to the age of 13, when I tried brewing drip coffee using "Water Joe"—bottled water with added caffeine which was popular at the time (and, weirdly, still exists)—as the water, and then adding extra powdered coffee to the final product. That didn't go so well.
No Innovation Comes Without Early Failures
More caffeine and stimulants is obviously not the answer, or we could have given up the Promethean quest for perfect energy with the invention of Rock Star and Monster energy drinks. What is the answer, as I just worked out, is modulating the effects of caffeine in order to retain the energy while blunting the sharp edge of anxiety, jitters and even paranoia that can come with the substance.
The Coffee Paranoia Hell-Ride
Anybody who has ever worked in any kind of fast-paced and cut-throat work environment can attest to the vicious spiral of caffeine side-effects: You're expected to be productive, and everybody is on your ass, so you start drinking the office coffee, at which point you become more productive, but also paranoid that other people are looking for productivity slips or to take your job—which they very likely are.
So you drink more coffee to become more productive, in turn becoming more paranoid… until you're a nervous wreck at the end of the day, and can't properly sleep to rest and reset the brain for the next day of on-the-job terror. The vicious spiral just gets worse and worse until you start reaching for other substances, prescription or illegal. Welcome to corporate America…!
The Ultimate Solution to Coffee Jitters
But I've hacked it. I was inspired by two things:
One, reading online about the synergistic properties of caffeine and L-Theanine, an amino acid that creates a calming effect and that goes really, really well with caffeine. These compounds occur together naturally in green tea—actually, L-Theanine is found almost exclusively in tea—which is why green tea is so much calmer than coffee. The combo, and its neuroprotective effects, are just beginning to be understood and studied, with very positive findings.
Two, the recent popularity of "Bulletproof Coffee," which I'd seen advertised online and some of my friends gave positive reviews for. Bulletproof Coffee's marketing promise is that they've infused coffee beans with MCT Oil, which the company says removes the anxious edge.
(Note: Bulletproof Coffee differentiates their product with two claims. One is that their coffee beans are "mold-free," and the other is that their "Brain Octane" proprietary MCT Oil is more specific and refined than general MCT Oil. These may or may not be significant improvements. Standard good coffee beans and MCT Oil work just great for me. Bulletproof also doesn't add L-Theanine, which I believe is the true secret sauce.)
How to Make Your Own Bulletproof Coffee Without Breaking the Bank
I wanted to try this, but didn't have any Bulletproof Coffee or MCT Oil. Looking up MCT Oil, however, I discovered that it's an extract of something I did have in the kitchen: Coconut oil. I also had powdered L-Theanine to hand (it's easily available at health food stores or online). So I put them together, and discovered that I had, well, the ultimate cup of coffee. All of the alertness and energy, with none of the negative side-effects—while somehow combining into something more than the sum of its parts, so good that you barely even notice it. And that's the point. You just feel good, on point, bright and productive.
Here's the recipe:
One cup of coffee
(Studies on L-Theanine/caffeine synergy have been done with 100 mg L-Theanine and 50mg caffeine; you can get 50mg caffeine from about 1 and 2/3 tbsp of instant coffee or just a tad over 1/2 cup of drip coffee, but obviously experiment to see what ratio works best.)
100mg powdered L-Theanine
(You can get L-Theanine at health food stores, much more cheaply on Amazon, or, cheapest of all, in bulk powder form on Amazon. It's good for calm and sleep at night on its own, as well.)
1 tbsp coconut oil
(Get it cheaply here.)
That's it. For creamer, you can use anything, but a particularly interesting combo was using coconut milk on top of the coconut oil. Tastes great, and presumably adds even more benefits. I never use sweetener, but presumably agave nectar would be a good idea instead of refined sugar.
Mix all that together, and you'll get a glistening, sparkly cup of coffee (from the light reflecting on the oil) that may seem strange at first, but tastes great. Drink it quickly so the contents don't settle, and then sit back and enjoy the effects. They last all day. (I haven't tried drinking more than one cup, and don't know if it would add benefits or if the L-Theanine would start to build up and actually make you a bit drowsy. It remains to be tested.)
So, Does It Work?
I honestly think this has improved the baseline quality of my life and work—not dramatically, but definitely noticeable, and definitely adding a layer of basic alertness, calm and productivity. And ditching the negative side-effects of coffee is well worth it just on its own. Best of all, it's all very healthy, very safe and very well studied.
Awesome. Just Awesome. Now… How Do I Get Even MORE Energy?
As you can probably see from the amount of tinkering and testing I did above, attaining incredible physical energy and mental focus has been one of my major life quests. I got particularly obsessed with getting more and more energy as I entered my thirties, and I started to realize that all the stuff I had been doing in my twenties (eating crap, chugging energy drinks, staying in front of the computer for long hours instead of exercising, etc) just weren't going to cut it anymore.
So I went on an epic quest to figure out how to achieve ultimate, peak energy.
That included not just dietary hacks like the ones above, but learning how to build up immense physical strength through the right kind of exercise.
It meant learning how to hack my sleep, breathing and hydration by using the best of a huge range of Western and Eastern techniques.
It meant mastering the forces of diet, knowing which whole foods to choose and how to cut out artificial stimulants.
It meant mastering meditation.
It meant wisely using supplementation to supercharge my focus and vitality.
I experienced such an incredible boost of energy from these techniques that I knew I had to share this with other people. That's when I created my online course Achieve Peak Mental and Physical Energy to pass on the best of the best of the techniques I learned and mastered.
It's full of core practices that can quickly turn you into a stronger, clearer, healthier, happier version of yourself. And I'm grateful that it's gotten some absolutely incredible reviews, like these:
"Jason gives a very clear, organized, and inspiring look at how to improve your diet, fitness, and general energy levels. It was invaluable to have someone who's tried it all to cut through the fads and misinformation to offer some practical steps to taking better care of ourselves. Highly recommended." – Kristen K.
"Thanks a lot, Jason. The information you have provided, awesome." – Ferdinand S.
"I took [the] 'Achieve Peak Energy' course and I thoroughly enjoyed it! Jason Louv is a very dedicated teacher, therefore he is able to relay a lot of information to students in an organized and lucid manner. In this course, his advice and recommendations were intelligent and well thought out. More importantly, for all those who are overwhelmed by the chaotic health and diet industries, he really emphasizes attention to cost efficiency and practicality. Jason's insight, research and practice has culminated in an ability to apply common sense to every need. His tips for attaining greater energy and lucidity are not dogmatic approaches, nor are they derived from any one system or paradigm. I highly recommend taking this course for anyone who is interested in fortifying their own research into health and for anyone who is looking for some interesting methods to release stress and strengthen the body. This is a high quality course for a very reasonable price." – Rachel C.
I can't wait to share this information with you, so that you can supercharge your life and rocket towards your dreams… maybe with your new cup of coffee in hand. ;) Just click the link below to get the course!
Achieve Peak Energy Now!