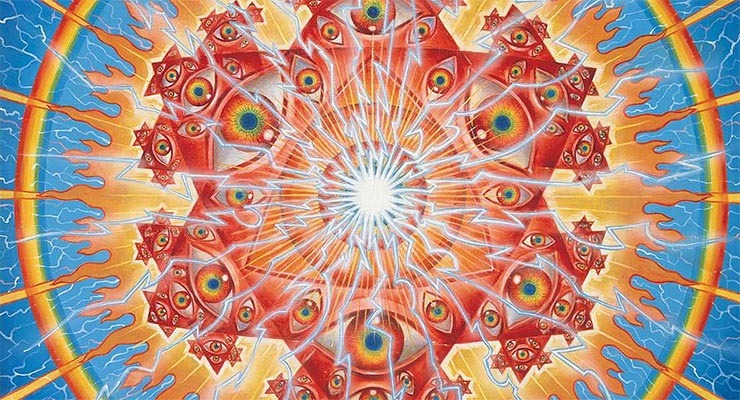 Rick Strassman, the first man to ever run a clinical study of the effects of DMT, returns to the subject with a new book that examines the DMT state and Biblical prophecy
Rick Strassman, M.D. has penned a follow up to his landmark 2000 book DMT: The Spirit Molecule, entitled DMT and the Soul of Prophecy. The new book should be of note to anyone interested in psychedelics, mysticism, or Strassman's previous research.
Strassman is most notable for the clinical study he ran with DMT back in the 90s at the University of New Mexico, in which he administered approximately 400 doses of DMT to 60 volunteers. Subjects of the study reported experiences with nonhuman entities and witnessing self-transforming geometric patterns, among many other intense psychedelic visions. These experiences, and the results of the study, were collected in Strassman's DMT: The Spirit Molecule.
In DMT and the Soul of Prophecy, Strassman seeks to provide a spiritual model for the experiences that were revealed in DMT: The Spirit Molecule. The model that he found to be most effective was not Buddhism, shamanism, New Age or any of the common go-to spiritual systems popular among psychedelic users. Strassman found the most effective model to understand the DMT experience to be Hebrew scripture and medieval Jewish mysticism.
From the press release:
What does it mean that DMT, a simple chemical naturally found in all of our bodies, instantaneously opens us to an interactive spirit world that feels more real than our own world?
RELATED: What Happens When You Smoke DMT While Peaking on LSD?
When his decades of clinical psychiatric research and Buddhist practice were unable to provide answers to this question, Strassman began searching for a more resonant spiritual model. He found that the visions of the Hebrew prophets—such as Ezekiel, Moses, Adam and Daniel—were strikingly similar to those of the volunteers in his DMT studies. Carefully examining the concept of prophecy in the Hebrew Bible, he characters a "prophetic state of consciousness and explains how it may share biological and metaphysical mechanisms with the DMT effect.
Examining medieval commentaries on the Hebrew Bible, Strassman reveals how Jewish metaphysics provides a top-down model for both the prophetic and DMT states, a model he calls "theoneurology." Theoneurology bridges biology and spirituality by propsing that the Divine communicates with us using the brain, and DMT—whether naturally produced or ingested—is a critical factor in such visionary experience. This model provides a counterpoint to "neurotheology," which proposes that altered brain function simply generates the impression of a Divine-human encounter.
Rick Strassman Approaches Psychedelics From the Lens of Scripture
Rick Strassman's use of Biblical scripture may come as a surprise as he is commonly one of the more cautious and measured figures in the field of psychedelic studies. As a practicing medical doctor, he tends to veer away from the more idiosyncratic theories of luminaries like Terence McKenna or Timothy Leary—and he typically doesn't cop to even ingesting DMT.
RELATED: Watch a Spectacular Animation of a DMT Trip (Including a Terence McKenna Voiceover)
But in DMT and the Soul of Prophecy, Rick Strassman is measured and reasonable in his approach to the DMT state within the context of Hebrew scripture. The first half of the book is devoted to background and context of DMT and Jewish mysticism, with the second half dedicated to a side by side comparison of his patients' reports compared to passages from the Old Testament. Some of the comparisons work, others do not.
Is There a Biological Basis for Spiritual Experience?
Rick Strassman's interest in DMT stems from his desire to find a biological basis for spiritual experience—not an explanation that rationalizes and reduces spirituality to events in the brain but rather the biological means through which spirituality manifests in the physical body. Strassman also stresses that DMT and other psychedelics are not the cause of or replacement for genuine spiritual experiences, but also does not rule out that genuine spiritual experiences can in part be evinced by DMT. This is not one of those "Everyone in the Bible was high and seeing UFO's!" kind of books; it is far more intelligent and cogently argued for that.
Rick Strassman does not break new ground with DMT and the Soul of Prophecy, but he does provide some interesting insight into the meaning of the DMT experience and the importance of prophecy in spiritual vision. While DMT and the Soul of Prophecy is not as Third Eye-opening as DMT: The Spirit Molecule, it's a thoroughly engaging book and essential reading for anyone interested in the topic of psychedelics and spiritual experience. Thanks to Inner Traditions for providing us with a copy!
Combining Psychedelics and Spiritual Practice the Right Way
This book seems like an excellent companion to Ultraculture's course on Psychedelic Ritual Magick, which offers a full toolkit for combining psychedelics with spiritual practice, including methods drawn from world shamanism, world religion and the Ceremonial Magick of Western culture to approach tripping as a sacred act—to do so safely, wisely and as a way of entering the living mystery. Check out the course!