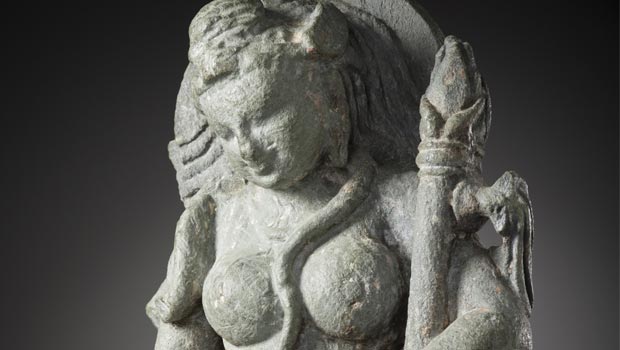 The Hindu guru Osho, who ran a cult in Oregon and was infamous for hoarding 93 gold Rolls Royces, became a lightning rod of controversy for teaching tantra and sexual openness. Here are his six tips for tantric bliss.
Osho (a.k.a. Rajneesh) was an Indian spiritual teacher and controversial figure in the New Age movement. He was a critic of orthodox Indian religions, saying that they oppressed followers with fear and shame, and made empty promises of blessings. He is reported to have called Mahatma Gandhi a "masochist" who worshipped poverty, and said that socialism would lead to institutionalized poverty for India.
After threats of punitive action by Indian authorities, Osho moved his ashram to The Dalles, Oregon in 1981. In 1984, the ashram was scandalized by a bioterror attack perpetrated by its members against the citizens of The Dalles to impact county elections. This led to Osho's eventual deportation.
Osho taught a syncretic method of self-realization that emphasized meditation, awareness, bodywork and Tantric sex. It was his emphasis on the lattermost that earned him the moniker of the "Sex Guru"; Westerners flocked to his ashram in Pune to learn all these secrets and more from an apparent spiritual master.
Say what you will about Osho's controversial history, but his impact on the New Age cannot be denied. Much of what circulates on the subject of Tantric sex has been derived from his teachings.
Below are six simple sacred sex tips given by the "Sex Guru" himself. (Note: Osho's advice is for monogamous heteronormative couples, but it can easily be adapted to solo fliers, same sex couples, and polyamorous relationships.)
1. Sex is a Sacred Experience.
It's not a sin, so take your time and savor it. We have been conditioned to feel shame at the mere mention of sex. Sex is something for which we should be grateful, not ashamed. If you cannot get past the barrier of shame, then your intention has less of a chance of getting past the barrier of your conscious mind.
2. Create a Sacred Space.
It's recommended that a separate room be devoted solely to the purpose of sexual activity, where only love is made—no fighting allowed. This room should be stocked with soft sheets, candles and beautiful incense. However, having a separate room is not practical for many people. So improvise. Cleanse and banish an ordinary space. You might even find that the more the space is converted into sacred space for use in lovemaking, the less that tension and conflict will be in the air.
3. Be Clean.
Enter your sacred space after a ritual cleansing.
4. Foreplay.
Do not rush this. Take your time and play with your partner's body. If you are alone, then this is the perfect opportunity to fully relax and get to know your body. Take the time to bring yourself into a state of arousal. Find yourself comfortable in your skin. It might be the first time in your life, and it is one of the greatest feelings in the world. There is nothing wrong with your body. You are beautiful, and now is your opportunity to feel that way.
5. Meditation.
This is the most important. Don't just succumb to your lust and desire. Be conscious and aware of what's happening. Be a witness to your sexual experience.
6. Afterplay.
Do not lose the witness. Do not rush to separate—with yourself or your partner. Continue to be in touch with all bodies present. Watch as your orgasm dissipates—make it the focus of your meditation. Don't just roll over and go to sleep.
(A note for girl-guy relations: Osho thought it imperative that the girl be on top, allowing her to be more active than him, which can prevent premature ejaculation.)
[is_visitor]For more tantric secrets (explained in a way less goofy manner than Osho), check out our free book on sex magick![/is_visitor][is_lead]Start learning magick and occultism at Magick.Me, our online school for chaos magick.[/is_lead][is_customer]Start learning magick and occultism at Magick.Me, our online school for chaos magick.[/is_customer][is_subscriber]Start learning magick and occultism at Magick.Me, our online school for chaos magick.[/is_subscriber] You can watch OSHO: Making Love – A Sacred Experience here.
(Image via Wikimedia Commons.)