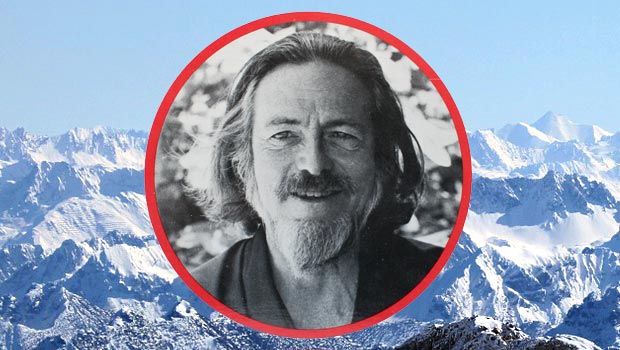 Alan Watts, the philosopher who popularized Zen Buddhism for a whole generation of young seekers, talks about how to wake up and fully enjoy your life!
Alan Watts played a huge role in popularizing Eastern philosophy for a Western audience in the mid-20 century. For more than 50 years his books and lectures have been responsible for setting countless individuals on the path.
Below, check out some of his greatest talks on how to wake up and fully actualize yourself to your limitless human potential.
Alan Watts on How to Wake Up
In the talk below, Alan Watts discusses the process of waking up that we all find ourselves in at various stages of our spiritual development.
Sometimes we feel alienated from ourselves, sometimes we feel estranged from society, sometimes we feel lost, sometimes we feel found, sometimes we find ourselves in the company of a teacher who wants to help us find ourselves… but Alan Watts reminds us that we do not wake up until we feel we have paid the price for it.
Too often we say that we want to wake up when we don't even know what that means. You may be a serious student but not a sincere seeker. It's that feeling of having paid the price that separate the sincere seeker from the serious student.
RELATED: The Psychonaut Field Manual: A Cartoon Guide to Chaos Magick
Waking up is not grad school—you don't need to do it to impress your parents or get a better job. In fact, waking up typically disappoints your parents and makes you realize that finding a better job is total bullshit. If you are waking up to impress someone else then you are still dreaming.
But hey, that's the price you pay for enlightenment.
Alan Watts on How to Free Yourself From the Necessity of "Work"
Watch the video below to see Alan Watts give a beautiful talk on the importance of treating work as play.
It's a hallmark of our culture to separate the duties of work and the frivolity of play into distinct compartments. We have time for work and time for play. We spend most of our time working so that we can spend a little bit of our time playing. But we hate the time that we spend working so much that when it comes time to play we cannot enjoy it because we are so embittered by how much we hate working.
And then we get back to work. All the days get stacked one on top of the other, and they all sort of begin to look like an insurmountable stack of dishes that is never done and never will be done.
RELATED: Osho's 6 Tantric Secrets: Forbidden Information From a Dangerous Guru
But Watts reminds us that in order to wash the dishes, we need to only wash one at a time. Getting lost in the daily grind, we are measured only by the enormous stack of dishes that we have washed in years past and the enormous stack of dishes waiting for us in years future. But there is only one dish we are washing: the here and now.
If we take the stack one dish at a time—in other words, if we take life one moment at time—the task transform into an art, and we blur the line between work and play.

Ready to Wake Up?
If you're ready to wake up and truly actualize yourself as a human being, check out our free course on chaos magick.
From meditations to visualizations to occult rituals, it's got everything you need to fully become your best possible self.
(Image of Alan Watts via.)