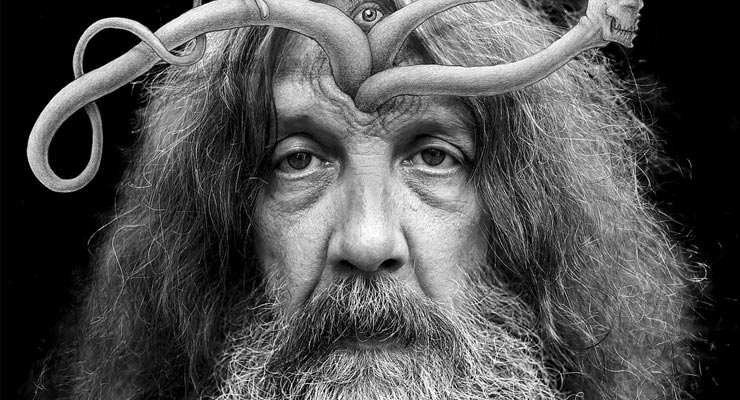 Alan Moore agrees to a demonstration of his magick powers, with unexpected results
In the very funny video below, the author Alan Moore, who has professed to be a practicing magician since his 40th birthday in 1993, agrees to a test of his magick powers, and attempts to blow up a lemon with his mind. The results aren't what you might expect…
Ultraculture hero Alan Moore skyrocketed to fame in the 1980s after writing the graphic novel Watchmen, which, along with Frank Miller's The Dark Knight Returns and Art Spiegelman's Maus, redefined the genre and brought comics to mainstream literary attention as a legitimate art form.
An infamously curmudgeonly anarchist, Moore (who has lived in the same small town in the English Midlands for his entire life) shortly thereafter got into a legal battle with DC Comics that saw him exit the world of mainstream superhero comics for more experimental pastures. While working on the indie graphic novel From Hell, which obsessively charts the occult significance of the Jack the Ripper murders, Moore immersed himself in the study of the occult.
Shortly thereafter, on his 40th birthday, he decided to publicly declare himself a magician (which he addresses in the video below), and proceeded to cobble together an occult practice from his research materials and attempt magical rituals, eventually deciding to worship an imaginary snake god named Glycon—purposefully imaginary because, as Moore often points out, one of the primary messages of magick is that everything is imaginary.
Moore the Magus' Shamanic Hijinks
There's an excellent story of Moore's madcap magick rituals from this mid-Nineties experimental period, by the way, in David J's (the bassist from Bauhaus) new autobiography Who Killed Mister Moonlight?, which recounts a particularly insane ritual in which David J and Alan Moore trip on acid at Moore's Northampton home and attempt to summon the demon Asmodeus.
Moore is soon chasing David J with a pocket knife trying to get some blood for a sacrifice, which David J quite luckily refuses, and it's all followed by the kind of teary and cathartic "I love you man" moment that often comes with psychedelic ritual magick.
It's a great read and, of course, one of my favorite parts of the book—particularly poignant because it was around this time that Moore and David J recorded the absolutely brilliant live spoken word performance The Moon and Serpent Grand Egyptian Theater of Marvels, which I somehow got ahold of at the age of fifteen; the CD demolished my materialist perspective on the universe and soon sent me on my own initiatory journey into the world of magick. And holy f***, it worked… and here I am eighteen years later teaching the stuff online. And to think, I could have been a doctor or lawyer!
Take the Alan Moore Challenge and Declare Yourself a Magician
In the excellent visualization below, taken from The Mindscape of Alan Moore, the comic book Magus dares you to declare yourself a magician, and discusses how magick is primarily a science of language and studying how our internal and spoken linguistic patterns affect the world.
When I was a teenager, I took Alan Moore up on his dare to become a magician. It was one of the most momentous decisions I've ever made in my life—and lo and behold, it worked.
I soon started creating my own rituals, and lo and behold, I started getting results
It actually worked.
Twenty years later, I've spent most of my adult life pursuing magick, and learning its secrets from cultures from all over the world, including Hindus, Buddhists, shamans, Sufis and many, many more.
To pass on what I've learned, I've created a free course on magick that reveals some of the core secrets of everything I've learned.
If you're going to be a magician, do it in style. I have Alan Moore to thank for inspiring me, and it's my great honor to pass that inspiration on to you…
…if you dare take that momentous leap into power and all it entails.