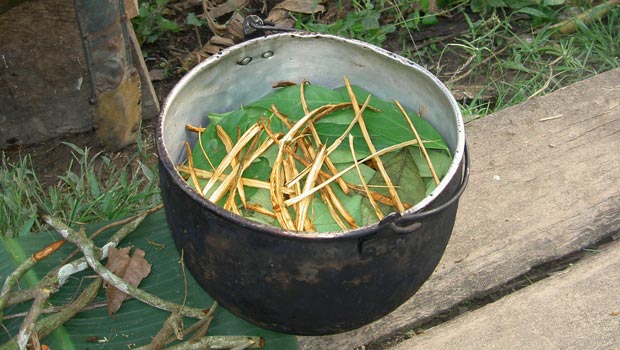 A Brazilian scientist reviews scientific and anecdotal evidence, concludes that further research into the use of ayahuasca as an alternative cancer treatment is warranted
According to a review of evidence of the use of ayahuasca in treating illness, both traditionally and currently, Brazilian scientist Eduardo E. Schenberg has suggested that the Amazonian hallucinogenic brew is worthy of further study as a potential alternative cancer treatment (for some types of the disease).
Ayahuasca has traditionally been used by Amazonian shamans as an aid in healing, and currently used by American hippies as an aid in social status—however, one of the reasons ayahuasca has become so popular is its purported (though certainly not validated) healing effects, largely "spiritual," but also physical.
RELATED: You Can Now Buy Ayahuasca on Amazon.com. Merry Xmas!
Schenberg studied reports of nine patients who used ayahuasca as an alternative cancer treatment—among the reported cancers for which treatment was attempted were prostate, brain, ovarian, uterine, stomach, breast and colon. Of the patients who used it, the bulk of them improved, one got worse, and one couldn't be evaluated. According to Schenberg, that's enough scientific and anecdotal evidence to merit further study of the medical benefits of ayahuasca as a whole, as well as its component compounds—N, N-dimethyltryptamine, harmine, tetrahydroharmine and harmaline.
Via SAGE Open Medicine:
Used for centuries in the Amazon basin by healers and shamans for many different purposes, including the healing and curing of illnesses, ayahuasca is a plant decoction that may be useful in the treatment of some types of cancer. The decoction is most commonly made of two plants in two possible combinations: Banisteriopsis caapi with Psychotria viridis or B. caapi with Diplopterys cabrerana…
There are at least nine reports of cancer patients who consumed ayahuasca during their treatment. Four were reported in a peer-reviewed article, one in an institutional magazine, one in Internet sources, two in a scientific conference (later mentioned in a peer-reviewed article), and one in a book. The origins of these cancers were the prostate, colon, ovaries, breast, uterus, stomach, and brain. Three of these cases showed improvements, as measured by the prostate-specific antigen (PSA) or the carcinoembryonic antigen (CEA) level. According to some of these reports, the patients survived longer than initially predicted by their doctors and felt well and healthy. Therefore, it is important to look at these cases in greater detail and investigate the pharmacological and psychological effects of ayahuasca to better understand its potential in the treatment of cancer and to evaluate possible risks of this practice.
This is certainly encouraging news, and the latest in nearly weekly reports that traditionally banned psychoactive compounds like cannabis, psilocybin, MDMA and, now, ayahuasca may have profound medical uses, even, in the case of ayahuasca, as an alternative cancer treatment.
However, a cautionary note—because of the meteoric rise of ayahuasca tourism, scammers and dodgy "shamans" have demonstrated a willingness to take advantage of drug tourists, like 18-year old Kyle Nolan, who died on an ayahuasca expedition. I've written here about AyaAdvisors, a kind of Yelp for ayahuasca destinations, which may provide some modicum of advance knowledge about what you're getting. But the world of ayahuasca is, of course, very AYOR territory.