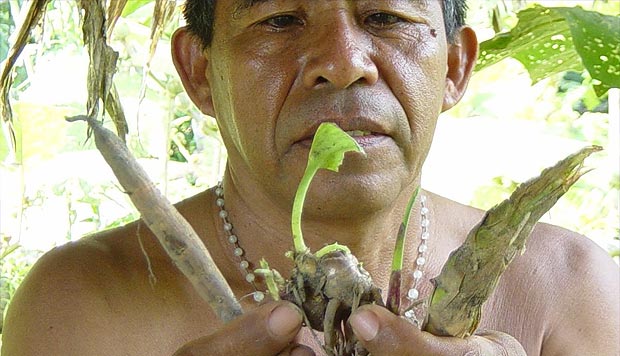 AyaAdvisors.org offers Yelp-style ayahuasca reviews of retreat centers in an effort to keep well-meaning spiritual seekers from being scammed
Ayahuasca is quickly becoming one of the most popular psychedelic experiences in the world, with spiritual seekers flocking to South America to seek out a life-changing experience. That means it's time to start seriously studying ayahuasca reviews, because if you're going to go through all that trouble, you want the best possible ayahuasca quality and experience.
I've written quite a bit here and on Facebook about my deep suspicions about ayahuasca and ayahuasca tourism—both that the jungle brew is being marketed to well-meaning young spiritual seekers as a "quick shortcut to enlightenment," the "this is the one true way" attitude that adherents of the ayahuasca cult start to assume, and how dodged out I am by the multitude of shamans who have sprung up to capitalize on the popularity of the psychedelic brew. A lot of this irritation has come from personal interactions with ayahuasca-heads—many of whom have had incredible, transcendent experiences, but many of whom also have come away damaged or, in the case of Kyle Nolan, dead thanks to the negligence of a "shaman" looking to make a quick buck.
Some of this suspicion may be warranted, and some may be me being overly negative. I've had friends who have had both incredible and also very bad experiences with ayahuasca. As with everything, your mileage may vary—particularly when it comes to whether the shaman who is guiding you is reputable. That means you need to read some ayahuasca reviews before diving in!
RELATED: You Can Now Buy Ayahuasca on Amazon.com
Luckily, the non-profit AyaAdvisor has taken up the mantle of safe psychedelic voyaging, much like the groups back in the 90s that used to offer free testing of MDMA pills at raves. AyaAdvisors offers ayahuasca reviews and allows retreat centers that offer ayahuasca trips to list the businesses, and those who use them to rate the services and provide warnings if necessary. The still-embyronic site also offers safety and diet tips. So far, there aren't many listing or reviews, though hopefully the site will be used by the "ayahuasca community" in making safe decisions.
Via AyaAdvisors.org:
Aya Advisor is a nonprofit organization dedicated to providing tourists safe and easy access to ayahuasca retreats. Ayahuasca is a powerful medicine and a drug that must be respected. We believe that by providing seekers of ayahuasca with accurate information, we can prevent scammers from taking advantage of unsuspecting tourists.
We provide a platform that empowers not only big "western retreats", but also the local shaman that doesn't have access to the knowledge necessary to create and maintain a website. Whether it's a luxurious retreat with lots of people or a small "authentic" tribal ritual, you'll find it here.
Check out a great documentary on ayahuasca below.
(Image via.)