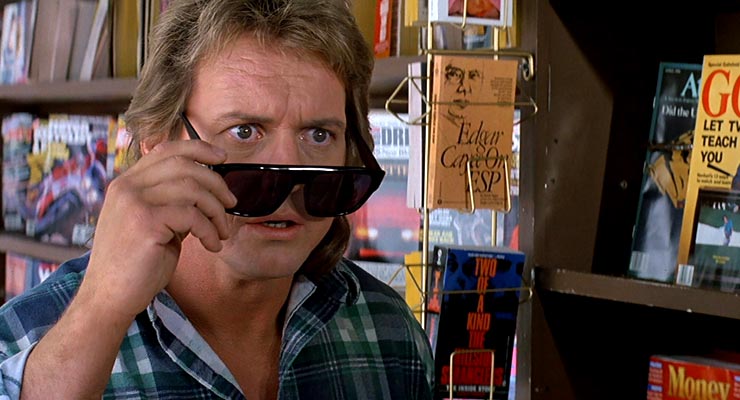 Here's six steps to filter out media noise, break the hypnosis of the mainstream media, and get to the information that truly matters.
There is no information age. It doesn't exist. There is only the Age of Noise. Because although we now appear to have an infinite ability to see everything that's going on in the world at once, from photos of the world from space to the fact that our friends are indecisive about what to eat tonight, we have no ability to filter that information and sort for what matters. We have no reliable media gatekeeper. We only have the so-called "mainstream media," which is just the advertising wing of multinational corporations.
We used to pay people to filter information for us: these were called professional journalists, writers and artists, whose job it was to dive into the sea of information and come back up with pearls for us. But we don't pay those people anymore, because the media conglomerates that have consolidated into only a few massive holdings since the 1990s have realized that they don't have to.
They don't have to because their interest isn't providing real information or truth, their interest is in providing content that gets as many people as possible to look at it, in order to get the most advertising money possible, because that's how they get paid and can afford the salaries and insurance costs of the large staffs they need to do what they do. That's their daily reality. And so they're in the business of giving people what they want.
RELATED: 10 Ways to Protect Yourself From NLP Mind Control
Since the 90s, the trend has increasingly been to cut out professionals and get people to generate their own content. That means reality television, YouTube, Facebook. No big budgets needed and far more profit gained. Since everybody is a star now, everybody is constantly generating more free content than we can ever consume. And so professional creatives have gone the way of the dinosaurs, and instead of getting reporting on, say, Karen Silkwood blowing the whistle on nuclear power, or Gary Webb's expose of CIA drug trafficking, you're getting reporting about how some celebrity is in a Twitter feud.
We have no more professional gatekeepers. We are scattered to the four winds, drowning in Facebook feeds or aggregation blogs. These mega-blogs, which we have mistakenly expected to replace mainstream media outlets, are in the same position: largely beholden to the tastes of their audiences, and stuck having to keep people happy with unchallenging, crowd-pleasing content to drive traffic to their site advertisers so that they can eat.
So where does this leave the information-poor individual who hopefully wants to get their head over the waterline enough to start to see the things that actually matter?
It means you have to be your own media gatekeeper. Flat out. You can't outsource that job to somebody else anymore, because the mainstream media, or the alternative media, or Blog X, Y or Z, are not going to comprehensively do that job for you the way you need it done. They're too beholden to economics, ratings and their own viewpoints and reality tunnels. And more and more, they're probably not able to do that job because they're not properly trained for that job, and I don't mean just bloggers, because these days very few people who work in the mainstream media have any journalistic training at all. Nobody can get the information you need for you, you've got to do it yourself.
Luckily, we've got tools that can help us do that. Here's a few beginning steps:
1. Decide what matters.
Faced with infinite information, you've got to decide up front what you're going to filter for, at least initially. You've got to restrict your data to some extent, which sounds counterintuitive, but is necessary. You don't need more information, you need more information about the things that matter. I suggest that the things that matter are, simply, information that can directly positively effect the welfare of you and your family, and information about the general welfare of the planet.
2. Use web tools to automate your info intake.
Everybody on the web is largely in the same position: grab info from a few news sources (like AP or Reuters) and then recycle it into blog content. They're using the same tools as you to get their info. So cut out the middleman. I recommend setting up Google Alerts, for a start, to give you info about the issues you actually care about instead of waiting for somebody else to. Beyond that, I highly recommend using an RSS aggregator like Feedly to dump a lot of media outlets into an easy-to-digest feed. Work done upfront will pay off in time saved later. Reddit is also an excellent tool, as long as you stay off the dreaded, time-sucking front page and keep to subreddits pertinent to important topics.
3. Expand outside of your demographic bubble.
Whoever you are, you fit a demographic, which means that the mainstream media specifically tailors content that it knows you will like for the shows you watch and blogs you read, so advertisers can sell you products they've determined your demographic buys and use the language and images they know you will respond to, all in order to get you to make that purchase.
RELATED: William S. Burroughs' 7 Occult Techniques for Smashing Reality
Expand out of the box they've decided you fit in. Read blogs and consume media from sources outside of your demographic, and that definitely means outside of your political and religious persuasion. Otherwise you're blinkered not only to things that are going on around you, but also to parts of life you might be ignoring.
4. Read a book.
You still won't get nearly as good of an info download from months on the Internet as you will from reading a well-researched, info-dense book, a book which, never forget, can represent years or decades of professional research and experience rather than an afternoon spent dashing off a blog post to throw out into the netherworld. Don't stop reading, and reading better and more challenging books. The Web is really only a menu of culture; don't forget to eat the meal.
5. Think critically.
Understand what confirmation bias is, and always consider the source of an article. Who wrote this, and what's their agenda? What are they selling? Do they cite their own sources? Is this from a professional journalist/writer or from some wackadoo or salesman spouting off on the net? To dig deeper, get this excellent, comprehensive primer in critical thinking skills.
6. Meditate.
Sounds potentially hokey, but there is no better discipline for learning how to shut off what is pointless bullshit and go only for what actually matters than meditation, because in learning to control one's own thoughts internally, dealing with external noise becomes immensely easier.
RELATED: How to Meditate: A Beginner's Guide to Meditation, the One Skill That Can Transform Every Area of Your Entire Life
Information is power. Know how to get it. Don't outsource it to the mainstream media to do it for you.
(The image and clip above are from They Live. If you haven't seen this classic film, you must; it's actually the best primer on seeing through social hypnosis and the mainstream media that you could hope for. Watch it here!)