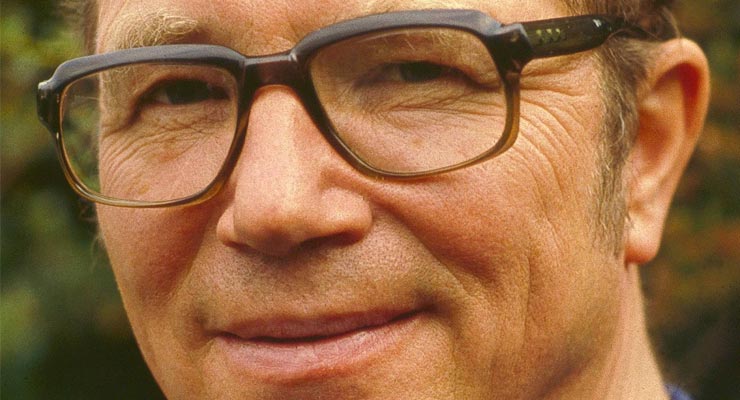 The late English author Colin Wilson turned a generation on to the idea of becoming "more than human." Here's an introduction to the man himself.
It started in the dark stacks at the back of the public library, where I had spent most of my young days and now, as an extremely shy, awkward and very goth sixteen-year-old, I was about to discover a book that would alter the course of my life. That book was The Occult by the English author Colin Wilson, and it looked like it had been there since the 60s—it was dog-eared, tattered and held together (barely) by a heavy plastic wrap-around.d
This was the first apparently serious book on the occult I had discovered, and after a childhood spent lost in Time-Life books on aliens, mysteries and the unexplored corners of the world—followed by the jarring, concrete shock of dealing with junior high and high school—a more "serious" invitation back to the land of the unknown powers of the mind, rather than the numb mundanities of school, was more than seductive. But already having learned to armor myself from life with a veneer of world-weary cynicism and skepticism, I was also more than ready to dismiss every claim Colin Wilson made in the book.
RELATED: William S. Burroughs' 7 Occult Techniques for Smashing Reality
What I found, as many have who were turned on by Colin Wilson's books, was a remarkably rigorous and intellectually daring look at the idea of "magic"—even a convincing argument for its reality.
After a working-class childhood and leaving school at the age of 16, Colin Wilson shot to fame as the darling of the English intelligentsia in the mid-1950s. His first book, The Outsider, written in his early twenties while sleeping rough in Hampstead Heath, and published in 1956, was considered the first true example of English existentialism. The book was quickly seized upon by critics looking to put England on a cultural par with the Continent. Within its pages, the "angry young man" and James Dean of philosophy examined the lives of outsider figures from history, from Hemingway to Nietzsche to Nijinsky, and considered them as noble (if occasionally failed) examples of superhumanity, mutants who sought to struggle away from the social hypnosis of the masses and develop their own radical individual geniuses. It was a massive hit, thrusting the 24-year-old into international fame. A very early-twenties book (and a conscious model for Generation Hex, which I released at the similarly self-assured age of 23), The Outsider appealed to everybody who considered themselves special, different, better than those around them—that is, young people everywhere.
But by the end of the 50s, England had tired of Colin Wilson. Like Austin Osman Spare, another English visionary and outsider whose star rose early only to be quickly discarded by a fickle British public, Wilson's fame was short-lived and fleeting. Yet he had only begun his work—pushed by financial need to write about more lurid subjects, Colin Wilson turned his attention to crime writing and the occult, just in time for the fuzzy Glastonbury mysticism of the English hippie generation, many of whose adherents had been influenced, whether consciously or tangentially, by The Outsider.
1969's The Occult—the book I found as a sixteen-year-old—took his theories from The Outsider even further. If, he suggested, there is some unknown quantity, some strange fluke of nature or nurture that can turn people into geniuses, then is it possible to purposefully catalyze that unknown quantity? Wilson proposed for argument's sake that this genius factor does in fact exist, and dubbed it "Faculty X," the certain something that turns men into supermen, or at least allows them to fully utilize their innate abilities without the backdrag of neuroses. It was a potent idea for a generation immersed in the mysterious waters of the unconscious—in Tarot cards, I Ching, LSD and Transcendental Meditation. It also echoed the theories of an earlier English traveler-in-the-unconscious, Aleister Crowley, who had boasted in the 1920s that his occult methods could turn any average man into a man of genius (Crowley had mixed results, often inspiring nervous breakdown instead of genius, though many of his students, like Victor Neuburg and Frank Bennett, produced remarkably inspired poetry while under Crowley's tutelage).
RELATED: Aleister Crowley: Who Was the Wickedest Man in the World, Really?
In The Occult, Wilson reviewed mystics, magicians and occult charlatans from history—Cagliostro, Rasputin, Madame Blavatsky, Crowley. Though finding himself not particularly fond of most of them, Colin Wilson held out singular praise and admiration for G. I. Gurdjieff, the Russian-Armenian mystic who proposed that mankind was in a state of unconscious sleep and needed to be awakened through a series of mystic practices and conscious shocks. Did these aberrations of history, he wondered, have the ability to awaken "Faculty X" within the average man? And if so, could their practices be refined and repeated? It was ideas like this that gave rise to the nascent Human Potential Movement, and the oft-repeated (though incorrect) maxim that humans use only "10%" of their brain, with massive latent capabilities that hold the potential to radicalize society and the course of history if awakened.
For an alienated teenager, The Occult had much the same effect that reading X-Men comics had while in elementary school: it offered the validation of being special, different and unique. For me personally, it inspired two decades of personal investigation and experiment into the methods of the individuals Wilson discussed, and deep spiritual seeking that eventually lead me through many of the world's mystic practices and even to seeking answers throughout Asia.
The Occult remains an incredibly potent and potentially life-changing book, though in retrospect the emphasis on the primacy of the individual as separate and superior from the environment and society seems adolescent (the idea isn't far from the similarly teenage philosophies of Ayn Rand and Satanism, and perhaps reached its apotheosis in the ideas of the Temple of Set)—ironically, involvement with spirituality and occult practices often disintegrates the sense of individual separation from the universe and unites the practitioner with the greater order of nature and society (if it's done right, if I may editorialize). But as a scholarly, measured, deeply rational investigation of a very irrational topic, The Occult is unparalleled.
RELATED: The 7 Biggest Mistakes People Make When Learning Magick
Colin Wilson died on December 5, 2013, with 114+ books to his name, having worked steadily and without ceasing since mid-century. His work remains a beacon of insight.
Wilson asked one very simple question: If psychology shows us how to deal with the mind when it falls below normal functioning, what can we do to push the mind above normal functioning—into superhuman realms?
After I returned that book to the library, by the way, it disappeared, never to be seen again… may Colin Wilson's work appear in equally mysterious and synchronistic ways in the lives of the curious and those on the Outside.
Below, author Gary Lachman describes Wilson's core ideas. To dive into the world of the occult—and of tapping Wilson's Faculty X—check out our free course on chaos magick. Below, author Gary Lachman describes Wilson's core ideas. To dive into the world of the occult—and of tapping Wilson's Faculty X—check out Magick.Me, our online school for magick Below, author Gary Lachman describes Wilson's core ideas. To dive into the world of the occult—and of tapping Wilson's Faculty X—check out Magick.Me, our online school for magick. Below, author Gary Lachman describes Wilson's core ideas. To dive into the world of the occult—and of tapping Wilson's Faculty X—check out Magick.Me, our online school for magick.