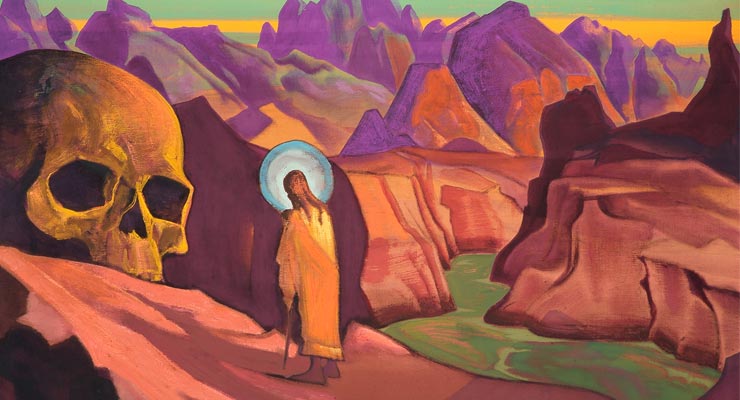 Nicholas Roerich, Russian painter and mystic, captured the occult doctrines of Tibet and Theosophy in his artwork, inspiring generations of spiritual seekers to come. Here's some of his most incredible paintings.
Nicholas Roerich was truly an international man of mystery and magic. Born in 1874 in St. Petersburg, Roerich rose to become one of the world's most versatile intellectuals, lending his expertise to three different sectors: art, politics and spirituality.
Igor Stravinsky (whom Roerich worked with on the composition Rite of Spring) said that Roerich "looked as though he ought to have been a mystic or a spy." In reality, he was probably more like Dr. Strange than James Bond.
Like the magician Aleister Crowley (who also moonlighted as spook), Roerich might have observed extraterrestrial phenomena. The event in question played out like the opening scene in The Day the Earth Stood Still (the one with Keanu Reeves) and happened during his three year Shamballa quest in the Himalayas.
Here's what he wrote:
We saw, in a direction from north to south, something  big and shiny reflecting the sun, like a huge oval moving at great speed. Crossing our camp this thing changed in its direction from south to southwest. And we saw how it disappeared in the intense blue sky. We even had time to take our field glasses and saw quite distinctly an oval form with shiny surface, one side of which was brilliant from the sun.
The sighting occured a few years after Roerich and his wife Helena had started developing their own spiritual system, Agni Yoga. Partially inspired by Theosophy, it combines elements of Orthodox Christianity, Slavic symbolism and Vedic mythology. Its adherents aim to practice "living ethics" and podvig (heroic labor).  

Start learning magick and occultism at Magick.Me, our online school for chaos magick. Start learning magick and occultism at Magick.Me, our online school for chaos magick.Start learning magick and occultism at Magick.Me, our online school for chaos magick.
Today, Roerich is best known for his contributions to art and culture. In his Banner of Peace address of 1931 he said: "Culture is the accumulation of highest Bliss, highest Beauty, highest Knowledge."
Four years later his brainchild, the Roerich Pact, was signed into action at the White House in 1935. The document declares that "treasures of culture" should be"respected and protected in time of war."
Roerich died in 1947. Even though museums in New York, Moscow and Naggar memorialize his accomplishments, Roerich and his voluminous paintings and writings are sometimes overlooked. Nevertheless, Roerich remains to be one of the most successful occultist-artists the world has ever seen.