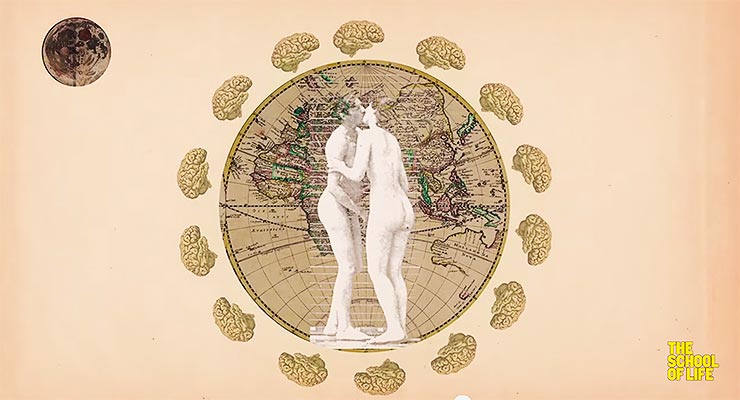 This video is a great introduction to attaining higher consciousness, a state of mind that transcends the human condition and can lead us to a suffering-free life
This excellent video (via "The School of Life") takes an analytical look at the wild claims of higher consciousness made by mystics throughout human history, and how they match up with neuroscience.
It features great animation, highly reminiscent of Terry Gilliam's cut-out animations for Monty Python. The video also urges a compassionate response to understanding other people, even when they act in destructive ways, instead of labelling them as "evil" or "other." Most importantly, it cautions us to not becoming addicted to higher consciousness—to appreciate such experiences when they come, but not constantly seek to stay there.
RELATED: John C. Lilly, Inventor of the Sensory Deprivation Tank, Explains the Nature of Consciousness
The concept of higher consciousness is that transcendental mind, higher Self or even God can be contacted—the part of the human being that is higher than pure animal instinct. It was originally a product of German Idealism, and was expounded upon at length by the philosophers Fichte and Schopenhauer. The German Idealists, in turn, were likely inspired by Advaita Vedanta, the Hindu system of attaining God-like mind.
RELATED: The Psychonaut Field Manual: A Cartoon Guide to Chaos Magick
Higher consciousness, and the idea of attaining it, has become a central idea in modern spirituality, particularly since the era of the Human Potential Movement. The idea that there might be some higher-functioning state of being human has inspired everyone from Deepak Chopra to corporate productivity consultants: The idea that the might be a way to be more than human—or, at the very least, to be free from suffering, is one of the most appealing ideas that human beings have ever come up with, and a noble quest indeed (whether or not it proves to simply be an ideal in the end).
Check out the animation below. Highly recommended!
[is_visitor]For more instruction on achieving higher consciousness, check out our free course on chaos magick.[/is_visitor][is_lead]For more instruction on achieving higher consciousness, check out Magick.Me, our online school for chaos magick.[/is_lead][is_customer]For more instruction on achieving higher consciousness, check out Magick.Me, our online school for chaos magick.[/is_customer][is_subscriber]For more instruction on achieving higher consciousness, check out Magick.Me, our online school for chaos magick.[/is_subscriber]