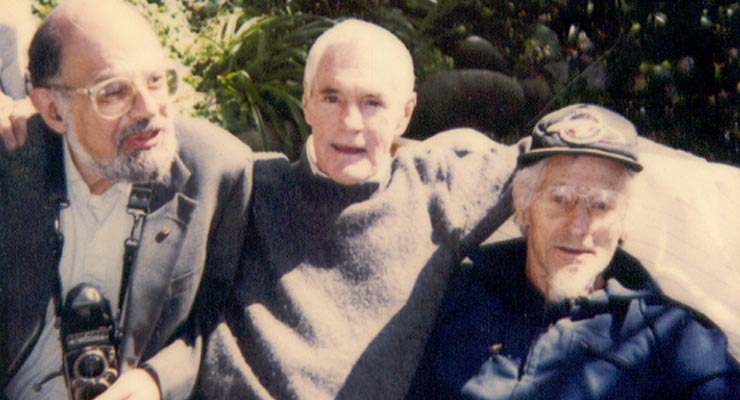 Psychedelic pioneer John C. Lilly, inventor of the sensory deprivation tank and intrepid explorer of altered states of consciousness, explains the nature of consciousness in this intelligent and insightful talk
In the lecture embedded below, John C. Lilly eloquently discusses levels of consciousness from a variety of perspectives. He touches on topics such as satori, Russian mystic G. I. Gurdjieff, the Hindu chakra system and the kundalini experience.
It's a truly amazing talk—he crams 20 years of psychotherapy and spiritual seeking into 20 minutes. That's not to say that he favors a quick fix approach. The methods he discusses can take years to develop an aptitude for. Yet John C. Lilly cuts through 90% of the bullshit—not just other people's, but above all our own—with which we delude ourselves and feed our egos. Lilly's mammoth intelligence and keen intuition are made crystal clear in this talk.
RELATED: William S. Burroughs' 7 Occult Techniques for Smashing Reality
Lilly was a pioneer in consciousness studies and psychedelic science. His Metaprogramming the Human Biocomputer is a staple of psychedelic literature—he's perhaps most highly regarded for his pioneering work with deprivation tanks.
From his Wikipedia entry:
In 1953, Lilly began a job studying neurophysiology with the US Public Health Service Commissioned Officers Corps. At the NIMH in 1954,with the desire of isolating a brain from external stimulation, he devised the first isolation tank, a dark soundproof tank of warm salt water in which subjects could float for long periods in sensory isolation. Lilly and a research colleague were the first to act as subjects of this research. What had been known as perceptual isolation or sensory deprivation was reconceptualized as Restricted Environmental Stimulation Technique (REST).
RELATED: Here's 8 Celebrities Who Practice Chaos Magick
Lilly later studied other large-brained mammals and during the late 1950s he established a facility devoted to fostering human-dolphin communication: the Communication Research Institute on St. Thomas in the Virgin Islands. During the early 1960s, Lilly and co-workers published several papers reporting that dolphins could mimic human speech patterns. Subsequent investigations of dolphin cognition have generally, however, found it difficult to replicate his results.
In the 80s, John C. Lilly became fascinated with interspecies communication with dolphins, and even directed a project to discover if dolphins can be taught computer-synthesized language. He saw a time when the killing of dolphins and whales would cease, writing that it would not happen "from a law being passed, but from each human understanding innately that these are ancient, sentient earth residents, with tremendous intelligence and enormous life force. Not someone to kill, but someone to learn from."
Check out our free guide to chaos magick here. Start learning magick and occultism at Magick.Me, our online school for chaos magick. Start learning magick and occultism at Magick.Me, our online school for chaos magick. Start learning magick and occultism at Magick.Me, our online school for chaos magick.