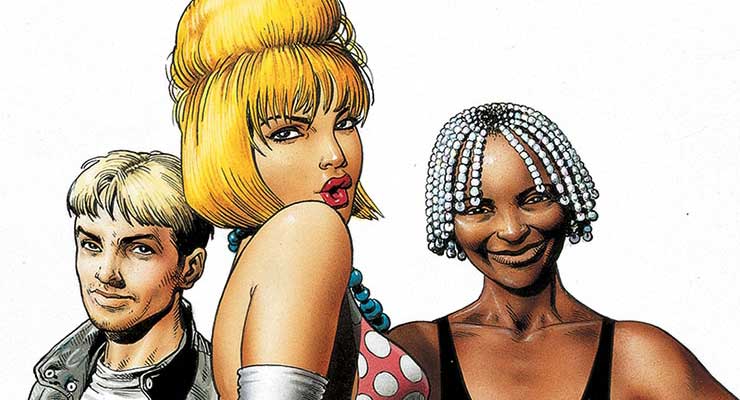 Grant Morrison's The Invisibles made bold predictions for a post-2012 world of enlightenment and liberation. How close are we to realizing Morrison's vision?
It's been over 15 years since the last issue of comic writer and chaos magician Grant Morrison's magnum opus The Invisibles
was released by Vertigo Comics. The Invisibles is the story of how Dane McGowan, a Liverpool hooligan, falls in with a misfit group of freedom fighters in a kitchen sink world of government conspiracies, psychedelics and magick… and soon becomes an anarchist messiah. The comic itself is a bizarre and mind-altering experience, but then, that's the point—according to Grant Morrison, The Invisibles was meant to be a hypersigil, a living spell made of art that would alter the world to his liking.
The characters and the narrative move around in time, but the furthest the story goes is 2012, once thought to be the date of an apocalypse predicted by the Mayan long-count calendar. While the world didn't end four years ago (either in a species-wide love fest or enslavement by the nightmarish extra-dimensional cyborgs from the Outer Church), it's certainly changed. But did Grant Morrison's predictions and intentions come to pass?
RELATED: Here's 8 Celebrities Who Practice Chaos Magick
Here's five areas in which the reality of The Invisibles has come closer to our own.
1. Chaos Magick Becomes a Major Trend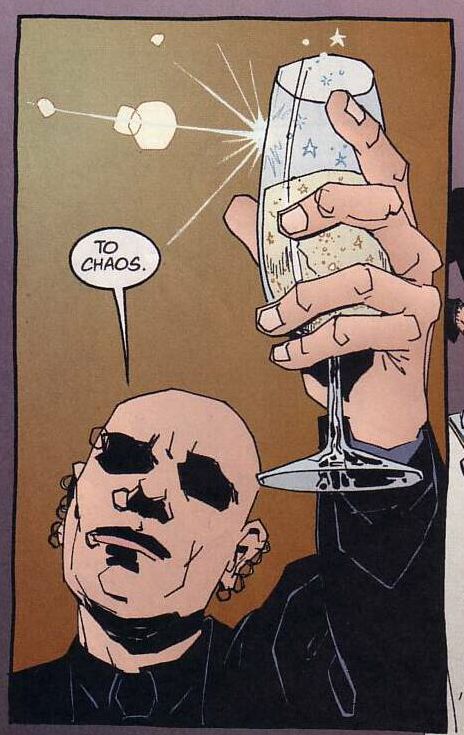 One of the goals of The Invisibles, according to Grant Morrison, was to create more Invisibles, and spread his ideas and interests. Recently, a group of forecasters at New York trend agency K-Hole may have taken this in a direction even Grant Morrison may not have anticipated. K-Hole had originally coined the term Normcore to describe the trend of becoming aggressively boring in order to fit in—an Outer Church philosophy if ever there was one—only to later proclaim that the smorgasbord spirituality of Chaos Magick would be the next thing on the horizon to inform our lives, as well as our fashion choices. The fashion industry (and even K-Hole itself) is incredibly cynical about this notion… however, that it is even a topic of discussion in those spheres at all might make one more inclined to whip up a quick sigil…
2. The Far-Future Technology of The Invisibles is Closer to Reality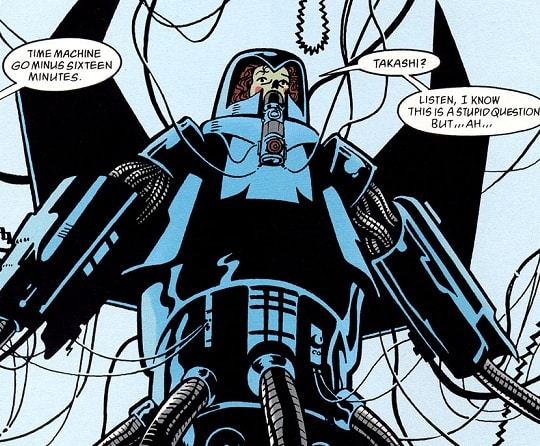 A lot of the technology predicted in the series has arrived later than predicted or in a different form, if at all. One of the series leads, Ragged Robin, had an implant that "augmented psychic power," stating that such things had become common. We aren't quite there yet, and the few transhumanist pioneers that have experimented with implants are occasionally met with suspicion at best… outright hostility and violence at worst. Nanotech, smart drinks, virtual reality/isolation tank hybrid environments and especially the nanobots that begin to consume the world at one point during the last issue are far from being commercialized, let alone in an advanced enough state to be practical.
While we wait, we do have several things that once required special effects: bionic eyes, tablet PCs, 3D printers. This only scratches the surface of what humanity has achieved in spite of a great deal of our efforts being aimed towards warfare. If our full effort as a species was towards the eradication of social ills, the possibilities would be endless.
3. Genderfluidity Enters Mainstream Awareness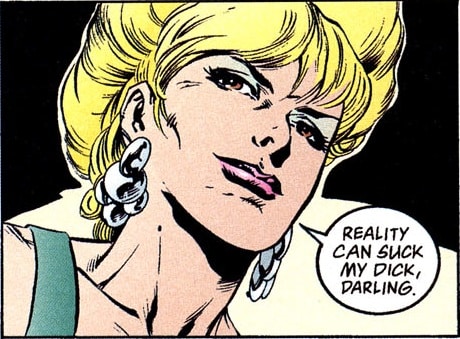 As of his last appearance, the Marquis de Sade was actively trying to create a 3rd gender that would shatter stereotypical roles and perceptions with his fledgling "Non" subculture, that had become mainstream by 2012 in The Invisibles. Like most things about the future in The Invisibles, this falls under "close, but not quite."
Here in the real 2016, the controversy over gender identity has exploded into the mainstream ever since Caitlyn Jenner came out as a transwoman. Jaden Smith's genderfluid fashion sense has been the subject of both praise and derision in the media and in comments sections. Yet 2015 saw a record number of transpeople assaulted and killed, proving that we have a long way to go as a species in welcoming and integrating our non-binary gendered brothers and sisters into modern society.
4. Every Man and Every Woman is a (Reality) Star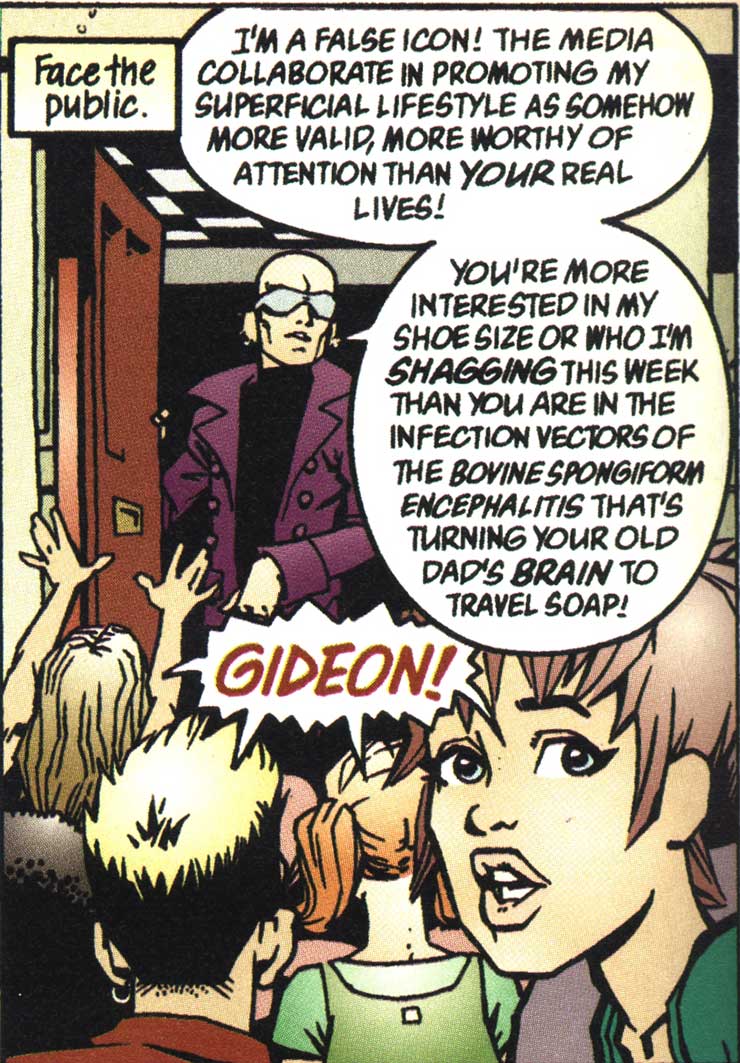 Grant Morrison posited in the final issue of The Invisibles that the surveillance state would be total, but that the proliferation of cameras would encourage people to act as if they were on a movie set, turning government surveillance into an opportunity for performance art. What wasn't anticipated by anyone was the rise of YouTubers and Viners. With webcams and smartphones everywhere, it's never been easier to become famous (or infamous), with or without a police state. Vlogging, Let's Plays, and other forms of fledgling media have flourished in this new environment. Platforms like YouTube, Twitch.tv and Amazon have democratized the entertainment industry, making it easier than ever to build a following and shine as bright as any celebrity star—and if you get lucky and work it right, a living.
5. Conspiracy Becomes Fact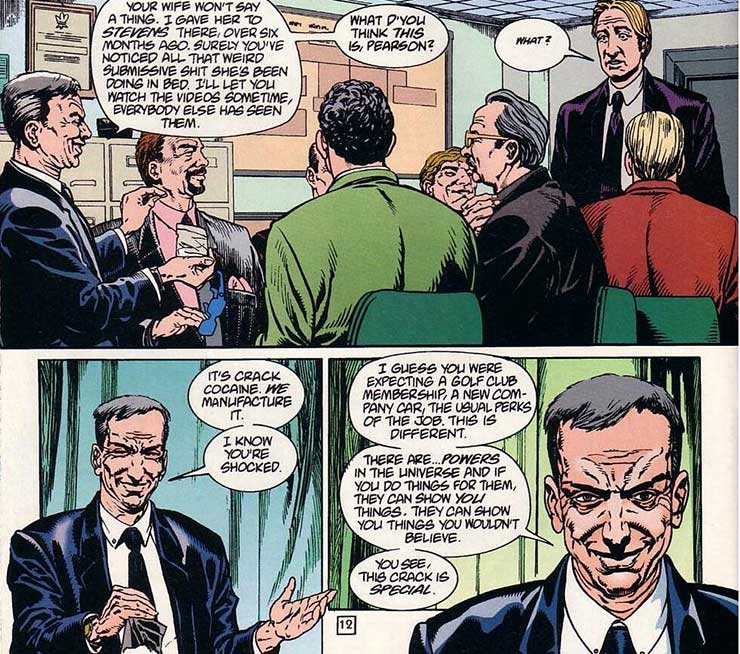 The Invisibles often suggested that in addition to the sci-fi villainy of the Outer Church, more mundane threats lay just beneath the surface of life on Earth. One especially standout moment occurred in the aftermath of the first Black Science story arc in the comic's second volume. Lord Fanny recalls the story of how a pharmacist told her that the industry he works in is basically a multi-billion dollar scam. The medicines were designed to keep people sick so that the pharmaceutical companies could make more money. The actions of CEO Martin Shkreli have taken this idea from tinfoil hat territory to the realm of plausibility. Shkreli's company Turing Pharmaceuticals became notorious last year for hiking up the price of a drug way more than necessary in order to secure more profits for itself. Not long after, similar stories came to light, and now the entire pharmaceutical industry is under the microscope for price gouging.
RELATED: William S. Burroughs' 7 Occult Techniques for Smashing Reality
The Turing scandal is only the latest in an ongoing series of revelations of the abuse of power by the powerful—environmental disasters like the currently ongoing Flint water crisis, Edward Snowden revealing the extent of the American government's spying, Chelsea Manning exposing of war crimes… the list of examples for trusted institutions being exposed as corrupt worldwide could easily go on. What remains to be seen is if these revelations will make any difference in the face of rampant complacency. There are signs of hope, however, as wave after wave of newly inspired activists continue to resist in the ongoing struggle for civil rights and government transparency.
So… Was Grant Morrison Accurate?

Having looked back, the reality of post 2012 isn't even close to the reality of the comic's, aesthetically or technologically. If anything, it looks to be business as usual, with the Outer Church running the show (depending on how cynical you are). However, it would be disingenuous to say that there haven't been positive changes in the world.
Technology improves in various fields every day, and some of the best parts of science fiction are now a part of our daily lives at a consumer level. Social equality and civil rights have improved, although only by inches instead of the miles we can and should go to. More and more people are being made aware of the abuses of power that keep us in a cycle of planetary and human exploitation because of the internet. It's always better than you think.
The next time you feel like everything is hopeless, look around you, and remember: This is a rescue mission.
Let's do our best.
(You can buy the entirety of The Invisibles by Grant Morrison and a giant crew of artists in one giant hardback here
.)
All images © Grant Morrison / Time-Warner, Inc. Used for review purposes.