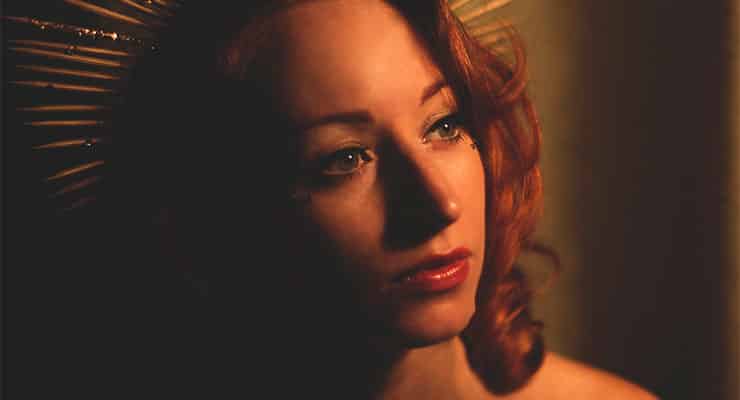 Ultraculture, Episode 11: Christiana Key (Delphic Oracle) on Magick, Priestess Pop and Musical Performance as Occult Ritual!
In this episode of the Ultraculture podcast, I'm talking to Christiana Key, who performs as Delphic Oracle.
Key is an incredibly unique performer, who combines electric violin and keyboard synth in a one-woman approach to channeling occult, ritualistic energies. She calls her style of music "priestess pop," a raw, sexually charged act that's deeply informed by occult theory and practice.
Though she previously played violin with several other bands, I find Christiana a lot more interesting, and truly magical, in her own right. If you listened to the track that started this podcast, you probably understand exactly what I'm talking about.
There's more at the end, by the way.
Christiana is extremely interested in and practiced with chaos and ceremonial magick, in a very serious way, and I definitely think that her expression of it through music is one of the most interesting and truly captivating expressions of magic in the current occult revival.
A comparison to Kate Bush is probably too obvious, but I think that Christiana is an immensely talented performer and that we'll be hearing a lot more from her in the near future.
RELATED: Unleashing Witch Magic and Female Power at Brooklyn's 'Legacy of the Witch'
I sat down to talk to Christiana not just about her music but about her interest in chaos magick, and our conversation ranged from astrological timings to planetary magick to exorcising one's own demons with meditation. It was a great conversation, and I think you'll really enjoy it.
Check out her Soundcloud here and please buy tracks from her Bandcamp here.
Now! I should take this time to mention that I've just released a new, free course on chaos magick. When you sign up for it you'll get an incredible range of goodies that I've been spending months getting ready for you, from a free book on sigils to video training in meditation to articles on occult theory to guided meditations unlocking a magician's mindset and lots, lots more.
(To make sure you get future episodes of the show in a timely way, please subscribe to the Ultraculture podcast at iTunes, here! You can subscribe to it on Soundcloud as well, if you like—the Soundcloud is here!)
See you soon for more episodes of the show!