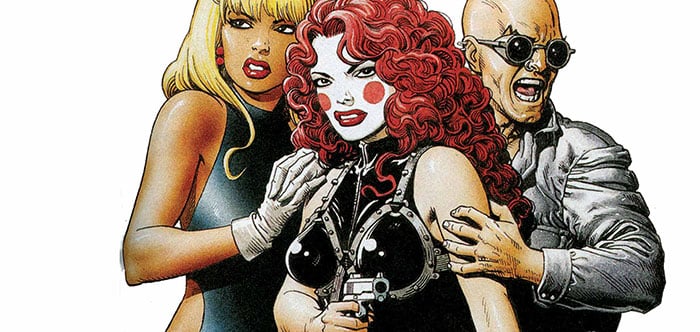 Here's the 5 best books to get a deeper understanding of exactly what Magick is
My house is almost completely filled with books, a good portion of which are related to magick. That's because I spent most of my twenties delving into hard occult theory, to make sure I "got it right."
What I eventually discovered is that there is a huge amount of noise in occult writing, but very little signal. Most occult books are a technique taken from here or there, with a bunch of fluff added to make it big enough to sell on its own. [is_visitor](Frankly, you'll get far more pure occult information from my free book on chaos magick than a good deal of the occult books in the marketplace.)[/is_visitor][is_lead](Frankly, you'll get far more pure occult information from our online school for magick than a good deal of the occult books in the marketplace.)[/is_lead][is_customer](Frankly, you'll get far more pure occult information from our online school for magick than a good deal of the occult books in the marketplace.)[/is_customer][is_subscriber](Frankly, you'll get far more pure occult information from our online school for magick than a good deal of the occult books in the marketplace.)[/is_subscriber]
To save you the time and headache of having to cobble together an occult library, I've provided the core texts below. Some of them are pure technique, some are inspirational. Get these, and you can dispense with the giant stacks of New Age and grimoire-style fluff: You'll have more than enough practical material to last you multiple lifetimes. I hope you enjoy these as much as I have!
The 5 (plus one extra) Best Books on Magick
No Boundary, Ken Wilber. Ken Wilber is perhaps the greatest genius of spiritual theory of our age. His books exhaustively compile and collate nearly every Eastern and Western modality for personal and spiritual growth. This is one of his first, best and mercifully shortest books—it perfectly outlines, in sequence, a map of spiritual and psychological techniques for evolution and enlightenment. Get it. Read it.

Liber Null & Psychonaut, Peter J. Carroll. This book lays out the raw practices of ritual magic, stripped down and taken out of context. Good for picking up the very basics, but take Carroll's reductionist editorializing with fifty times the salt one would reserve for Aleister Crowley.

The Golden Dawn, Israel Regardie. Contains the ritual corpus of the Golden Dawn, the 19th century Victorian magic group that counted many of the British Isles' primary cultural movers among its members. This is a synthesis of most of what came before and the foundation of most of what came after.

Magick: Liber ABA, Aleister Crowley. Crowley's masterpiece. If you haven't been exposed to Crowley before (outside of his image), you'll be shocked at the clarity of his insight and wit, along with the range of his technical knowledge. Crowley's system took the Golden Dawn material, added in Eastern mysticism and sex magick, and ratcheted the whole thing up to the tenth power. Alongside this you'll likely want a copy of Gems From the Equinox.

The Invisibles, Grant Morrison. Grant Morrison's epic graphic novel series is a masterpiece of literature in any form, and a veritable index to nearly every conceivable type of occult practice to boot. You'll recognize the clear inspiration not only for The Matrix but a huge swathe of pop culture that came after this comic, which seemed like a truly "alien" transmission in the 1990s. (Morrison claimed that the comic book was his attempt to express information given to him when he was abducted by aliens in Kathmandu.) Caveat: Find the letters columns! These were in the individual issues and featured Grant talking about his personal occult experiences that prompted the series. They're not in the reprint book, but Google will turn them up.
For convenience, I've arranged these books into an organized Amazon list below, along with a bunch of other goodies. Enjoy these books—many of them are truly the most worthwhile "objects" in this dimension. [is_visitor](And don't forget to get our own free book on mastering the basics of magick!)[/is_visitor]
(Image from The Invisibles. ©Time Warner Inc. Used for review/promotional purposes.)