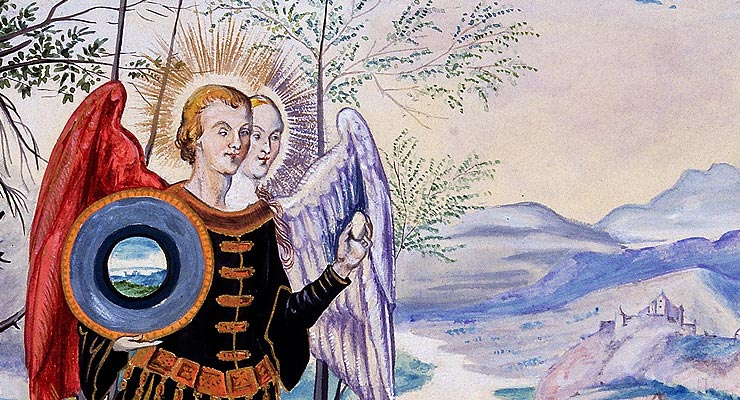 Hunting for ancient Hermetic books in Europe turns out to be way more fun that I thought
Earlier this year I had the good fortune to find myself in Amsterdam. As a visit to the Bibliotheca Philosophica Hermetica to pick up some Hermetic books was on my short list of "to do," I hit the pavement and wandered through Jordaan until I found its very discreet position at No. 13, Bloemstraat. You've kind of got to work the city a little bit to find it, and surely it's easier if you speak the Dutch. I don't.
After knocking, ringing, waiting, and repeating, a trim blond librarian opened the door for me. We exchanged greetings and I explained that I was a librarian curious about their Hermetic books. She welcomed me and offered a quick tour, then let me loose to browse on my own.
It's a small, efficiently used space, and fully packed with esoterica. The main areas they collect for are alchemy, comparative religion, Gnosticism, Hermetica, mysticism and Rosicrucianism. Most modern magical societies since the 18th Century are placed in the Rosicrucian stream, and that includes everything from Freemasonry to post-Crowley material.
RELATED: How Hermetic Initiates Used Magick to Study Reality
I hardly knew what all I was looking at. One gallery held a 16th Century (?) graphic elaboration of the elements of the Caduceus, beautifully painted and arranged as a diptych. On the left we see man pulled into a pit by a green dragon, on the right we see man consumed by fire, and, in the middle, the only happiness: Hermes borne aloft on wings between these two extremes. Just below this lay an original edition of Maier's Atalanta Fugiens, open to a hymn for The Salamander.
After wandering and turning up some bound journals with contributions by A. E. Waite and various other jewels, it was time for me to go. Closing time, and the rain was starting again.
Turns out the lady who let me in was the daughter of the library's founder, J. R. Ritman. She'd been around these books all her life, and seemed to have a deep appreciation for their meaning for mankind across cultures. This family business was personal. She spoke in ecumenical terms of a shared spark we have all inherited from the Creator, and she expressed hope that their collection might play some small role in helping people to discover it for themselves.
RELATED: The 5 Best Books for Truly Understanding Magick and the Occult
Good stuff. I hope to get back there again, hopefully more prepared in the future than I was last Spring.
It's worth mentioning the resurgence in fine alchemical printing going on at the moment — plenty to see and learn about new works at the Seattle Esoteric Book Conference.
[is_visitor]You can get Ultraculture's free book on Chaos Magick here.[/is_visitor][is_lead]Delve into learning practical magick, occultism and hermeticism at Magick.Me, our school for magick.[/is_lead][is_customer]Delve into learning practical magick, occultism and hermeticism at Magick.Me, our school for magick.[/is_customer][is_subscriber]Delve into learning practical magick, occultism and hermeticism at Magick.Me, our school for magick.[/is_subscriber]