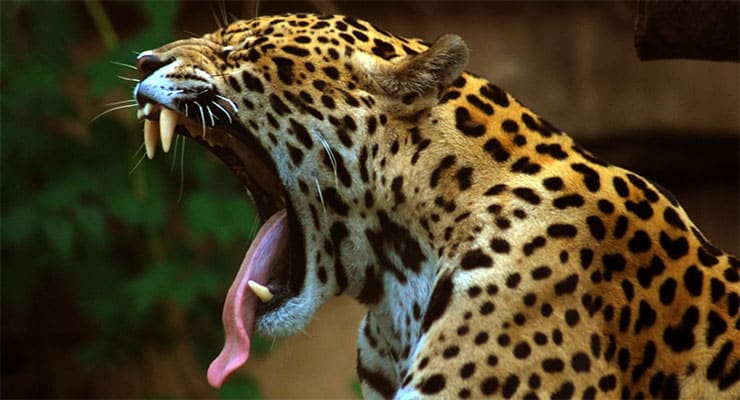 Check out this insane video of a jaguar chomping on an ayahuasca vine, shortly before blasting off into psychedelic hyperspace! (No jaguars were harmed in the filming of this video, he had a great time!)
Watch the video embedded above to see a jaguar eat the ayahuasca vine and trip balls like a house cat on catnip.
The plant that the jaguar consumes, Banisteriopsis caapi (also known as yage or the ayahuasca vine), is combined with another plant (traditionally the DMT-containing Psychotria viridis) to produce the powerful shamanic brew known as ayahuasca.
RELATED: What Happens When You Smoke DMT While Peaking on LSD?
From the Wikipedia:
[Banisteriopsis caapi] is used to prepare ayahuasca, a decoction with a long history of entheogenic uses as a medicine and "plant teacher" among the indigenous peoples of the Amazon Rainforest.
It contains harmine, harmaline, and tetrahydroharmine, all of which are both beta-carboline harmala alkaloids and MAOIs. The MAOIs in B. caapi allow the primary psychoactive compound, DMT (which is introduced from the other primary ingredient in ayahausca, the Psychotria viridis plant), to be orally active.
The phenomenon of animals self-medicating is known as zoopharmacognosy. We've all seen it in action when our pet dog or cat deliberately eats grass to vomit. It was first noted by primatologist Michael Huffman at Kyoto University. Steven Beyer writes:
In 1987, in the Mahale Mountains National Park in Tanzania, Huffman observed a chimpanzee suffering from diarrhea pull a young shoot off a small tree named Vernonia amygdalina.
The chimpanzee stripped off the leaves and bark with her teeth, and chewed on the branch, swallowing the juice and spitting out the fibers. The chimpanzee ate several of the branches in this way for half an hour.
The next day, the chimpanzee, who suffered from an intestinal parasite infection, was back to normal.
Exactly the same plant — called mujonso, or bitter-leaf tree — is used by indigenous humans in the same area as a remedy for the same condition.
RELATED: You Can Now Buy Ayahuasca on Amazon.com. Merry Xmas!