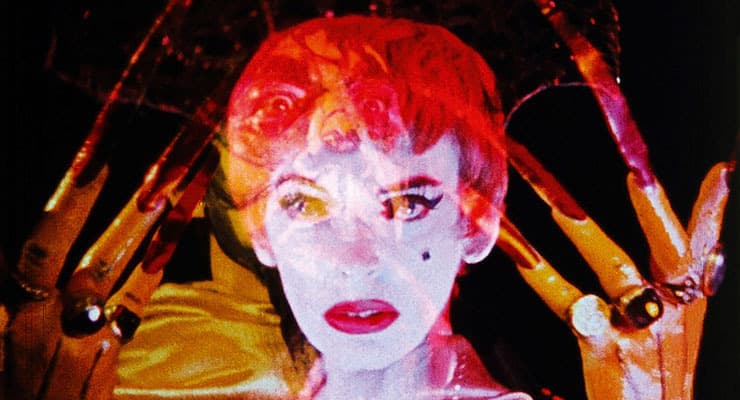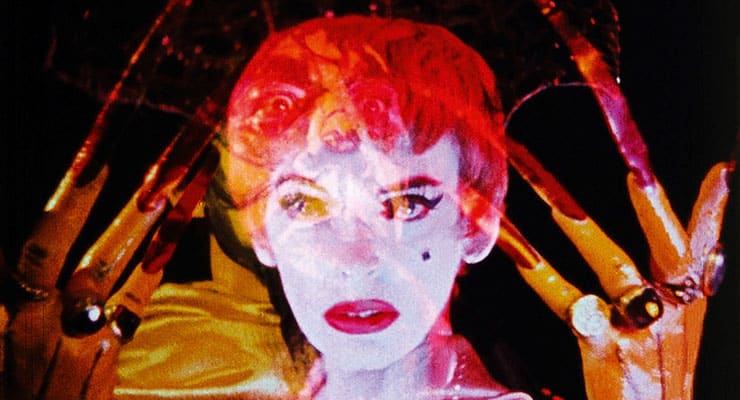 The season of the witch continues—here's nine great movies that used magick and the occult as central themes
Magick and the occult have long been potent subjects for filmmakers to use in film—and not just in horror movies. Using the supernatural as a theme is an incredible way to talk about the unconscious mind and hidden desires, something that arguably defines film as a genre. We've been talking about this a lot at Ultraculture—check out our last article about occult movies. Readers of that article suggested the following films!
1. The Cabinet of Dr. Caligari (Robert Weine, 1920)
Robert Weine's 1920 silent film is often cited as one of the first films of German Expressionism, an arts and cinematic movement that would influence the style of American film noir and inspire Hollywood auteurs ranging from Orson Welles to Terry Gilliam. In The Cabinet of Dr. Caligari, Weine uses highly stylized sets, shadowy lighting and abstract camera angles to tell the story-within-a-story about an evil hypnotist who uses occult mind control techniques to command a sleepwalker he carries in a coffin. The late film critic Roger Ebert called this early masterpiece the "first true horror film"–the first to portray a world where "unspeakable horror becomes possible."
[is_visitor]Check out our free guide to chaos magick here.[/is_visitor][is_lead]Start learning magick and occultism at Magick.Me, our online school for chaos magick.[/is_lead][is_customer]Start learning magick and occultism at Magick.Me, our online school for chaos magick.[/is_customer][is_subscriber]Start learning magick and occultism at Magick.Me, our online school for chaos magick.[/is_subscriber]
Honorable Mention: F.W. Murnau's Faust (1926), another classic of German Expressionism. Murnau used cinematic techniques, which he earlier perfected in his Dracula-inspired Nosferatu (1922), to retell the legendary German tale about an alchemist who sells his soul to the demon Mephisto for the power to end human suffering.
Below is a full version of The Cabinet of Dr. Caligari.
2. The Blood of a Poet (Jean Cocteau, 1930)
Jean Cocteau's surrealist fantasy The Blood of a Poet takes the audience into the mirror world of inspiration. Scarce on coherent narrative, the film is filled with hallucinogenic scenery is intercut with hypnotic imagery. An artist's creation comes to life and inspires him to venture into the mirror world where he meets strange persons like an opium smoker and a hermaphrodite, and tries to kill himself but will not die. A lyrical meditation on the occult power of dreams and the communion of the artist with their muse. Cocteau was even alleged to have been a Grand Master of the Priory of Sion.
Honorable Mention: Orpheus (1950), Cocteau's retelling of the Greek myth set in modern day post-occupation France. Along with The Blood of a Poet and Testament of Orpheus (1960), this film makes Cocteau's Orphic Trilogy.
3. Cat People (Jacques Tourneur, 1942)
Producer Val Lewton's first film in charge of RKO's horror unit, this 1942 b-movie was ahead of its time for its depiction of women's sexuality. While thoroughly tame by today's standards, its plot about a repressed woman who turns into a panther when sexually aroused was shocking at the time of its release. The woman, named Irena, claims to be descended from an ancient tribe in Serbia who used witchcraft to shape shift into feline form. However, Cat People is never clear about whether Irena is telling the truth or if she is hysterical, and always leaves the audience guessing. Lewton's films were known for their thought-provoking portrayals of otherwise exploitative subject matter–at the edge of magic and science where rationality seems absurd. Dense in Sapphic undertones and echoing the theories of Wilhelm Reich, Cat People is a film about the horrors of sexual repression.
Honorable Mention: The Seventh Victim (1943), Lewton's equally dark and challenging film about an underground Satanic cult in Greenwhich Village.
4. Invocation of My Demon Brother (Kenneth Anger, 1969)
Kenneth Anger's short film from 1969 features many of his hallmarks as a filmmaker: hypnotic visuals, multiple exposures and lush set pieces, as well as symbol and ritual belonging to the magick system of Aleister Crowley. Where Lucifer Rising is like the peak of an acid trip, Invocation of My Demon Brother is like lying awake in your room at 6 am wondering when the acid is going to finally wear off. It's chaotic and tense but nonetheless extreme and beautiful. You can watch it here.
Honorable Mention: The Man We Want to Hang (2002),  Anger's documentary about the paintings of Aleister Crowley.
5. Jubilee (Derek Jarman, 1978)
Like Anger and Cocteau before him, Derek Jarman crafted masterful surrealist films, heavy on lyrical imagery, that explored the dreamworld of occult ideas. In Jubilee, John Dee (played by Richard O'Brien of Rocky Horror fame) transports Queen Elizabeth I from 16th century England to a ruined England in the late 1970s. Jarman's vision of his own time is a hyperstylized apocalyptic surreal cityscape overrun by nihilistic youth where necrotic social structures have stagnated the soul of humanity. The film features a number of early punk icons such as Adam Ant and Siouxsie Sioux.
Honorable Mention: The Angelic Conversation (1985), Jarman's hypnotic homoerotic surreal film featuring a soundtrack by Coil. Jarman described the film as "a dream world, a world of magic and ritual."
6. Maybe Logic: The Lives and Ideas of Robert Anton Wilson (Lance Bauscher, 2003)
Recorded during toward the end of Robert Anton Wilson's life, this film is a great introduction to his interdisciplinary ideas and practices of reality hacking. Maybe Logic explores RAW's interdependent theories of quantum mechanics, occult philosophy, General Semantics, and psychedelic science. The film offers a glimpse into an acerbic though nonetheless optimistic RAW toward the end of his life. His wisdom only grew stronger with age.
Honorable Mention: The Mindscape of Alan Moore (2005), a documentary on visionary comics legend Alan Moore.
Robert Anton Wilson explains quantum physics in a scene from Maybe Logic, watch it here.
7. Inland Empire (David Lynch, 2006)
David Lynch's Inland Empire continues the surreal exploration of Hollywood he began with Mulholland Drive. Like Mulholland Drive, Inland Empire alludes to a secret society the runs Hollywood from the shadows—the dream masters behind the dream factory. Watching this film is truly an exhilarating experience, as we spend three hours following fading star Nikki Grace (masterfully played by Laura Dern) through her career comeback in a production of a cursed film script. The narrative gradually unhinges and Nikki spirals through past lives and alternate realities—and all the meanwhile giant bunnies haunt the recesses of her imagination and a ceaselessly spinning gramophone stands in for the wheel of life. Like Cocteau before him, Lynch understood the magical power of dreams and how to relate that through his art. A masterpiece of surreal cinema, Lynch's magnum opus, and a must-see film.
Honorable Mention: Eraserhead (1977), Lynch's debut film is an early sign of his genius. In Eraserhead, Lynch explores the connection between the libidinal force and the dreamworld through a surreal family drama—a tradition he continued in Blue Velvet, Wild at Heart and Twin Peaks.
8. Pan's Labyrinth (Guillermo del Toro, 2006)
Guillermo del Toro's Pan's Labyrinth has gained a solid following in the years since its release. In the tradition Terry Gilliam, del Toro uses magic and imagination to explore the darker elements of human nature. Pan's Labyrinth veers between a dark fantasy underworld and the grim reality of the Spanish Civil War during Franco's fascist reign. Throughout the film the veil between the two worlds becomes increasingly torn and twisted until the viewer has to make their own judgement about what is real.
Honorable Mention: The Imaginarium of Doctor Parnassus (2009), Terry Gilliam's fantasy film about a traveling theater troupe who lead the audience through a magic mirror to explore the imagination.
9. A Field in England (Ben Wheatley, 2013)
Think of this film as Monty Python meets Jim Jarmusch. A strange and deadpan film, A Field in England follows four deserters during the English Civil War who abandon the battlefield in search of an alehouse. One of the deserters is an alchemist's assistant hunting for a former colleague who stole his master's papers. Along the way the four deserters all consume magic mushrooms, and the film takes the viewer further and further into the bizarre until it finally reaches a an awesome stroboscopic crescendo.
Honorable Mention: Dead Man (1995), Jim Jarmusch's surreal deadpan black and white revisionist Western dealing with death, resurrection, and Native American spirituality. A clear influence on A Field in England.
(For even more great mind-expanding movies, check out our previous list of 9 Great Movies About Magick and the Occult and our list of 10 of the Greatest Psychedelic Movies of All Time.)
(Image via.)