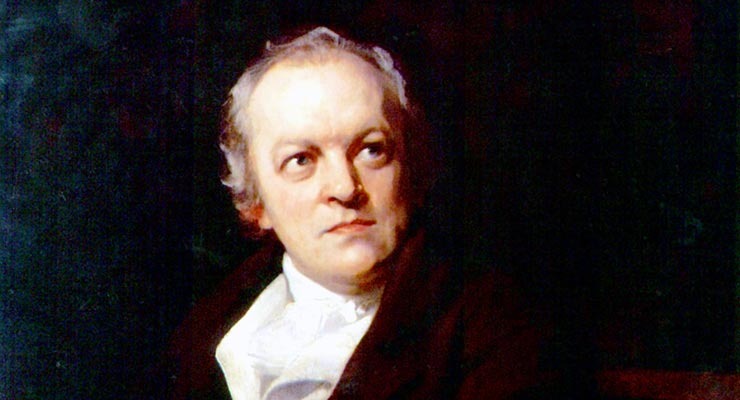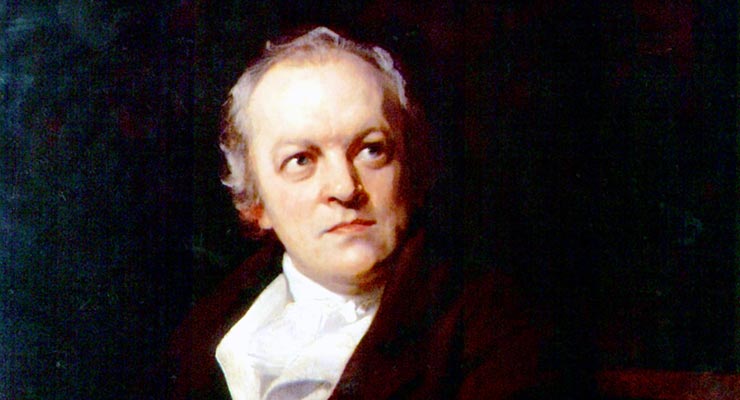 William Blake is best known for his radical politics, prophetic visions, and esoteric cosmology. But according to the research of Marsha Keith Schuchard, he was even stranger than that…
The Romantic-era poet and engraver William Blake was a highly controversial and idiosyncratic figure in his time, during which his work was met with only moderate success. His legacy drifted into near obscurity following his death, until interest in his work was revitalized more than a century later through the scholarship of poet (and Golden Dawn member) William Butler Yeats. In a 1893 essay entitled "William Blake and the Imagination," Yeats argued that Blake had been influenced by Christian mystic Jacob Boehme and from early alchemists that "imagination was the first emanation of divinity."
This is easily apprehended in Blake's concept of the Poetic Genius, a sort of universal life source from which all forms emanate. His 1788 tract All Religions are One maintains the Poetic Genius as its first principle:
That the Poetic Genius is
the true Man. and that
the body or outward form
of Man is derived from the
Poetic Genius. Likewise
that the forms of all things
are derived from their
Genius. which by the
Ancients was call'd an
Angel & Spirit & Demon
Yeats' scholarship renewed interest in Blake within the literary community, and throughout the 20th century Blake grew to canonical heights. Aldous Huxley titled his psychedelic classic Doors of Perception after a famous passage from Blake's The Marriage of Heaven and Hell: "If the doors of perception were cleansed every thing would appear to man as it is, infinite." Blake's radical politics, prophetic visions and esoteric cosmology made him a perfect match to be a symbol of the 1960s counterculture, which itself could be seen as an immanentization of his worldview.
RELATED: How Hermetic Initiates Used Magick to Study Reality
In spite of Blake's popularity among the counterculture, Schuchard states in William Blake's Sexual Path to Spiritual Vision that his life is easily "sanitized" by biographers looking to fit him within an acceptable social narrative ("You shall not bring me down to believe in such fitting & fitted I know better," Blake once wrote). To gain a more vivid portrait of Blake, Schuchard argues, requires that we betray most common perceptions about Enlightenment era rationalism and propriety. Her book examines the mystical underground of 18th century England that Blake was born into.
It's a fascinating trip down a wild intersection of spiritual paths, where men and women congregate in occult salons and clandestine temples to explore radical Christian mysticism, antinomian sexuality, Kabbalah, Freemasonry, Tantric yoga, animal magnetism, and more. It was in this melange of unorthodox spiritual practice that William Blake was cultivated and grew to become a major luminary.
Blake's mother belonged to a radical Christian sect known as the Moravian Church. An off-shoot of Methodism, the Moravians were led by the charismatic Count Nicoulas von Zinzendorf, who preached of mystical marriage, blood-and-wounds mysticism and antinomian sexual practices. Zinzendorf wrote many sexually charged hymns for the congregation to sing for the purpose of entering liturgical ecstasis. Many of his sermons dealt with sucking of Christ's side-hole puncture wound, which serves as a symbol of a vaginal or womb-like portal birthing purified souls.
Indeed, even Blake's mother was enraptured with the blood and wounds upon applying to the congregation, in which she wrote: "My dear Brethren & Sisters,…at the love feast our Savior was pleased to make me Suck his wounds…and I trust will more and more till my fraile nature can hould no more."
Zinzendorf also held a deep affinity for the Kabbalah. "Most striking to Zinzendorf," writes Schuchard, "was the Kabbalists' further belief that the human couple could replicate the sacramental intercourse on earth, thus giving their humble bedroom a cosmic spiritual significance." As such, Zinzendorf began instructing the congregation in Kabbalistic meditations with the intention of opening a "path to an ecstatic visionary marriage with the [Sephiroth]  and with God."
In addition to adopting Jewish mysticism into the liturgy, Zinzendorf also encouraged the congregation to commune with God via the classical arts, such as painting and sculpting—which had a huge impact on the young Blake.
RELATED: 5 Legendary Artists and Writers Into Mysticism and the Occult
Zinzendorf's fascination with the Kabbalah was shared by his contemporary Emanuel Swedenborg. Swedenborg was a scientist, theologian, and mystic hailing from Sweden. While there is no official record of him ever joining the Moravians, Schuchard is convinced that he attended Zinzendorf's sermons while visiting London. Swedenborg was known for falling into spontaneous trances, and his writings detail his intense visions of heaven and hell.
Like Zinzendorf, Swedenborg's fascination with the Kabbalah was in the "mystical marriage" element—or what he referred to as "conjugial love." Where Zinzendorf espoused an erotic philosophy that could be taken for what today is known as polyamory, Swedenborg's "conjugial love" was a monogamous enterprise.
However, Swedenborg was fascinated upon hearing from missionaries and traders reports of Tantric yoga and the sacred sexuality of the East. He was particularly fascinated with the concept of the sacred lingam and yoni as they corresponded to the Holy of Holies, as well as stories of yogis withholding ejaculation at the moment of orgasm (Schuchard alleges that he even received instruction in how to perform this operation). As a scientist, Swedenborg had an extensive knowledge of the human body and held the cremaster as instrumental in achieving states of sexual trance.
The cremaster is a feature of the sphincter muscle that is responsible for retracting the testicles and "cocking" the penis right before orgasm. Control of the cremaster reflex is said to enable the ejaculate to be redirected back into the body, where the orgiastic energy is directed up the spine to the brain where it is turned into a divine ecstatic bliss.
As a child, Blake regularly attended the Moravian with his mother, and as an adult he became a follower of Swedenborg for a time. The sexually liberated philosophies of these men left a great impression on Blake, who was already predisposed to visionary experiences (there exist many reports of a young William Blake witnessing angelic figures). The influence on his work, particularly the Prophetic Books, is undeniable. An explosive glimpse of Blake's sexual radicalism can be seen in his paean to free love, Visions of the Daughters of Albion, in which he wrote:
The moment of desire! the moment of desire! The virgin
That pines for man; shall awaken her womb to enormous joys
In the secret shadows of her chamber; the youth shut up from
The lustful joy. shall forget to generate. & create an amorous image
In the shadows of his curtains and in the folds of his silent pillow.
Are not these the places of religion? the rewards of continence?
The self enjoyings of self denial? Why dost thou seek religion?
Is it because acts are not lovely, that thou seekest solitude,
Where the horrible darkness is impressed with reflections of desire.
Blake wrote Visions of the Daughters of Albion as an "instructional" manual for his wife, Catherine Sophia Blake, an illiterate servant with whom William never sired a progeny. His fascination with esoteric sexuality put great strain on his marriage—at one point he famously declared to Catherine his intention to bring a concubine in the house, which did not completely violate Swedenborg's "conjugial love" so long as William held that about all else. Much of the books' later parts are dedicated to the tensions in Blake's marriage and how that impacted his work.
It is important to note that for Blake, sexuality and politics were intrinsically linked. "For Blake," writes Schuchard, "egotistic repression of sexuality leads to military suppression of liberty." In his lifetime he saw the signing of the Declaration of Independence, but he also saw pacifist Lord George Gordon thrown in the Tower of London for holding revolutionary views, as well as the Reign of Terror that ensued after the French Revolution.
Our era of combat drones, militarized local police, and mass surveillance does not differ very much from Blake's own—and one needn't look much further than the current backlash against marriage equality for evidence that sexual repression remains a societal norm. As society continues to crumble, please remember the words of William Blake: "The Roman pride is a sword of steel/Glory & Victory a phallic whip."
(Many thanks to Inner Traditions for sending a copy of Marsha Keith Schuchard's excellent 2008 monograph William Blake's Sexual Path to Spiritual Vision.)
How to Tap Into Inner Visions and Inspiration to Create Incredible Art
The techniques that Blake and other artists used to tap into deep inspiration for their art can be taught. With enough application, becoming a potent and original artist is well within reach.
Check out Ultraculture's online course Magick and Art: Sacred Techniques, Sacred Quest to discover the powerful techniques that Blake and artists like him used to ascend to the heights of genius!