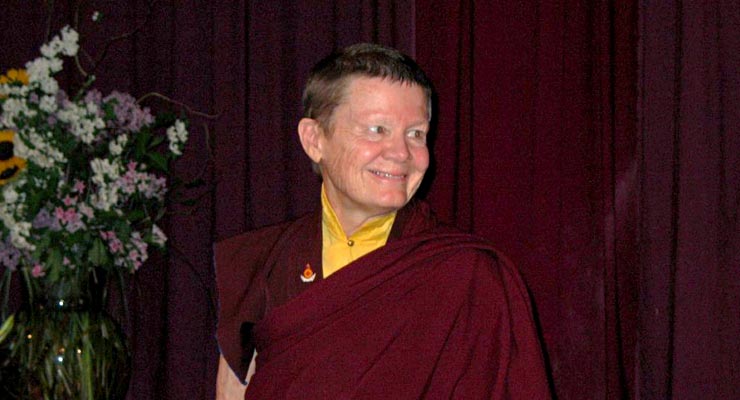 American Buddhist nun Pema Chödrön talks about how negativity can sometimes be a good thing—if we harness it as a catalyst for change.
In the video below, the Venerable Pema Chödrön tells the story of what led her to become a Buddhist nun.
With her characteristic wit and charm, Chödrön relates the story of how a failed second marriage led her to the teachings of Chögyam Trungpa Rinpoche, who would eventually become her teacher on the Buddhist path.

"I became a Buddhist because I hated my husband," she says frankly with warm humor. After her divorce she felt as if there was no ground beneath her feet. Smoking a joint didn't help, going to a movie didn't help and experimenting with dozens of spiritual paths didn't help. Everything only heightened the feeling of groundlessness. Day after day she was stewing in her anger with her ex-husband, lost in fantasies of burning down his house and attacking his stepchildren.
RELATED: The Buddha's Eight Rules for Living Awesomely, and Mastering Life
She discovered an article by Trungpa called "Working With Negativity," which has been collected in the book The Myth of Freedom. What she discovered was that there was nothing wrong with negativity—which is a powerful energy that can be very creative and can even wake you up. Anyone who has written a song after a bad break up or had a cathartic moment of clarity after getting laid off can attest to this.
Ordinary negativity is not the problem. Negative negativity is the problem—the spin off of negativity. Blaming other people, refusing to accept responsibility and dwelling in negative thinking are the behaviors that keep us trapped in delusion. Negativity itself is a helpful energy in life, but when it multiplies and divides, we're left with a pest problem in our inner temple.
The trick is mastering negativity so it doesn't run rampant through our lives, and we can utilize its creative and vitalizing powers. It's like holding a bull by the horns and staring it in the eyes while having to sneeze the entire time.
RELATED: Here's a Comic Book Guide to the Bardo, the Tibetan Buddhist Afterlife
Chödrön is an American Buddhist nun residing in Nova Scotia at the Gampo Abbey. She is the author of many books and prolific speaker who regularly gives workshops and seminars. Books like When Things Fall Apart and The Places That Scare You have offered many readers warm solace in times when life seemed to be total shit.
To learn how to start meditating and mastering your emotional state, check out our class on Hardcore Meditation.