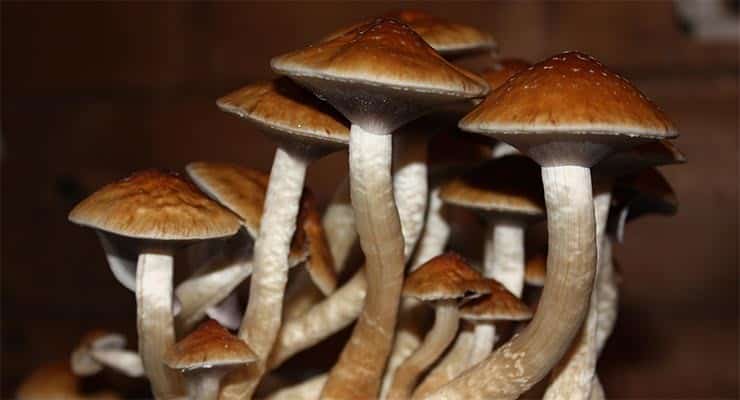 Research shows that magic mushrooms work on the same area of the brain as meditation. But what does this mean for meditators and psychonauts?
Meditation effects the same parts of the brain as magic mushrooms, according to current research.
Magic mushrooms are one of the most well loved and widely used substances in the psychedelic pantheon, and have been for quite some time. They've been in use continually from the first time cave people found them growing in animal feces and munched on them before being blasted into hyperspace to discover the roots of all language and culture, to the time your cousin chewed a bunch at a Dave Matthews Band concert and totally thought Dave was talking directly to him from the stage.
How, Exactly, Do Magic Mushrooms Work?
How does a little bit of fungus open you up physically and emotionally before turning your apartment into a circa-1991 Deep Forest video?
According to two new studies released this week, psilocybin mushrooms apparently work by decreasing activity in key areas of the brain, rather than increasing it. Blood flow decreases to the medical prefrontal cortex (mPFC) and posterior cingulate cortex (PCC). Overactivity in the mPFC is associated with depression, one reason why psilocybin can sometimes be associated with antidepressant effects; the function of the PCC isn't fully known, but is often associated with consciousness and identity. (Magic mushrooms, it turns out, can also cure nicotine addiction and aid in smoking cessation, as well as inhibit negative emotions in the brain.)
Decreased Blood Flow to the Brain, and How it Causes Psychedelic Effects
Researchers suggest that what may actually be happening with psychedelics is decreased blood flow to the areas of the brain that constrain our sensory experience of the world and our sense of identity—poetically speaking, allowing the brain to relax its grip on ordering reality and open up to a broader spectrum.
Via Science Daily:
Professor David Nutt, from the Department of Medicine at Imperial College London, the senior author of both studies, said: "Psychedelics are thought of as 'mind-expanding' drugs so it has commonly been assumed that they work by increasing brain activity, but surprisingly, we found that psilocybin actually caused activity to decrease in areas that have the densest connections with other areas. These hubs constrain our experience of the world and keep it orderly. We now know that deactivating these regions leads to a state in which the world is experienced as strange."
The intensity of the effects reported by the participants, including visions of geometric patterns, unusual bodily sensations and altered sense of space and time, correlated with a decrease in oxygenation and blood flow in certain parts of the brain.
How Magic Mushrooms and Meditation Overlap
Meditation, surprisingly enough, corresponds to these exact area of the brain—the mPFC and PCC.
In the presentation below, given at the 2012 Science and Nonduality (SAND) conference, meditation teacher Gary Weber discusses the current research which reveals the similarity between magic mushrooms and meditation. He also talks about his experience with nonduality and spontaneous egolessness.

The default mode network (DMN) is what takes over when the brain isn't doing anything specific. It's the "wandering mind" network responsible for performing mundane tasks, as well as the narrative "selfing" part of the brain. (Does this mean the self is just background noise?)
The DMN's two core centers are the PCC and mPFC—together, the PCC and mPFC create the dual "self in space" and "self in time" narratives. In other words, the experience of being apart from your environment (self/other duality) and being in a personal history narrative are derived from this part of the brain.
The Incredible Benefits of Mindfulness Meditation
One study found that after two months of 45 minutes of mindfulness meditation daily, there was a measurable deactivation of the PCC and mPFC centers in the brain during meditative intervals. This interval produces an experience of oneness/nowness in the meditator, in which they break from the traditional narrative of being a body apart from its environment with a unique personal history.
Psilocybin mushrooms, as mentioned, have been observed to decrease blood flow in the PCC and mPFC—and as the intensity of psilocybin increases, the blood flow to these areas decreases.
One thing this does not mean, however, is that magic mushrooms are a replacement for meditation. The experience, knowledge, and insight gained from years of dedicated meditation practice cannot be circumvented with a quick fix.
Ready to Get Started Meditating?
While magic mushrooms can blast you off into evolutionary consciousness for a few hours, meditation can improve every single area of your life, sustainably, for your entire life. It steadily develops your mind and calms your emotions, and ultimately allows you to transcend your ego and experience pure ecstasy.
That's why Ultraculture created a step-by-step course on Hardcore Meditation, to teach students how to meditate the real way.
Meditation—or, as it is properly and classically known, raja yoga—is a step-by-step science that predates civilization, and can take us to the stars.
But it's not as easy to learn as you might think. The "meditation" and "yoga" that are sold in the open market are, frankly, watered-down or even fantasy versions of the true raja yoga.
Meditation means controlling the body, breath and mind, progressing to awakening the subtle energy currents in the body and ultimately extinguishing the individual ego in silent bliss. The payoff is the greatest possible reward within a human life.
(Plus, with some practice, you'll be able to get high whenever you like, without drugs, for free, forever.)
What could possibly be better? Blast off and start meditating now!
(Jason Louv contributed to this story. Image via Wikimedia Commons.)