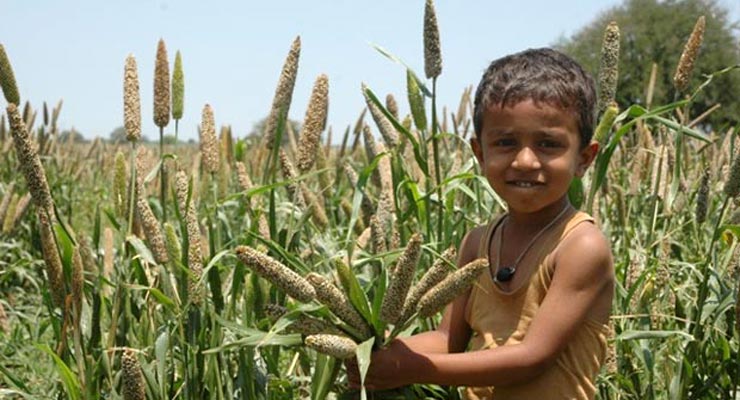 Dhanshakti, the grain that could make an incredible dent in malnutrition and end world hunger, is gaining incredible popularity in India and elsewhere.
India may be on the verge of eradicating the problem of global malnutrition. It may even be prepping a solution to fully end world hunger.
The key to end world hunger partly comes from a variety of pearl millet called Dhanshakti (meaning "prosperity and strength"). Indian researchers bred the plant via a process called "biofortification" to contain much higher levels of iron and zinc than is commonly found.
"Since eating this pearl millet, the children are rarely ill," says farmer Devran Mankar. Mankar, who currently grows Dhanshakti on his 328 foot wide field, is one of about 30,000 farmers participating in a large-scale nutrition experiment. Barring a hailstorm or other such disaster, he expects to harvest more than 770 pounds, enough millet to feed his family for half a year.
The project to end world hunger was initiated by food aid organization Harvest Plus and is intended to prevent farmers like Mankar and their families from going hungry. The Food and Agriculture organization calculates that around half of the hungry people in the world are from smallholder farming communities like Mankar. Biologists and nutrition experts hope that this continuing Green Revolution will end world hunger and malnutrition.
RELATED: The World vs. Monsanto: A Short History of the Battle Against the Most Evil Corporation on the Planet
Today, there are some 870 million people without enough food to eat. Nearly a third of the world's population suffer from what's known as "hidden famine," a deficiency in vitamins and trace elements like zinc, iron and iodine. The consequences of hidden famine are especially bad for mothers and children. Women with iron deficiencies are more likely to die in childbirth, as well as have a higher rate of premature birth and suffer from menstruation problems. Malnourished children go blind and suffer from growth disorders.
"These children are deprived of their future from birth," says agronomist M. S. Swaminathan.
Swaminathan, 88, is considered the father of India's first Green Revolution in the 1960s, when he created rice and wheat varieties that were smaller than normal but produced substantially higher crop yields. He also worked with heterozygous ("hybrid") plants which yield up to twice as much as their parent generation. "The Green Revolution was a tremendous success," says Swaminathan.
But it came at a cost. While the high-performance varieties of crops guaranteed higher yields, they depleted the soil and consumed far too much water, and required more fertilizer and pesticides. Many small farmers lost everything when they were unable to sell their harvest at a profit, and neglected to grow traditional bread cereals.
Now, Swaminathan is working with other nutrition experts to shift our approach to agriculture and end world hunger. Rather than high-tech industrial-scale agriculture, they argue that farming needs to become closer to nature, involving intelligent plant breeding and a return of old seed varieties.
World hunger is not due to scarcity. There is enough food being grown to feed all people. However, the poor are being fed the wrong food. The grain varieties that dominate factory farming (such as corn, wheat and rice) are bred for yield and not for nutritional content. Nutrients and trace elements are as important as calories, making high-yield grains incapable of adequately feeding the poorest of the poor.
Variety is key to food safety. Swaminathan advocates the development of new and more nutritional grain varieties adapted to better withstand climatic conditions. He calls for a sustainable "evergreen" revolution: "We must re-marry agriculture and nutrition—the two have been too far away from each other for a long time," he says.
There are about 250 million malnourished people in India. Nearly 70 percent of children under the age of five, as well as half of all women suffer from iron deficiency. And almost half of all children are physically underdeveloped or even crippled due to chronic malnourishment.
Yet India has some of the most fertile soil for growing in the world. Swaminatha calls it "India's enigma": "Green mountains and hungry millions," he says.
"We have the paradox of being one of the very dynamic agricultural landscapes in the world. Yet as a single nation we have the reputation of having the highest number of undernourished women, children and men."
The Harvest Plus program's biofortified Dhanshakti pearl millet is a proposed solution to "India's enigma."
India's Green Revolution is one of a number of successful attempts around the planet to end world hunger. In Brazil, research organization Embrapa developed biofortified beans, pumpkins and manioc. In Uganda and Mozambique, farmers grow a new variety of sweet potatoes rich in provitamin A. In Rwanda, more than half a million families are fed with beans enriched with iron. And in India, the Harvest Plus program has already reached seven million children, women and men, according to program head Howarth Bouis.
Bouis believes the success of the program is due to the application of conventional breeding methods. "At Harvest Plus we took the decision not to invest in transgenics, because we wanted to avoid the controversy," he says, recalling the dispute over Golden Rice, the transgenic plant developed in 1992 at the Swiss Federal Institute of Technology in Zurich.
RELATED: How to Save Earth: Here's 7 Ways Humanity Can Solve Its Challenges and Fix the Planet
Golden Rice was bioengineered to have almost twice as much beta-carotene, a precursor to vitamin A, as ordinary rice. Yet the grain met with much criticism.
One critic was physicist and anti-GMO activist Vandana Shiva, who pointed out that vitamin A deficiency is rarely an isolated phenomenon and is usually coupled with an unbalanced diet. She argued that the proponents of Golden Rice focused on the relatively narrow problem of vitamin A deficiency at the expense of obscuring the issue of biodiversity and corporate control of food supply.
"A far more efficient route to removing vitamin A deficiency is biodiversity conservation and propagation of naturally vitamin A rich plants in agriculture and diets," she wrote.
Today Shiva is no less critical of the Harvest Plus program. "A globally operating industry is pushing hard to make the world dependent on their products," she says. She explains that farmers who make the switch give up their traditional seed and are forced to buy commercial varieties, which will often come with licensing fees in perpetuity.
"This type of agriculture has taken the lives of 25,000 farmers in India, who committed suicide because they couldn't pay back their debts," says Shiva.
"Harvest Plus is focused on one nutrient," she continues. "But a single nutrient is not a solution to a multidimensional malnutrition crisis; the body needs all the micronutrients."
Instead of monocultures, Shiva demands a return to a diversity of crops: "Most of our traditional crops are full of nutrients," she explains. Why develop genetically modified bananas with high iron content when horseradish and amaranth are already so high in iron?
RELATED: Scientist Threatened and Stalked for Findings on Syngenta Herbicide
She believes that organic farming is the only viable option to defeating world hunger. She recommends field crop-rotation, and fostering small family farms geared toward nutrition instead of maximized profit.
However, Harvest Plus director Bouis believes Shiva is naive. "We have the fundamental problem that there isn't enough arable land for a constantly growing population," says Bouis, whose Harvest Plus organization was launched in 2003 with the aid of Monsanto.
Whether the answer to end world hunger and malnutrition lies in biofortified crops or a return to biodiversity is still difficult to determine. While Swaminathan wishes to see a sustainable "evergreen" revolution, he does not rule out the high-tech approach in alleviating global hunger.
"I won't worship nor discard genetic engineering," he says. "It is important to harness all the tools that traditional wisdom and contemporary science can offer."
(For more on how to solve world food issues, check out the Ultraculture book Monsanto vs. the World.)
(Image via.)