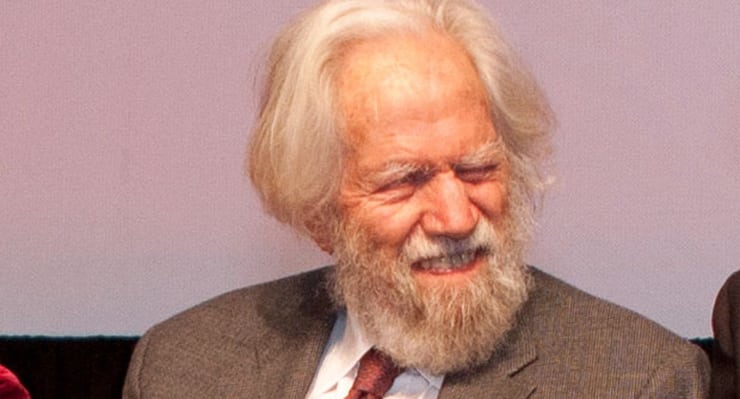 Psychedelic pioneer Sasha Shulgin died in June 2014, at the age of 88. We commemorate the absolutely incredible scientific and alchemical legacy he leaves the world
Alexander Shulgin, the father of psychedelic research, died on June 2, 2014 at the age of 88. Shulgin, along with his wife Ann, synthesized more than 200 unique, psychoactive molecules and meticulously catalogued their attributes and effects in his books TiHKAL and PiHKAL. His contributions to the fields of rational drug design and phenomenology earned him a place in scientific history as a biochemical pioneer. Timothy Leary dubbed Shulgin one of the century's most important scientists.
Shulgin's legacy is twofold. He is recognized as a countercultural folk hero, especially surrounding the substance MDMA. Though he did not invent it, he rediscovered it in the late 70s and explored its use as a therapeutic aid. MDMA grew in popularity as a result of Shulgin's research, becoming one of the most controversial recreational drugs today. His openness in sharing the distinct details of synthesis and subjective effects of chemicals stands in contrast to the cultural fears and preconceptions associated with psychedelics. Shulgin's research, however unintentionally, inspired a generation of amateur psychonauts to explore their inner space. Many criticize his work for this very reason, but it will take another century to truly understand the social implications of psychedelic experience and phenomenological dialogue.
RELATED: What Happens When You Smoke DMT While Peaking on LSD?
The other side of Alexander Shulgin's legacy is the hard science. Shulgin studied biochemistry at Harvard University and earned his Ph. D. in biochemistry from University of California, Berkeley. His postdoctoral work focused on psychiatry and pharmacology at UC San Francisco. He gained recognition as a chemist after formulating the pesticide Zectran for Dow Chemical Company. This patent earned him tremendous freedom within Dow, and he began his exploration of psychedelic compounds after an experience with mescaline.
During his time with Dow, he published his research in Nature and The Journal of Organic Chemistry. After leaving Dow, he set up a private lab on his property known as The Farm. He was given a Schedule 1 license by the DEA to research controlled substances in exchange for holding pharmacology seminars for the agents. In 1988, he wrote the definitive law enforcement manual on pharmaceuticals.
According to a 2005 New York Times profile, "By Shulgin's own count, he has created nearly 200 psychedelic compounds, among them stimulants, depressants, aphrodisiacs, 'empathogens,' convulsants, drugs that alter hearing, drugs that slow one's sense of time, drugs that speed it up, drugs that trigger violent outbursts, drugs that deaden emotion—in short, a veritable lexicon of tactile and emotional experience."
The field of Rational Drug Design, the process of finding new medications based on the knowledge of their biological targets, was elevated to a new height through Shulgin's work. He focused on Phenethylamines and Tryptamines, two chemical families with profound effects on the serotonin system that alter cognition. He recognized the seemingly infinite variations in these molecules, and synthesized and tested many combinations. He found that slight alterations could cause profound changes in subjective experience. His exploration led him to the conclusion that the neurological effect of a chemical varies not only based on the molecular structure, but also the individual and the situation. Rather than the chemical being a predictable input that will elicit a set response from the brain-computer, Shulgin realized that both the chemical and the mind are complex, interactive systems.
RELATED: Incredible Psychedelic Paintings by a Man With Pineal Cancer
Phenomenology, the study of subjective experiences, notes the importance of psychedelic compounds for research. Many of the substances first discussed by Shulgin, starting with MDMA, are being explored today as therapeutic agents. Though the exact mechanisms of these drugs are only partially understood, the subjective effects often manifest as increased empathy, insight, and self-acceptance. Unlike conventional psychiatric medication, which requires an individual ingest it regularly to maintain the chemical effects, psychedelic therapy involves a one-time ingestion of a substance during a prolonged therapy session with a trained facilitator. Conventional medication, in theory, changes cognition while the chemical is active in the body by adjusting the flow and absorption of neurotransmitters. Psychedelic treatment, in theory, puts the patient into an acute state of atypical insight and suggestibility in which an individual can create long-term cognitive changes without the need for long-term medication.
As humanity's understanding of the brain improves, the true contributions of Shulgin's research will become clear. Out of the hundreds of unique substances discovered by Shulgin, it is likely that at least one will be vital to the next incarnations of psychiatry and psychotherapy. These chemicals themselves could help future scientists map and analyze the mysterious anatomical processes of cognition, identity, personality, and spirituality that somehow flow from the folds of tissue within the skull. Historically, Shulgin will be remembered not only as a scientist, but as an icon of independence, self-exploration, and transpersonalism.
(Learn more about the legacy of one of the 20th century's greatest alchemists in Sasha Shulgin's books  TiHKAL and PiHKAL.)