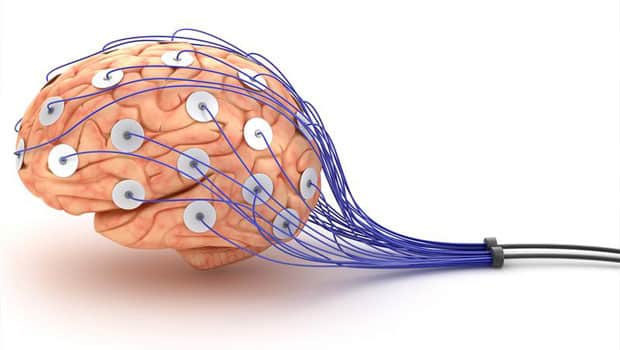 Christian Isaac Peñaloza Sanchez, a PhD candidate at the University of Osaka, just invented a brain-machine interface system that allows users to move devices with thoughts. Some are even calling it a "telekinesis helmet."
A researcher just made a remarkable breakthrough in the area of brain-computer interfaces—creating a rig that allows a user to operate machines with thought alone, almost literally granting a form of 'telekinesis' over attached devices. It's almost like a kind of "telekinesis helmet."
Brain-computer interfaces are a rapidly expanding area of research and industry. Though the technology to read brainwaves from the head's surface has been around for decades, scientists and engineers have only recently created numerous systems to read signals directly from the brain and translate them into commands that control computers.
RELATED: How to Build a Dream Machine, Your Own Portal to Inner Visions
In the future, these "telekinesis helmet" technologies could allow people with physical disabilities to control their environment through thought alone—the brain-computer interface effectively grants users a form of telekinesis. With an increasingly digital world, brain-computer interfaces (BCIs) could allow future generations to interact with technology telepathically. Many of the early BCI studies were promising, but the technology was difficult to use and mentally exhausting. (Previous BCI tech featured below.)
Just as it seemed an intuitive, user-friendly brain-computer interface was still a distant goal, however, an ingenious Ph.D. candidate—Christian Isaac Peñaloza Sanchez—crossed many of these technological hurdles in a single bound.
Peñaloza Sanchez studies Cognitive Neuroscience Applied to Robotics at the University of Osaka in Japan. Peñaloza Sanchez is also an activist for the Japan chapter of the Mexican Talent Network Association, a group of professionals that supports cooperation and technological innovation between Mexico and other nations. Over the past three years, Peñaloza Sanchez has developed a "smart" brain-computer interface. Unlike past systems, which operated closer to basic input-output principles, Peñaloza Sanchez's interface is capable of learning to recognize instructions based on the unique brain patterns of the user.
RELATED: The Psychonaut Field Manual: A Cartoon Guide to Chaos Magick
The system uses Electroencephalography (EEG) electrodes to detect the faint signals generated by thought, concentration, and relaxation. The software displays images of the machines being interfaced with, and allows the user to map different patterns of thought and concentration to a desired outcome. For example, a user could assign an easily attainable state of concentration to extend a robotic arm. With continuous use, Peñaloza Sanchez's technology learns and remembers an individual's brainwave patterns, making it much less strenuous and even potentially effortless. Just as Google's algorithms learn individuals' internet behaviors and customize the experience based on thousands of calculations, Peñaloza Sanchez's BCI can adapt and self-customize.
For example, he details, an individual can use it to control an electric chair and move it to the living room using basic commands (forward, backward, left or right), which are learned by the system. Thus, the next time the user wants to take the same action he or she only need to press a button or think about it for the chair to automatically navigate to the desired destination.
Once the system operates automatically, the user no longer has to exert concentration to control devices.
RELATED: An Oneironaut's Guide to Lucid Dreams (in 7 Steps)
There are already numerous brain-computer interfaces available on the consumer market. While they are definitely cool, most of them are inconsistent and difficult to use. Peñaloza Sanchez's smart interface could provide the basis for an affordable, readily available telekinesis system.
(Below, find a 2012 TED talk on brain-computer interfaces.)
(Image via Phys.org)