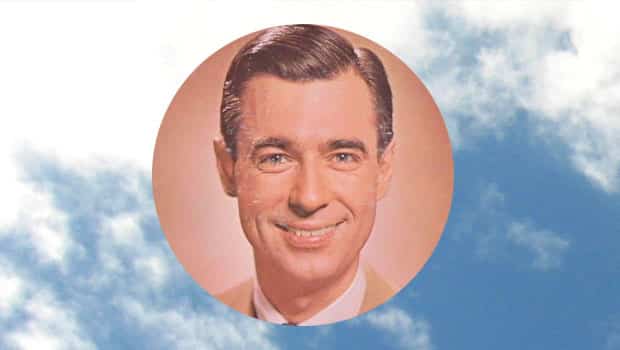 Watch Mr. Rogers' incredible rendition of "Row Row Row Your Boat" on the Joan Rivers show
In the video below, the legendary Mr. Rogers appears on the Joan Rivers show, 1983, and brings along King Friday from the Neighborhood of Make-Believe to sing his rendition of "Row Row Row Your Boat," replacing "life is but a dream" with the line "existence is but an illusion."
An enlightened Buddha indeed…
(via /r/psychonaut)
Eastern religions have long regarded the idea that existence is an illusion as a fundamental truth of life. Indian religions, for instance, make regular reference to the world of samsara.
RELATED: This Incredible Buddhist Mandala Depicts the Insanity of American Life
From Wikipedia:
Saṃsāra is a Sanskrit word that means "wandering" or "world", with the connotation of cyclic, circuitous change. It also refers to the theory of rebirth and "cyclicality of all life, matter, existence", a fundamental assumption of all Indian religions. Saṃsāra is sometimes referred to with terms or phrases such as transmigration, karmic cycle, reincarnation, and "cycle of aimless drifting, wandering or mundane existence".
The concept of Saṃsāra has roots in the Vedic literature, but the theory is not discussed there. It appears in developed form, but without mechanistic details, in the early Upanishads. The full exposition of the Saṃsāra doctrine is found in Sramanic religions such as Buddhism and Jainism, as well as the various schools of Hindu philosophy, after about the mid 1st millennium BCE. The Saṃsāra doctrine is tied to the Karma theory of Indian religions and the liberation from Saṃsāra has been at the core of the spiritual quest of Indian traditions, as well as their internal disagreements. The liberation from Saṃsāra is called Moksha, Nirvana, Mukti or Kaivalya.
Understanding that life is only an illusion is more than just an intellectual conceit, however. It has to be understood experientially, through the practice of meditation.
To learn how to meditate, check out our online course on Hardcore Meditation: The 8 Limbs of Raja Yoga. It'll give you everything you need to get started.