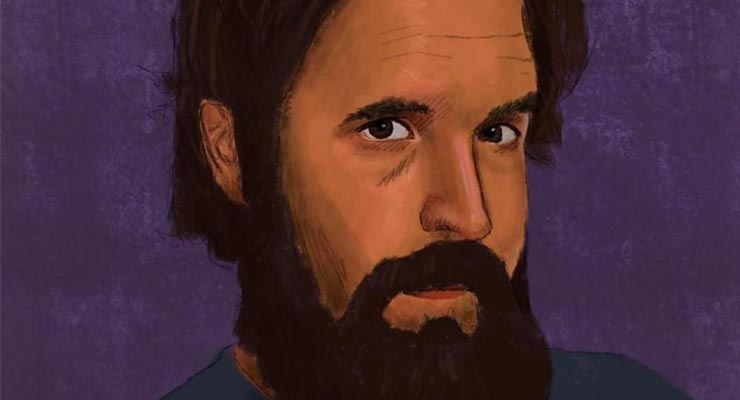 Duncan Trussell trips into a rift in the multiverse and finds himself outside the circles of time in the court of the dreaded Obelisk Emperor (me), who makes him fish tacos
In this week's episode of the podcast, I sit down with the great Duncan Trussell, comedian and psychedelic voyager par excellence, not three days after we did a show for his podcast.
After serving up some home made fish tacos, we discussed magick, the future, why it feels like society is trying to crush you when you're a young person, the political landscape and lots, lots more.
This was an excellent, excellent conversation.
Oh, and by the way: This podcast now has its very own Patreon. There's only one supporter tier—I've kept it simple—and you get tons of goodies for helping to keep this show going. First and foremost, you get access to the raw audio of upcoming interviews as soon as I record them (there's already one up there), meaning you get to hear new interviews weeks in advance. You also get special status on the Magick.Me Discord, and the joy of knowing that this show will continue long into the future! Check out the Patreon and become a supporter here.
More about Duncan, from Wikipedia:
Jamesy Duncan Trussell (born April 20, 1974) is an American actor, voice actor, and stand-up comic, known for his podcasts The Duncan Trussell Family Hour and his appearances on The Joe Rogan Experience podcast and Joe Rogan Questions Everything.
Duncan Trussell is a stand-up comedian, podcaster, writer, and actor.[2] He has written and appeared in sketches for two seasons of Fuel TV's Stupidface, Showtime's La La Land, Comedy Central's Nick Swardson's Pretend Time, and both seasons of HBO's Funny or Die Presents.
He regularly tours the country as a stand-up comedian and has performed at Just for Laughs Festival in Montreal and the Moontower Comedy Festival in Austin.
His television credits include MADtv and Curb Your Enthusiasm. He hosted Thunderbrain, a comedy science pilot for Comedy Central. In addition, Duncan has appeared on Cartoon Network's Adventure Time, and two episodes of the Funny or Die web series Drunk History titled "Tesla & Edison" and "Great Escape", as well as appearing on Comedy Central's This is Not Happening.
He co-hosted The Lavender Hour podcast with Natasha Leggero through January 2012. Duncan now hosts his own podcast, The Duncan Trussell Family Hour (DTFH). DTFH is a project where Trussell invites guests to free conversation for about an hour per episode. Among the guests that have been featured are Joe Rogan, Dan Harmon, Joey Diaz, Ram Dass, Tim Ferriss, Lou Barlow, Bert Kreischer, Alex Grey, Rick Doblin, Natasha Leggero, Graham Hancock, Abby Martin, Dr Drew, Daniele Bolelli and Christopher Ryan. As of September 2017, there have been over 250 episodes of DTFH.
Duncan also voiced the character Dave, the moth that experiments with neon for the first time on an episode of the HBO animated show Animals.
Check out the brand new Ultraculture podcast minisite to subscribe to the show, and please become a supporter on Patreon! Enjoy the show!
Duncan Trussell Visits the Black Monoliths of the Machine Sorcerers