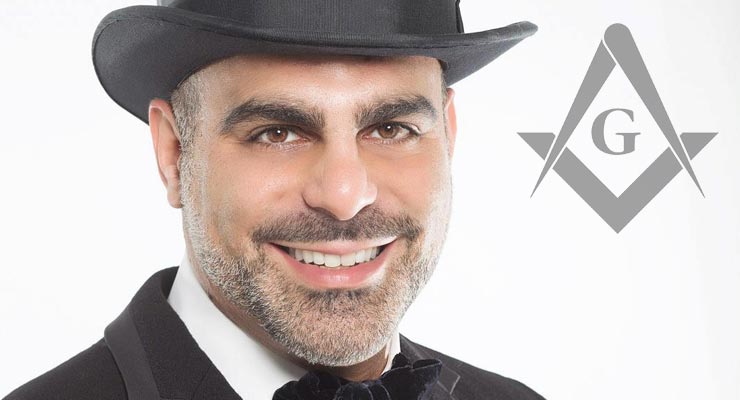 Elite Freemason Shahriar Yosef Esshaghian stops by the podcast to shed light on Freemasonry, the world's oldest and most misunderstood secret society
Yes hello! In this week's episode of the Ultraculture podcast, super-elite high-ranking Freemason Shahriar Yosef Esshaghian stops by the podcast to explore one of the most misunderstood (and sometimes feared) fraternities and secret societies in the world: Freemasonry. Yosef's an old friend of mine, and a successful business and family man (he used to live in Los Angeles, but now lives in Israel—it was great to catch up with him and sit down for a podcast while he was in town).
PS: If you hear any audio that sounds like involuntary moments of reptilian shapeshifting, it is NOT that, because Freemasons do NOT shapeshift. So please do not ask or e-mail about this. It's just an audio recording glitch. OK? Great, now that we've got that out of the way, here's some of the things we discussed:
• What exactly Freemasonry, the world's oldest secret society, actually is;
• The reality behind the conspiracy theories;
• The role Freemasonry has played in shaping the world;
• What it's like becoming a Freemason, and how it changes your life;
And lots, lots more. It was an awesome conversation, and you're really going to enjoy it.
Oh, and by the way: This podcast now has its very own Patreon. There's only one supporter tier—I've kept it simple—and you get tons of goodies for becoming a supporter and keeping this show going. First and foremost, you get access to the raw audio of upcoming interviews as soon as I record them (there's already one up there), meaning you get to hear new interviews weeks in advance. You also get special status on the Magick.Me Discord, and the joy of knowing that this show will continue long into the future! Check out the Patreon and become a supporter here.
More about Freemasonry, from the Wiki (you can also find out lots more about Masonry in Freemasonry for Dummies, a great book):
Freemasonry or Masonry consists of fraternal organizations that trace their origins to the local fraternities of stonemasons, which from the end of the fourteenth century regulated the qualifications of stonemasons and their interaction with authorities and clients. The degrees of freemasonry retain the three grades of medieval craft guilds, those of Apprentice, Journeyman or fellow (now called Fellowcraft), and Master Mason. These are the degrees offered by Craft (or Blue Lodge) Freemasonry. Members of these organizations are known as Freemasons or Masons. There are additional degrees, which vary with locality and jurisdiction, and are usually administered by their own bodies (separate from those who administer the craft degrees).
The basic, local organizational unit of Freemasonry is the Lodge. The Lodges are usually supervised and governed at the regional level (usually coterminous with either a state, province, or national border) by a Grand Lodge or Grand Orient. There is no international, worldwide Grand Lodge that supervises all of Freemasonry; each Grand Lodge is independent, and they do not necessarily recognize each other as being legitimate.
Modern Freemasonry broadly consists of two main recognition groups. Regular Freemasonry insists that a volume of scripture is open in a working lodge, that every member profess belief in a Supreme Being, that no women are admitted (although, in some jurisdictions, those who transition to women after being initiated may stay; see below), and that the discussion of religion and politics is banned. Continental Freemasonry is now the general term for the jurisdictions which have removed some, or all, of these restrictions.
Check out the brand new Ultraculture podcast minisite to subscribe to the show, and please become a supporter on Patreon! Enjoy the show!
Shahriar Yosef Esshaghian on the Inner Secrets of Freemasonry