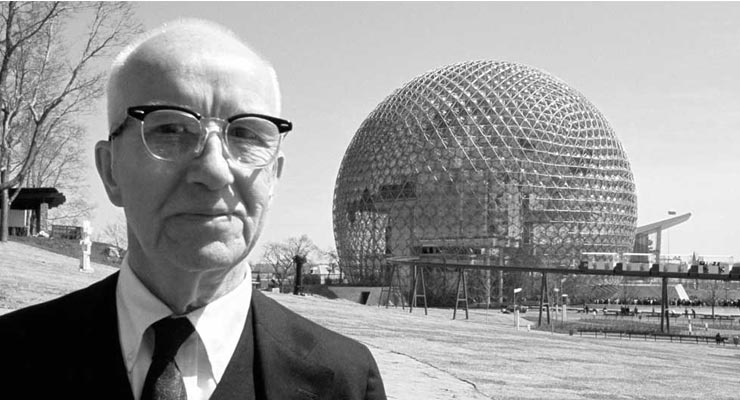 Buckminster Fuller was one of the most brilliant thinkers of the 20th century, an architect and designer who created inventions like the geodesic dome. He saw the best in humanity, and had a vision for how we could engineer a world with enough for everyone. Here's three critical things we can learn from him.
Buckminster Fuller was one of the most brilliant thinkers of the 20th century, an architect and designer who made it his mission to advance the evolution of humanity and to "do more with less." He created inventions like the geodesic dome (most prominently seen in Disney World's Epcot Center) and the Dymaxion car, and sought to use technology to benefit humanity, specifically to provide cheap shelter and transportation for the world. Though his inventions have not been widely adopted (yet), his theories and ideas have influenced the world in many key ways (if you've ever heard anybody in an office meeting use the word "synergy," for instance, you've just heard a Fullerism — he popularized the phrase to mean doing more with available resources).
Fuller's key idea is that we have enough resources to house, clothe and feed everybody on the planet, but we aren't doing so. His mission, then, was to create systems solutions that would allow us to properly use the resources we already have for the good of all, instead of maintaining inequality.
RELATED: How to Build a Dream Machine, Your Own Portal to Inner Visions
Here are three key concepts that Buckminster Fuller embodied that can bring immense value to your life, whatever you do:
1. Your life does not belong to you.
As a young man, Fuller worked in a textile mill, in the US Navy and in the meat-packing industry. In his twenties, he founded a company with his father-in-law to build lightweight housing—but the company failed. By the age of 32, he was broke and living in public housing in Chicago; his daughter died of complications from polio and spinal meningitis. Deciding he was a complete failure and responsible for his daughter's death, Fuller became a heavy drinker and decided to kill himself. On the verge of suicide, he had a transcendental insight—his life was not his own property; it belonged to humanity. He then pledged to dedicate the rest of his life to "an experiment, to find what a single individual [could] contribute to changing the world and benefiting all humanity." (This would be an example of the "deal with God," little publicized compared to the "deal with the Devil.")
2. Don't change people—change the environment.
Buckminster Fuller was an architect, on a mission to change our species, traditionally the role of religious reformers. But his approach was different—he realized that it's nigh-on impossible to change people. He instead sought to change the environment around people, prompting inventions like the geodesic dome and Dymaxion house: simply seeing or walking around in such structures could shift people's idea of the possible and prompt them to start rethinking their assumptions. Instead of grabbing and shaking people and shouting "The world's on fire!" he created environments that demonstrated a possible solution. Watch the documentary, here.
3. We have enough for everybody—to see how, think of the world as a whole system.
Fuller thought of the world as a whole system, instead of as disconnected nations and warring tribes. (This type of thinking is still the number one thing we need as a species, and is less common than you might believe.) He coined the phrase "Spaceship Earth" to describe where we are, famously stating that "The most important fact about Spaceship Earth: an instruction manual didn't come with it." If we can think of the world of a coherent system, we can begin to address resource-waste problems as a whole instead of leaving some to die while others have too much.

RELATED: Here's 4 Classic Reality Hacks From Robert Anton Wilson
Fuller's work is extensive and complex to say the least—if this starting point has raised your curiosity, check out A Fuller View, which is a collection of introductory essays by other people explaining his key concepts. It's a great and quick read.