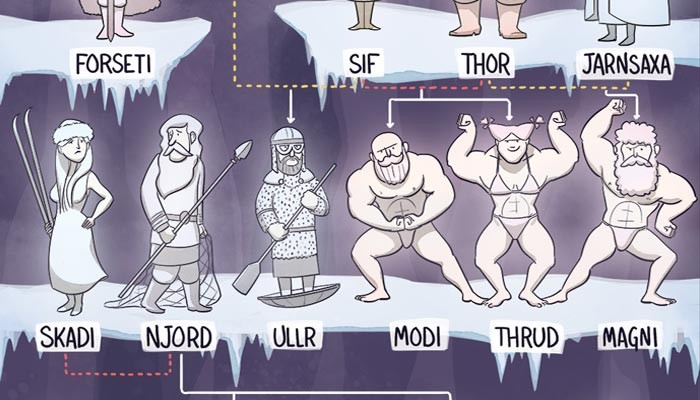 Incredible cartoon image that shows the family tree of the Norse Gods and Norse Mythology—Ymir, Thor, Loki, Odin, Freya and all the rest!
The below image, created by Korwin Briggs at Veritable Hokum, depicts a cartoon family tree of the Norse gods. (You can find his previous image, which features the Egyptian family tree, here!)
The Norse gods are a fascinating bunch, embodying a wide range of archetypes. Like the Greek gods and Roman gods, they're arranged in a family structure, and are often given to infighting and drama. Unlike the Mediterranean gods, the Norse gods are largely focused on strength and valor instead of virtue, and don't have much time for the weak or for complainers. The Norse gods are interested in individuals that can pull their own weight, and they're not so much about helping those who worship them as they are forcing them to get stronger.
As the classic saying goes, "Jesus saves, Odin wants you to man up."
The Norse Gods Return
Norse mythology and the Norse gods have recently been making a major comeback, particularly with the release of Neil Gaiman's bestselling book Norse Mythology, in which Gaiman retells the stories of the gods for a modern audience. Of course, the popularity of the Marvel superhero Thor has been keeping the Norse gods in the public consciousness for decades.
In addition to that, Northern Tradition neopaganism has been rising in popularity to incredible levels since the 1980s, with magical practitioners investigating the occult power of the Runes and the Northern pagan traditions of Galdr and Seidr.
(For a great interview with a master practitioner of Northern Paganism, check out Ultraculture's podcast interview with Stephen Edred Flowers.)
If you're interested in learning how to talk to the gods yourself (yes, it is possible, even if they just represent archetypes in the unconscious mind), check out Ultraculture's free course on chaos magick. You'll learn everything you need to master the basic skills necessary to interact with godforms—and you'll easily be able to apply it to invoking the Norse gods once you learn the basics.
May Odin smile upon you!