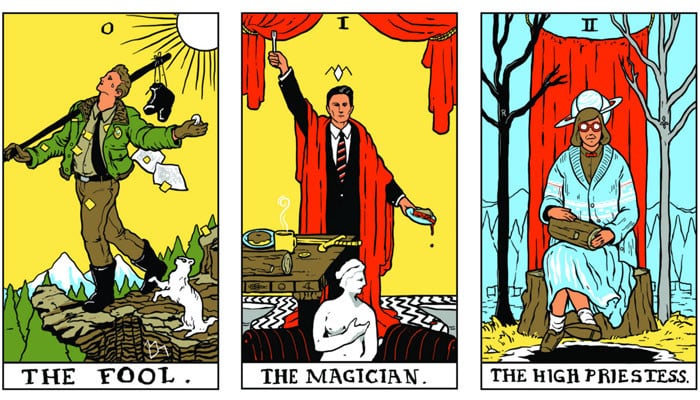 Just in time for the new series, check out Benjamin Mackey's awesome full Twin Peaks Tarot deck, which maps the entire groundbreaking show to 78 cards!
This is absolutely amazing: artist Benjamin Mackey has produced a gorgeous Twin Peaks Tarot deck, which lays out the series occult, hallucinatory landscape in a series of 22 nicely designed Major Arcana.
Just in time for the new Twin Peaks series on Showtime, Mackey has completed an entire 78-card Twin Peaks Tarot deck, inspired by the Pamela Coleman Smith / A. E. Waite-designed Rider-Waite deck.
Mackey calls his new deck "The Magician Longs to See" deck, after the haunting refrain from the show: "Through the darkness of future past, the magician longs to see – One chance out between two worlds, fire walk with me."
RELATED: An Artist Created a Futurama Tarot Deck. It's Awesome.
Mackey has fully funded the deck on IndieGoGo (by 1465% at last count!)—check it out here.
Mackey says:
The Magician Longs to See Tarot is a complete 78-card deck with 22 Major Arcana and 56 Minor Arcana in full color. The deck combines inspiration from the mystical world of Twin Peaks and the visual iconography of Pamela Colman Smith's infamous tarot illustrations. The Major Arcana draw their source from some of the primary movers and shakers in Twin Peaks, while the Minor Arcana tend towards depicting infamous scenes and moments in the series. My goal is to strike a delicate balance between accurately representing the respective characters while still maintaining readability as a deck.
I'm super excited to announce that John Thorne, co-creator of Wrapped In Plastic (a magazine devoted to the study of Twin Peaks) and author of the book The Essential Wrapped In Plastic: Pathways to Twin Peaks, is contributing an original introduction to the deck. This will be featured in the booklet at the $30 and $50 levels!
These Twin Peaks Tarot cards are available for purchase as a deck and as art prints from Mackey.
RELATED: This Lisa Frank Tarot Deck is So Many Kinds of Perfect
Take a look below! (h/t Welcome to Twin Peaks)
To learn more about the Tarot, and how its universal symbols can be applied to literally anything, check out our online course on how to Master the Tarot.