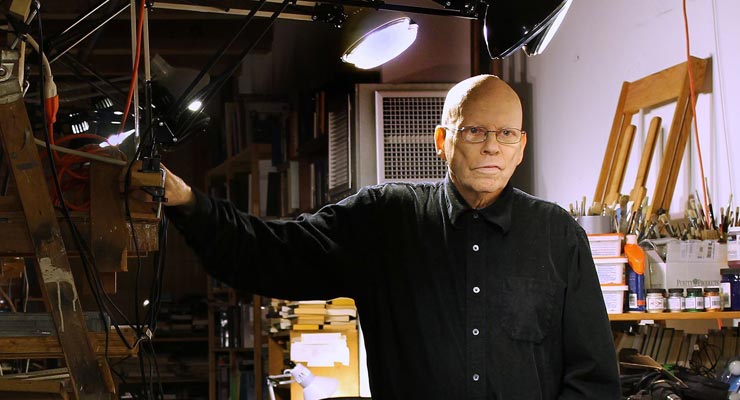 Brilliant alchemical artist Paul Laffoley died on Monday, November 16, 2015. These are my memories of Paul on the day I "coincidentally" met him.
Meeting the artist Paul Laffoley was one of the strangest, most magical synchronicities of my life.
Synchronicities—concidences so meaningful that they almost seem predestined, or even like some hidden force has arranged them—are one of life's greatest mysteries. Nobody knows why they occur. But they're impossible to ignore or forget—and when you acknowledge them, they tend to show up even more. (But try to force them, and you're out of luck.)
It was 2004. I'd just graduated college, after spending a year abroad in London (or, rather, England's Hidden Reverse, as I'd used my time to get into occult hijinks and take counsel with elder chaos magicians like Grant Morrison, Phil Hine, Dave Lee, Joel Biroco and several others), followed by losing my shit properly in India and Nepal. It was the archetypal young man's spiritual journey, kind of like the opening of Batman Begins, except I wasn't rich and I was looking for the psychic martial arts, not the physical ones.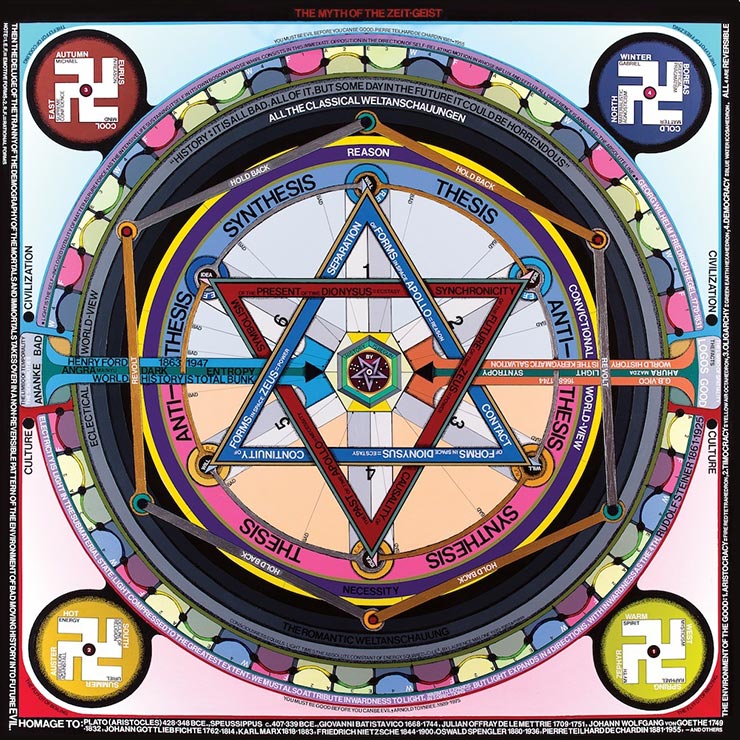 I had returned home to take a job as an editor at the Disinformation Company, Richard Metzger and Gary Baddeley's media empire that had infamously used hefty Dot Com 1 funding to pump out anarchist, occult and conspiracy media to the unsuspecting public. Crucial to Disinfo's aesthetic—certainly Richard's aesthetic—was the alchemical painter Paul Laffoley, who had been creating impossibly intricate diagrams of cosmic and psychic forces that don't look quite like anything similar—imagine a future human sent back to paint technologies that will exist in 700 years, quietly, in a loft near the Boston Museum, and that's Paul Laffoley.
RELATED: 7 Contemporary Artists Influenced by Alchemy and Magick
Shortly after returning to the States, I was visiting my college girlfriend and her family in Boston. Our relationship hadn't exactly stood the test of a year long distance—whereas I had left Santa Cruz, California as a stoner literature student into The Smiths, veganism and the occult, I had returned as some kind of Psychedelic Warlord Avatar. My eyes were hollowed out by a year of nonstop chaos ritual and months spent drifting among the Untouchables and dead bodies in the East, and I was holding a book contract, a mandate from Genesis P-Orridge to enlighten the young, and a slowly escalating case of paranoid psychosis.
In such a situation, I did the only reasonable thing: Go shopping, or, rather, follow my college girlfriend around while she did her shopping, all the while wondering what the f*** had happened to me.
It was on this fateful consumer outing that I thankfully became SOOOOOO bored waiting for the girlfriend to finish at H&M in downtown Boston that I suddenly had the impulse to leave the store and buy a $3 hotdog from a cart vendor on the other side of the street.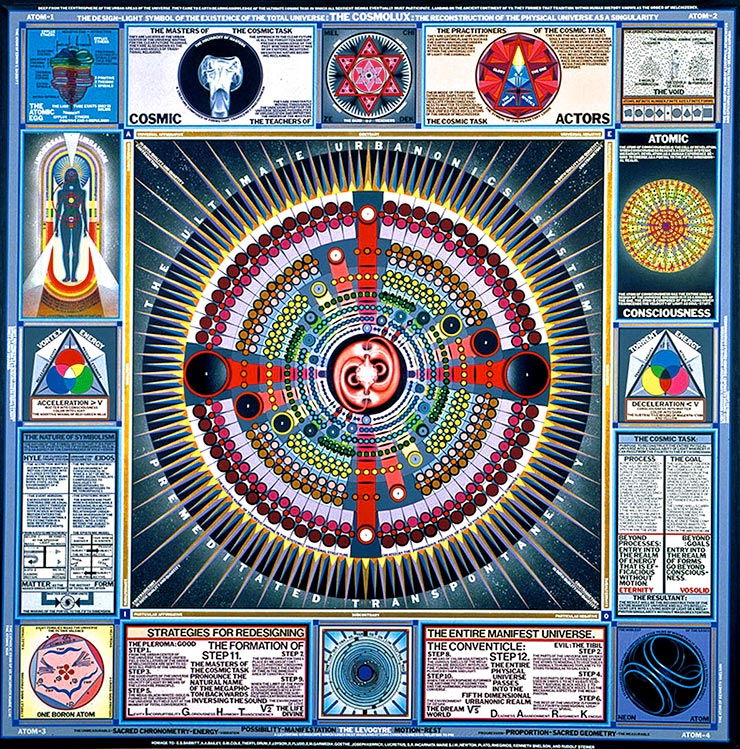 No sooner had I bought said hotdog and turned back towards H&M did Paul Laffoley cross the road.
My brain reeled for a moment before I leapt into action and approached.
"Excuse me, I don't want to bother you, but are you Paul Laffoley?"
"Why, yes! Yes I am!" he said, staring up at me through round coke-bottle glasses, apparently shocked that somebody had recognized him.
He proceeded to excitedly drag my girlfriend and I to his studio, a tiny one-room flat he had dubbed the Boston Visionary Cell, which was only a block away. The area was absolutely packed with books, from floor to ceiling, covering every available bit of wall space, with his paintings leaned against them, and architectural diagrams rolled into scrolls everywhere.
RELATED: How Hermetic Initiates Used Magick to Study Reality
Paul proceeded to download cosmic information at us for the next four hours. I wish to god that I had a tape of everything that he said, because it went by so fast that I could only process maybe one percent of what he was saying. He ranged across his architecture career, his hero Antoni Gaudi, the occult and ten thousand other topics. Laffoley showed us his plan for the new version of the World Trade Center (which he had submitted to the city, but which had been turned down!) that would be built to look like one of Gaudi's original sketches for the first WTC. I mean literally like a sketch, too, complete with steel girders in place to represent the graph paper that Gaudi had drawn his original version on. At the top of this new WTC would be a ball with cedar trees growing out of it at all angles, like a chaostar; Cedars, Paul explained, were traditionally associated with death, and would absorb and transmute the "thanatopic" energy left over from 9/11.
He proceeded from this remarkable display to telling us how he had recently had a leg removed. While in the hospital after the amputation, he had experienced "astral mountain lions" coming to take the astral double of the severed leg, presumably to eat. In their honor, and as a wry turn-about, he had commissioned an artificial leg made from a mountain lion's leg and foot, which he said he would use on occasion. While I was working hard to process this, he offered to read our palms (Really? I thought)—my life line, he said, was remarkably long, though my girlfriend's was short.
"That's OK," he said with a goofy grin. "We can just punch that up with a razor…"
We both laughed nervously.
Paul also answered my questions about magick, in ways that I'm still trying to understand. I asked him if I could correspond with him on the subject, and he agreed—which I never followed through on, to my own great loss. He was also kind enough to provide the cover for my first book, Generation Hex, which is a detail from his 1978 painting The Metatron.
That day, I felt we had met a being from a completely different dimension, a friendly alien who had come into our reality to evolve our understanding of the universe we live in, and to simply break our false categorical distinctions between science, spirituality, architecture and literally everything else.
RELATED: The Visionary, Haunting, Occult Artwork of William Blake
On Monday, Paul Laffoley left our dimension, after a long battle with congestive heart failure. I'm not sure we'll ever see somebody like him again. Perhaps now we can do ourselves the service of closely studying what he was trying to tell us—like trying to understand the work of Tesla, another one of Paul's heroes, it might well prove to be a key to our salvation.
To explore the incredible alchemical art of Paul Laffoley, check out The Essential Paul Laffoley: Works From the Boston Visionary Cell, available now.
(Images via, via, via; used to promote Paul's book.)