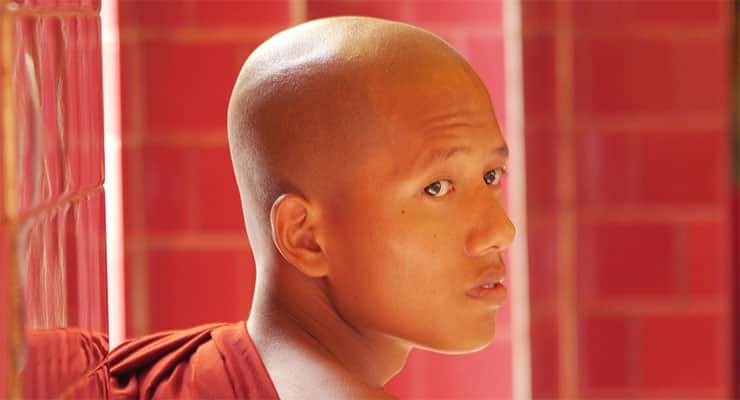 Countless mystical practices have emerged in Asia over the last 3,000 years. Here's five influential mystics who are often overlooked in the West.
Eastern mystics like Buddha, Lao Tzu, Confucius and many others are among the most famous, influential and world-changing individuals in history. But the Eastern schools of mysticism (Vedanta, Tantra, Buddhism, Confucianism, Sufism, Taoism and many, many others) are incredibly deep and complex, with a huge number of saints and realized beings. Here's five mystics you may never have heard of.
1. Zhuang Zhou (Zhuangzi)
In the West, Lao Zi is often regarded as the forefather of Daoist thought. Yet another influential scholar, Zhuang Zhou, was a follower of Lao Zi who expanded many of his ideas about the nature of experience and the limitations of physical life. He lived during the Hundred Schools of Thought era around 300 BCE, in which many prominent philosophical systems, such as Daosim, Confucianism and Legalism became important aspects of Chinese culture.
Zhuangzi expanded Lao Zi's principles into a framework of thought that describes both the inherent separation of individuals and the holistic oneness of everything. In his self-titled text Zhuangzi, he examines the relative nature of experience; the idea that a carefully considered decision by one person may seem absurd to another because their differing past experiences create slightly divergent experiences of reality.
Zhuang Zhou argued against objectivity, subverting conventional wisdom with satire and anecdotal thought experiments. The following tale illustrates both the subjectivity of experience and the seemingly paradoxical ability to gain knowledge by being a part of the singular natural system, the Dao:
"Zhuangzi and Huizi were strolling along the dam of the Hao Waterfall when Zhuangzi said, "See how the minnows come out and dart around where they please! That's what fish really enjoy!"
Huizi said, "You're not a fish—how do you know what fish enjoy?"
Zhuangzi said, "You're not me, so how do you know I don't know what fish enjoy?"
Huizi said, "I'm not you, so I certainly don't know what you know. On the other hand, you're certainly not a fish—so that still proves you don't know what fish enjoy!"
Zhuangzi said, "Let's go back to your original question, please. You asked me how I know what fish enjoy—so you already knew I knew it when you asked the question. I know it by standing here beside the Hao."
(To learn more about Taoism, check out our course on the I Ching.)
2. Najmuddin Kubra
Najmuddin Kubra was a renowned Persian Sufi mystic who lived during the 13th century in the golden age of Sufi metaphysics. Najmuddin Kubra began as a religious scholar in Egypt. He later abandoned traditional studies in favor of Sufi devotional practices to purify the heart and establish a direct connection with God. He founded the Kubrawiyya Sufi order, and became known as the "Manufacturer of Saints" because so many of his students went on to become prominent Sufi scholars.
Much of Najmuddin Kubra's writings concerned the interpretation of visionary experiences. He also advocated the interpretation of dreams based on the Prophet Mohammed's visionary dreams that led to the formation of Islam. Kubra and his disciples sought to gain access to sacred visions through ritual practices and meditation. Resulting visions would be analyzed according to Kubra's system, which was drawn from the Quran.
Najmuddin Kubra was killed in 1221 during a Mongol invasion and genocide. He refused to leave his home, and instead made a solitary stand against the invading horde.
One of his biographers, Tarikh-e-Soheili, writes: "The master was old and half blind but he refused the grant of Mongols for his own life. He only asked the invaders to leave. When the Mongols entered the city he was standing in the main square and had stones in his lap while throwing them at the Mongols."
3. Adi Shankara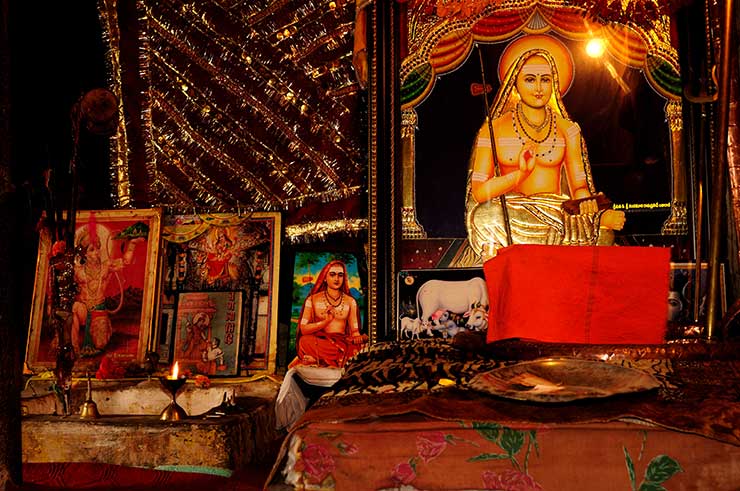 Adi Shankara was an early 8th century Hindu philosopher and mystic from the Chera Kingdom (Kerala), India. Many of his works focus on the Upanishads, an important text in Hindu mysticism and metaphysics.
Adi Shankara helped to draw Hinduism away from social ritual and tradition in favor of monasticism and internal practice. Many of Shankara's commentaries on the Upanishads contribute to modern Hinduism, especially his interpretations of the relationship between Atman, the soul, and Nirguna Brahman, the supreme formless reality. He also encouraged the worship of six primary deities—Shiva, Vishnu, Shakti, Ganesha, Surya and Skandi. Today, these gods are still held in the highest esteem by many Hindu mystics.
He also founded many monasteries throughout India. Shankara's focus on meditation and monasticism was influenced by the Buddhists of his time. He also studied Buddhist philosophy, and wrote an important treatise that persists as the major philosophical difference between Buddhism and Hinduism. Shankara observed that Buddhism asserts anatman—that the soul does not exist, both for the individual and in the sense of a larger, universal soul. On the other hand, Shankara wrote that belief in the Atman was vital to Hindu cosmology and practice.
For more on the Vedic theory and practice of enlightenment, check out our class on Raja Yoga and Hardcore Meditation!
4. Rabia Basri
Rabia Basri was a Sufi mystic born in Basra, Iraq circa 713 CE. According to her biography written by a later Sufi saint, Farid ud-Din Attar, she was born into extreme poverty. After her birth, her family had no oil to light a lamp or a cloth to wrap her in. Basri's mother sent her father to ask a neighbor to borrow some oil and cloth, but her father vowed never to ask for anything from anyone but God. That night, Basri's father saw the prophet Mohammed in a dream and told him that Rabia would become an influential teacher. Mohammed also provided instructions for convincing the local governor to donate a large sum of money to the poor and to Rabia's family.
Rabia Basri advocated ascetic practices such as fasting, transcendental prayer and meditation. After her village was decimated by a famine, she was captured by raiders while traveling with a caravan—and then sold into slavery. She survived through mystical practice, and achieved a degree of power that convinced her owner to reject slavery and beg forgiveness. She left society and ventured into the desert, spending her life in contemplation and building a community of disciples. She died in Jerusalem in her late 80s, having followed the mystic path to the last day.
5. Kukai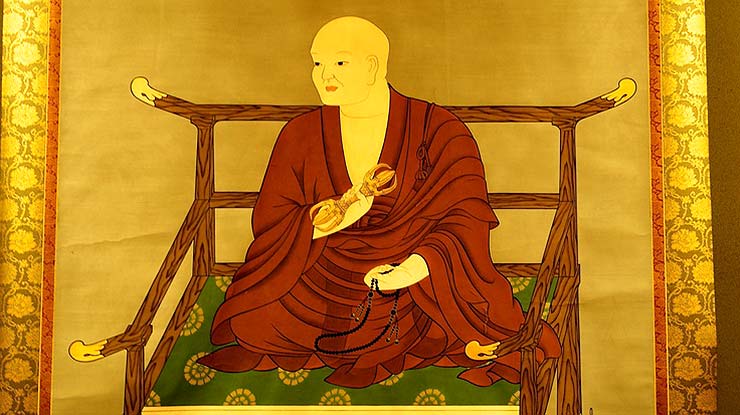 Kukai was a Japanese monk and founder of the Shingon (True Word) school of Buddhism. Shingon is one of the only remaining Tantric lineages that exist outside of Tibet. In addition to his over fifty works examining Tantric Buddhism, Kukai was also a poet, artist and engineer. He developed Kana, the syllabic system of writing that, along with Kanji, make up the modern Japanese writing system. The Shingon School of mystics believes that enlightenment is a real possibility within a single lifetime through the correct formula of meditation, study and ritual.
Kukai was born to an aristocratic Otomo Clan family on the island of Shikoku in 774 CE.  In 791, Kukai relocated to Nara after his family fell out of favor with the empire and was accused of assassinating a rival nobleman. He first studied Confucianism, and then became interested in Buddhism. In his early 20s, Kukai met a monk who initiated him into an esoteric practice of repeatedly chanting the mantra of the Bodhisattva Ākāśagarbha—in Japanese, the mantra is nōbō akyasha kyarabaya on arikya mari bori sowaka.
Kukai then ventured into the mountains and chanted endlessly, as mystics are wont to do. He received a vision in which Akasagarbha instructed him to travel to China and study the Mahavairocana Abhisambodhi Tantra. The Mahavairocana Tantra outlines rituals and initiatory practices that lay the foundation for much of Vajrayana Buddhist esotericism. He traveled to China and joined the Qinglong Monastery, where he mastered the Tantric practices in a matter of months. He also learned Sanskrit, and was one of the earliest scholars to study Indian, Tibetan, Chinese and Japanese Buddhist texts.
Kukai returned to Japan and eventually found support from the Empire after some years of being overshadowed by the Tendai school of Buddhism. He established a monastery outside of Kyoto and shared many of the new texts he had brought back from China. He gained recognition and became the leading figure in Esoteric Buddhism, overseeing many important rituals for the Empire and forming a lineage of mystics that still flourishes today.
(Image via.)