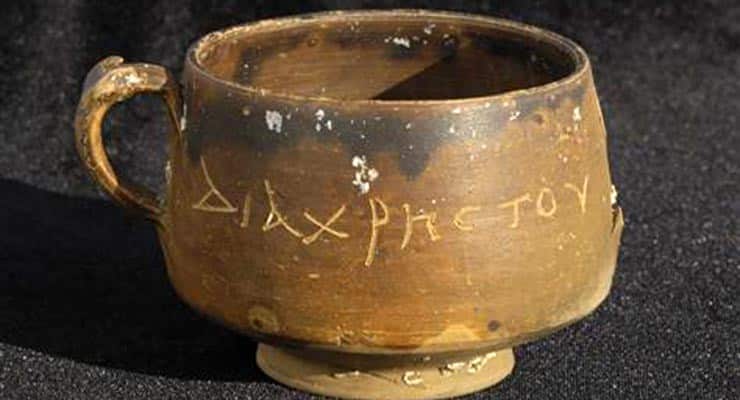 This ancient bowl discovered in the ruins of Alexandria by French archaeologists in 2008 describes the real Jesus as an occult "magician"
Who was the real Jesus? In 2008, French archaeologists excavating the underwater ruins of Alexandria unearthed an bowl inscribed with a shocking clue to the identity of one of the most famous religious leaders of all time. Put simply, it referred to Jesus as a "magician."
Via NBC News:
A team of scientists led by renowned French marine archaeologist Franck Goddio recently announced that they have found a bowl, dating to between the late 2nd century B.C. and the early 1st century A.D., that is engraved with what they believe could be the world's first known reference to Christ.
If the word "Christ" refers to the Biblical Jesus Christ, as is speculated, then the discovery may provide evidence that Christianity and paganism at times intertwined in the ancient world.
An Ancient Relic Which Could Hold Clues to the Identity of the Real Jesus
The bowl, which is dated to the period between the late 2nd century B.C. and the early 1st century A.D., reads:
"DIA CHRSTOU O GOISTAIS," which has been interpreted by the excavation team to mean either, "by Christ the magician" or, "the magician by Christ."
RELATED: How I Stopped Being Agnostic… and Became a Gnostic
Team leader Frank Goddio of the Oxford Center for Maritime Archaeology, said that "It could very well be a reference to Jesus Christ, in that he was once the primary exponent of white magic."
The jury's still out on whether the bowl is actually referring to the real Jesus Christ, but there's no hiding the fact that even the prophet's contemporaries compared his abilities to sorcery (Jesus was often accused of using demons to do his bidding).
Similar to the Jewish mystic Elijah (the undisputed patron of Lurianic Kabbalah and rider of fire chariots), the real Jesus was a wonder-worker who could freely go in and out of Super-Saiyan-mode. After his death, he was often linked with the Roman cult-hero Mithras and the magician Apollonius of Tyana, both pagan figures. Jesus' "magical" side certainly wasn't always unknown to modern thinkers. It was the 16th century philosopher Giordano Bruno who was one of the first to suggest that the real Jesus was just an extremely talented mage.
How to Learn More About Magick
OK hang on… if Jesus was a magician, what exactly is "magick"?
Is it real?
Is… there a way to learn it?
Yes, it is real. Yes, there is a way to learn it. And it's actually far more simple or spooky than people think.
It's the ability to change reality by changing people's stories about reality. And it's the ability to change your own nervous system by accessing altered states of consciousness. It's the ability to summon incredible powers from within yourself by talking to your unconscious mind.
[is_visitor]We at Ultraculture believe that everybody should have access to these abilities. And to spread these skills, we've created a free course on magick, right here.[/is_visitor][is_lead]We at Ultraculture believe that everybody should have access to these abilities. And to spread these skills, we've created Magick.Me, our school for chaos magick. Check it out here![/is_lead][is_customer]We at Ultraculture believe that everybody should have access to these abilities. And to spread these skills, we've created Magick.Me, our school for chaos magick. Check it out here![/is_customer][is_subscriber]We at Ultraculture believe that everybody should have access to these abilities. And to spread these skills, we've created Magick.Me, our school for chaos magick. Check it out here![/is_subscriber]