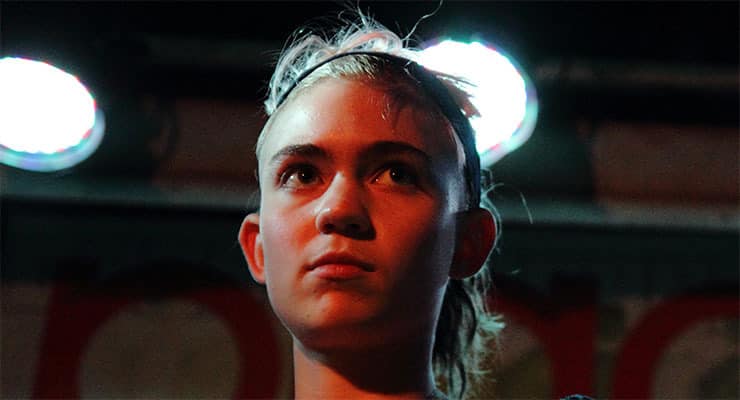 Here's a list of celebrities who are fascinated by magick and the occult, from Hermeticism to ceremonial magick to chaos magick
Due to the incredible popularity of our last post on celebrity chaos magicians, here's nine more celebrities who are into magick and the occult.
1. Alan Moore
On his 40th birthday, comics legend Alan Moore proclaimed himself to be a magician. In Moore's words:
"There is some confusion as to what magic actually is. I think this can be cleared up if you just look at the very earliest descriptions of magic. Magic in its earliest form is often referred to as 'the art.' I believe this is completely literal. I believe that magic is art and that art, whether it be writing, music, sculpture, or any other form is literally magic. Art is, like magic, the science of manipulating symbols, words, or images, to achieve changes in consciousness."
2. Björk
The Icelandic singer Björk has long fascinated audiences with her unique musical and visual style. She has not declared an outright involvement with the occult, but it's in her veins: she was born to a mother interested interested in metaphysics. From a 1995 interview:
"I think she took me to all the occult creatures of Iceland… I think I probably believe most of it, actually. I've got Pluto in a very important place, and that's what I'm about. I have to re-create the universe every morning when I wake up. And kill it in the evening, which is a bit outrageous, but there you go…
"I've also got my moon in the twelfth house, in Scorpio, and my sun in Scorpio in the first house, and also Neptune. Then on my other half, my generational picture, I've got Pluto and Uranus in Virgo, and my midheaven is in conjunct with those two. Virgo is the sign of the nurse, so this means I was born to nurse my generation."
Embedded below is an appearance by Björk's early punk band, KUKL (Icelandic for "witchcraft") on Icelandic TV. The performance caused controversy due to Björk appearing with her heavily pregnant stomach exposed. In hindsight, it just made her look like a Great Mother Pagan Goddess.
3. Kate Bush
The British singer Kate Bush has displayed an interest in magic and the occult since the beginning of her career. It wasn't until her 1993 album The Red Shoes, an occult retelling of Hans Christian Andersen's moralistic fairy tale. The song "Lily" from the album features lyrics derived from the Lesser Banishing Ritual of the Pentagram. It's embedded below.
Check out Ultraculture's online course on using techniques drawn from the Western Magical Tradition to boost your artistic creativity, Magick and Art: Sacred Techniques for a Sacred Quest, available now!
4. Grimes
The Montreal-based electropop pixie has been associated with the Witch House scene, the occult-themed dark electronic subgenre that has amassed a huge underground following on the Internet in the last few years. She's been romantically linked with witch house producer Pictureplane, and photos of Thee Psychick Bible (assembled by Ultraculture's editor-in-chief Jason Louv) have appeared on her Twitter account. She has stated that her 2012 masterpiece Visions was recorded under alter states of consciousness resulting from long periods of sleep deprivation.
Here is the video for her 2012 song "Genesis," featuring a fellow modern occult personality Brooke Candy.
5. Marina Abramović
The Yugoslavian performance artist Marina Abramović produced a short film, Balkan Erotic Epic exploring the sexuality of Balkan pagan traditions. From Portland Institute of Contemporary Art:
This major new work and multi-channel video installation explores how sexuality was defined in Balkan pagan traditions. Abramovic researched Serbian folklore and discovered many instances of the employment of eroticism to address everyday issues. For example, if it rained too much the women of the village would run into the fields and lift their skirts in an attempt to scare the gods and end the rain. Sweeping cinematic projections and animations play alongside contextual readings as Abramovic and amateur actors dress in traditional costumes and reanimate myth.
6. David Tibet
David Tibet is the founder of the prominent English experimental neofolk group Current 93. Tibet was a huge influence on the occultism of the English neofolk scene and ran in the same circles as prominent chaos magicians such as Genesis P-Orridge and Peter Christopherson. According to Christopher Partridge's The Lyre of Orpheus: Popular Music, the Sacred, and the Profane, Tibet was of particular influence on the magic of Genesis P-Orridge, who gave Tibet his name.
In the 1990s, Tibet transitioned from Thelema to a practice of Esoteric Christianity, which can been heard in later Current 93 works like Black Ships Ate the Sky.
Check out Ultraculture course on Thelema and the True Will, aka the 93 Current—available now.
7. Coil (Peter "Sleazy" Christopherson and John Balance)
Along with Genesis P-Orridge, Christopherson was a founding member of Throbbing Gristle. With his companion John Balance, Christopherson later founded pioneering electronic duo Coil. In Lyre of Orpheus, Partridge asserts that Christopherson introduced Genesis to the work of Austin Osman Spare, which greatly influenced the development of Thee Temple of Psychick Youth.
Magick was a huge influence on Balance's art and persona. He stated in an interview:
"I've always been into magic, with Crowley's 'k', and studied it—I tried to buy stuff by Crowley when I was young, but my parents absolutely refused to have anything to do with it and actively discouraged me. I wrote to Alex Sanders (King of the Witches), when I was 14, and he wrote back to me saying thanks for writing, I'm very pleased that you want to do this, but can you write back when you're 18. He wouldn't accept anyone so young into his coven. I used to worship the moon too, I'd encourage other boys at school to do it too…
"I was an only child, always talking to animals, fantasy creatures and spirits. I would make little plasticine gods and make offerings to them. I was just born with a pagan sensibility. I'm an animal, I've never been a human – there's no difference between animals and humans to me. I think that's one of the signs of a true pagan."
Check out Ultraculture's online Introduction to Chaos Magick here!
8. Bill Drummond
Bill Drummond was one of the founding members of the prankster electronic musical act the KLF. While not a practicing chaos magician, the KLF were greatly inspired by Discordianism and Robert Anton Wilson's Illuminatus! trilogy. The KLF notoriously ended their career by firing a machine gun full of blanks into the audience at the 1992 BRIT Awards, burning a million quid, and dumping a dead sheep at an aftershow party.
Below is the Illuminatus-inspired music video for KLF's utterly bizarre danced hit "Justified and Ancient" (featuring country music legend Tammy Wynette on vocals)
9. Elvis Presley
The King himself was reportedly fascinated by mysticism and the occult. His library at Graceland is alleged to have contained books like The Secret Doctrine by H. P. Blavatsky, The Secret Teachings of All Ages by Manly P. Hall and Autobiography of a Yogi by Paramahansa Yogananda. In her autobiography Elvis and Me, Presley's widow Priscilla Presley wrote of her late husband's fascination with metaphysics and the occult.
From the Wikipedia:
In his search for a "higher state of consciousness" Presley became fascinated with the occult and metaphysical phenomena. During his spiritual quest everyone around them saw Presley's personality change dramatically from vibrant and playful, to passive and introverted. Presley went through a period of celibacy, in keeping with the teachings of an Indian guru. "He was going through a cleansing period, physically and spiritually… He loved me and deeply wanted to be faithful to me but never felt certain that he could resist temptation. It was a persistent battle, and it even got to the point where he felt he had to resist me." For the next few weeks, Elvis felt the need to withdraw himself from the temptations of sex. He said, "We have to control our desires so they don't control us. If we can control sex, then we can master all other desires." When they were in bed, "he took his usual dose of sleeping pills, handed me mine, and then, fighting off drowsiness from the pills, pored over his metaphysical books." Priscilla was not interested, and recalled Elvis saying "Things will never work out between us, Cilla, because you don't show any interest in me or my philosophies."
Elvis visits a yoga class in the absolutely incredible video embedded below, taken from the movie Easy Come Easy Go:
Check out Ultraculture's course on yoga and meditation, Hardcore Meditation: The Eight Limbs of Yoga, available now!