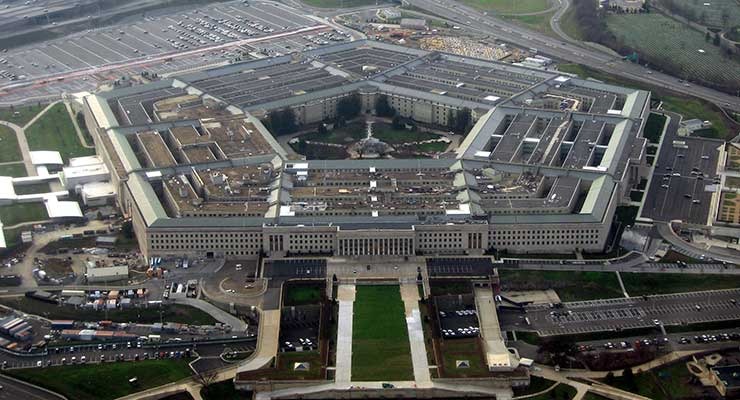 It's not always a conspiracy theory: Power and pedophilia can go hand-in-hand. Ultraculture investigates the reality of elite pedophilia rings in the upper reaches of society
Pinning accusations of child abuse and pedophilia on the elite and powerful, and even secretive elite pedophilia rings, is usually the territory of conspiracy theorists like Alex Jones and David Icke (or even the absurd "Pizzagate" faux-scandal cooked up by the Alt Right). Unfortunately, it's not always a conspiracy theory. Elite pedophile rings have long operated behind closed doors among the rich and powerful.
Recently, for instance, it emerged that a former Vatican archbishop currently facing accusations of pedophilia had a collection of tens of thousands of child porn files stored on a computer in his office at the Holy See diplomatic compound in the Dominican Republic. Former Archbishop Jozef Wesolowski was arrested at the Vatican on pedophilia charges early last week. The arrest marked the first time that the Vatican is prosecuting an archbishop on allegations of child abuse. Wesolowski is the highest-ranking Vatican official to be investigated for sex abuse, and the first top papal representative to be defrocked.
RELATED: 10 Ways to Protect Yourself From NLP Mind Control
The Wesolowski scandal isn't so much a new story as it is a reminder that power and pedophilia can fit hand-in-hand. The accusations against the former archbishop are only one instance. Listed below are some of the other chilling sex abuse scandals involving high-ranking government and church officials to emerge in recent years, suggesting that elite pedophilia rings may indeed exist.
1. The Pentagon
In July 2010, it was reported that some 5,200 defense and intelligence employees at the Pentagon had downloaded child porn. Then, in January 2011, the Boston Globe reported that the Pentagon had failed to take proper action, even neglecting to check 1,700 names on the list of accused:
In 2006, the Immigration and Customs Enforcement agency, which conducts Internet pornography investigations, produced a list of 5,200 Pentagon employees suspected of viewing child pornography and asked the Pentagon to review it. But the Pentagon checked only about two-thirds of the names, unearthing roughly 300 defense and intelligence employees who allegedly had viewed child pornography on their work or home computers.
The defense investigators failed to check an additional 1,700 names on the list, defense officials have revealed in correspondence with Senator Charles Grassley, Republican of Iowa.
Save for the Anderson Cooper report below, the story did not get much coverage by the mainstream media and seemed to fade out of view.
2. Jimmy Savile
Ultraculture's Stephen Foland previously reported on the "mucking about" of the deceased BBC television personality Jimmy Savile, which is reprinted below:
A new report alleges that the late BBC personality Jimmy Savile sexually assaulted patients and corpses at Leeds General Infirmary as a volunteer.
The new investigative report digs into Savile's philanthropic association with Leeds General Infirmary; a relationship that lasted for five decades. The report from the Leeds Teaching Hospitals NHS Trust is supported by 200 eyewitness interviews and 1,300 documents, and alleges that while acting as a volunteer in the hospital, Savile may engaged in acts of depravity including sexual assaults on men, women and children—and even necrophilia.
The new information only compounds the rage and horror millions of British music fans and television viewers have experienced following the revelations that have surfaced in the wake of BBC personality Jimmy Savile's death in 2012 (and this week's guilty verdict for British/Australian children's entertainer Rolf Harris on twelve counts of indecent assault). According to a story that ran in The Observer in January of this year, Jimmy Savile (Top of the Pops) may have assaulted as many as 1000 victims before his death in 2012. Dame Janet Smith is leading an independent review of Jimmy Savile's alleged misconduct during his employment by the BBC and is expected to release their findings later this year.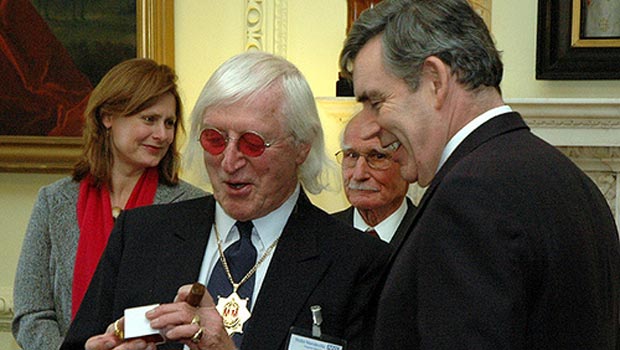 Savile volunteered at the hospital as an event organizer and celebrity philanthropist throughout the 1960s, even bringing the Beach Boys to Leeds after the hospital had suffered a fire in 1968. It was during this time that Savile became an unofficial volunteer "porter" at the institution. Despite a few concerns among staff that he was creating a disruptive atmosphere at the hospital, Savile was permitted to "work" there. According to the report, Savile operated with almost unrestricted access to patients. One eyewitness, referring to Savile, told investigators, "I would see him all over hospital. Even places where you wouldn't have expected him… In passage-ways, down in basement." (via)
The review summarizes that 60 individuals presented evidence of sexual abuse at the hands of Jimmy Savile, with 43 assaults allegedly occurring on hospital grounds and 33 incidents involving individuals who were being treated as patients. 18 of those victims were under the age of 16.
The accounts of abuse contained in the report are truly shocking: the following account is excerpted from the report, based on the testimony of one of Savile's alleged child victims. The incident occurred when the child was under 10 years of age.
"She recalls that JS came on the ward and talked to her, sitting on her bed as she lay there. He was wearing a white coat and a clown's red nose which he squeaked to amuse her. Sitting on the bed, he took her hand and asked if she would like to make his clown's nose squeak. He put her hand in his trouser pocket…."
Savile was also frequently seen in the mortuary, and is described in the report as having started a friendship with the chief mortician, which excused his appearances from suspicion. Statements in the report from two unrelated eyewitnesses claim that Savile bragged that the rings he wore were created from the glass eyes of corpses. From there, the allegations spiral into tales of necrophilia and pornographic photography featuring the dead. The following quotes are excerpted from the statement of an unidentified former nurse at Broadmoor Hospital, a high-security psychiatric facility in England:
"And that—that's when he [Savile] told us about what he did up at—now I've got to make it quite clear now, I don't know whether it was Leeds General Infirmary or St James's, I believe it was Leeds General Infirmary, and his words were to the effect 'What—what we often do is get ourselves down into the morgue at night and have a muck about'"
The statement progresses with an unidentified companion of the witness questioning Savile to clarify his meaning.
RELATED: 'The Sussex Devils': A New Investigation of the 1980s Satanic Ritual Abuse Panic
"He [Savile] said 'Well, depending on what's down there at the time, but we can get them out and—', and he, he went on to relate how they set the bodies – he kept saying 'they', so he, he couldn't have been on his own with this—how they set the bodies—that what happens when before you—well, rigor mortis sets in, you can move the body into different, sort of, stances or formations. And, apparently, he [Savile], he was saying that they used to put the bodies together, male and female, and he also said that they took photographs and also that he got involved in some of the photographs… I mean, I—I was a little bit upset because I had no concept, in those days, of—while I'd heard of necrophilia, because of a virtue of—several of the Broadmoor patients would've been diagnosed with that, but I didn't fully understand what it meant, and part, part way through I just wandered off… Well—he [Savile] used the phrase that you don't – it's not so common nowadays, he talked about gamaroosh…It means oral sex…"
While Savile may be dead, it seems his legacy will continue to haunt us.
3. Patrick Rock
Ultraculture previously reported on the child pornography scandal at 10 Downing Street involving top Cameron aide Patrick Rock that took place earlier this year. Rock closely advised British PM David Cameron's vision of a "Great Firewall of Britain" designed to block access to child porn that was contested by supporters of net neutrality and Open Internet. Ironic, then, that Rock would be caught with child pornography.
The original post (by Jason Louv) is below:
Remember UK prime minister David Cameron's plan to put massive firewalls in place to censor porn and even esoteric content—largely justifying such measures by arguing that they would block access to child pornography? Well—what's this?—Patrick Rock, one of Cameron's closest confidants and aides in drawing up the censorship plans just resigned from Downing Street for… getting caught with pornography featuring children. You don't say.
A senior aide to David Cameron resigned from Downing Street last month the day before being arrested on allegations relating to child abuse images.
Patrick Rock, who was involved in drawing up the government's policy for the large internet firms on online pornography filters, resigned after No 10 was alerted to the allegations.
Rock was arrested at his west London flat the next morning. Officers from the National Crime Agency subsequently examined computers and offices used in Downing Street by Rock, the deputy director of No 10's policy unit, according to the Daily Mail, which disclosed news of his arrest.
How… ironic. Though perhaps not surprising, really. Government officials getting busted for child porn is nothing new; it is, in fact, one of the great open secrets of our time.
David Cameron has taken massive heat for keeping the matter quiet for three weeks. Watch him covering himself (while looking sh*t terrified) below.
4. Jersey Island
In 2008, the Haut de la Garenne, a former orphanage on Jersey Island, was investigated for reports of sex abuse. Jimmy Savile was even alleged to have spent some time there, suggesting that elite pedophilia rings may have been operating on the island.
Vice reports:
The list of suspects in the case included British government officials and—according to the detective who led the three-year child-abuse probe—media personality Jimmy Savile was also investigated by police, four years before the full extent of his crimes would eventually be exposed. The problem is, because Jersey is self-governing and has its own, slightly unorthodox court system, decades of possible crime against children in the orphanage may remain almost entirely hidden, unexamined, and untried. Since the initial media Mardi Gras, international interest has faded and locals who have continued searching for justice—including bloggers, senators, and police—have been shouted down.
The American journalist Leah McGrath Goodman has even been banned from the UK for investigating the case and the existence of elite pedophilia rings on Jersey Island.
5. Rolf Harris
Earlier this year, Australian entertainer Rolf Harris was convicted on charges of possessing child porn. The BBC reported:
Mr Justice Sweeney said Harris, 84, had taken advantage of his celebrity status and had shown "no remorse".
The sentence of five years and nine months has already been referred to the Attorney General's Office under the "unduly lenient sentence scheme".
One victim said the abuse had taken away her "childhood innocence".
Harris, who was found guilty of offences that took place between 1968 and 1986, was told by the judge he had "no-one to blame but himself".
He displayed no emotion and stared straight ahead as he was jailed.
6. 20 "Powerful Elite" Involved in Russian Elite Pedophilia Rings
In July, RT reported on elite pedophilia rings in Russia:
At least 20 former MPs, government ministers, judges and other prominent figures abused children for decades, claims a former child protection manager.
RELATED: Watch a Jaw-Dropping Visualization of Every Protest Since 1979
Whistleblower Peter McKelvie, whose allegations led initially to a 2012 police inquiry, told BBC Newsnight a "powerful elite" of pedophiles carried out "the worst form" of abuse.
He told the programme there was evidence that victims of abuse were treated like "lumps of meat," taken from place to place to be molested.
McKelvie, formerly a child protection manager in Hereford and Worcester, took his concerns to Labour MP Tom Watson in 2012, who then raised the matter in parliament, prompting a preliminary police inquiry that became a formal inquiry in 2013.
"For the last 30 years and longer than that, there have been a number of allegations made by survivors that people at the very top of powerful institutions in this country … have been involved in the abuse of children," McKelvie told Newsnight.
Any attempt to find a connection between these stories, or even to imagine elite pedophilia rings that may or may not be there, is pure speculation. (The hallucinatory madness of "Pizzagate" is one such example of people seeing elite pedophilia rings where there are none, and weaponizing their conspiracy theories for political gain.) It is impossible to say how deep the iceberg goes. But simply staring at its surface is enough to see that the link between child sex abuse and men in power, even those organized into elite pedophilia rings, can be chillingly common.