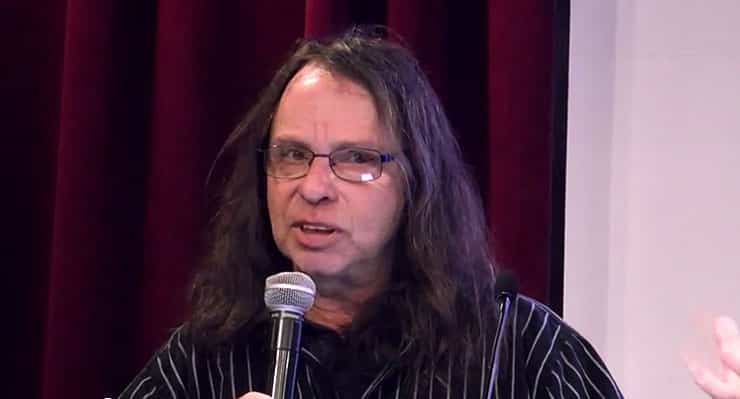 R. U. Sirius just stopped by the podcast to talk about the first wave of virtual reality in the 1990s, and what we can learn and apply to the age of Oculus Rift
In this podcast, we were lucky enough to chat with legendary cyberspace pioneer R. U. Sirius, and had a great conversation about the early days of VR. We talked about the luminaries of early virtual reality—Jaron Lanier, Timothy Leary, Myron Krueger, John Perry Barlow—and covered what was happening in the early days of the technology, what went right, what went wrong, and why virtual reality didn't see mass adoption along with the Web. R. U. also passed on some great wisdom for the current Oculus Age, especially on how to make sure to keep VR artistic, innovative and exciting instead of bland and corporatized.
R. U.'s bio, via Wikipedia:
R. U. Sirius (born Ken Goffman in 1952) is an American writer, editor, talk show host, musician and cyberculture celebrity. He is best known as co-founder and original editor-in-chief of Mondo 2000 magazine from 1989 to 1993. Sirius was also chairman and candidate in the 2000 U.S. presidential election for the Revolution Party. The party's 20-point platform was a hybrid of libertarianism and liberalism.
At one time, he was a regular columnist for Wired News and San Francisco Examiner, and contributing writer for Wired and Artforum International. He's also written for Rolling Stone, Time, Esquire and other publications. Sirius has written several hundred articles and essays for mainstream and subculture publications. He was editor-in-chief of Axcess magazine in 1998, GettingIt.com 1999–2000, and H+ Magazine 2008–2010.
RELATED: Occult Technology: 3 Magick Gadgets That Will Blow Your Mind
1970s–1980s: Sirius was a teenage Yippie activist in the early 1970s. He was the lead singer for Rochester, New York-based punk band Party Dogs from 1979 to 1981.
1990s: Sirius recruited Timothy Leary to be a contributing editor for Mondo 2000 and has taught an online course in Leary's philosophy for the Maybe Logic Academy. He co-authored Leary's last book, Design for Dying (1998), and wrote the introduction for a 1998 edition of Leary's 1968 book The Politics of Ecstasy.
Sirius appeared in the films Synthetic Pleasures (1995) and Conceiving Ada (1997). His mid-1990s techno-rock band Mondo Vanilli recorded an unreleased CD titledIOU Babe for Trent Reznor's Nothing Records. The music was available on the internet for several years and is currently available on bandcamp.
Sirius has been a speaker at many events, such as the Starwood Festival. He delivered the Keynote address for the Virtual Reality conference, Oslo VR, in 1994.
RELATED: 9 Podcasts and Interviews With Jason Louv: The Full Collection
2000s: In 2005 Sirius began hosting two weekly podcasts, the RU Sirius Show and NeoFiles. Both went on unannounced hiatus in August 2007 because their financial backer withdrew his support. In September 2006 Sirius helped launch the webzine 10 Zen Monkeys with fellow GettingIt.com alumni Jeff Diehl and Lou Cabron. All these projects were part of a media network named MondoGlobo.
From October 2008 to May 2010, Sirius was head editor of the transhumanist magazine H+ Magazine. He then turned his attention to a project documenting the history of Mondo 2000.
2010s: On June 7, 2011, R. U. Sirius launched Acceler8or, a counter-culture, Singularitarian/Transhumanist website.
Enjoy the episode, and check out R. U.'s books here!
Check out our free guide to chaos magick here. Start learning magick and occultism at Magick.Me, our online school for chaos magick. Start learning magick and occultism at Magick.Me, our online school for chaos magick. Start learning magick and occultism at Magick.Me, our online school for chaos magick.