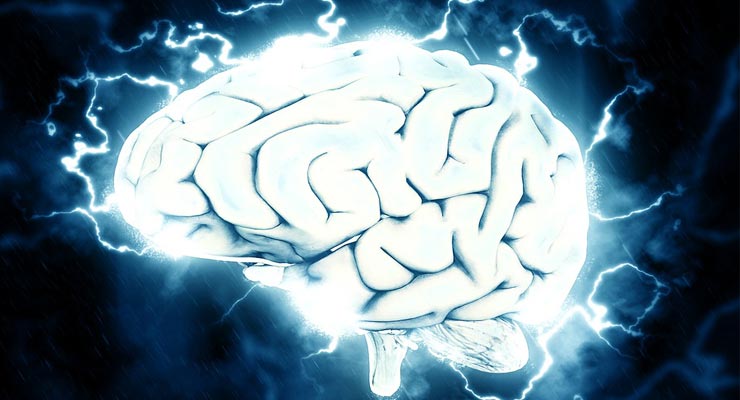 Get serious brain food with these ten sources of brain power—from blueberries to fish oil to pumpkin seeds, these brain boosters and memory boosters will give you an unstoppable edge!
Maintaining and improving brain power and brain health is just as important as maintaining physical health—and you need some serious brain food to live your life at 120 mph!
There's a whole range of brain food and supplements that can make immense improvements in mental clarity and functioning. I've listed ten brain food superstars below, including both the raw foods and the vitamins they contain in supplement form. Combined with basic behavioral changes—like daily cardiovascular exercise, proper sleep, staying hydrated and meditation—these ten foods can help you achieve peak mental functioning.
1. Blueberries (Antioxidants, B Vitamins)
Blueberries are full of both B vitamins and antioxidants, both boosting energy and protecting the brain from oxidative stress. One cup a day can provide a excellent brain food and a great mental lift. Blueberries are expensive when bought fresh (one of my favorite tricks used to be buying them by the pound at salad bars), but you can get heaps of dried, cheap ones on Amazon here.
B vitamins, in particular, are such a cornerstone of getting proper energy throughout the day that you should really consider supplementing with them beyond food sources. B6 (Choline) is excellent at boosting mental acuity, and B12 will boost your energy immensely. Get these vitamins separately (grab a sublingual B12 supplement for easier absorption by the body through the mucous membrane under the tongue) or in a B-complex supplement.
2. Fish Oil (Omegas)
Fish oil is like grease for your brain (and very good for the body, skin and preventing inflammation). Fish are an excellent source of Omega 3, 6, 9 (and 5, 7 and others), as well as DHA and EPA, all of which carry incredible benefits for the entire human body, making them an incredible brain food. The best source of fish oil, of course, is wild-caught fish (particularly salmon). HOWEVER, this is a bit of a problem, as nearly all of the world's fish are now contaminated with mercury and other heavy metals.
RELATED: 10 Foods to Naturally Protect Yourself From Fukushima Radiation
This means that it's likely now much safer to eat purified, mercury-distilled fish oil. You'll have to pay close attention, as not all fish oil is properly purified—a lot of fish oil is rancid, also, having sat on the shelf too long or having been improperly processed or stored.
For a cheap, mercury-free brand, try Costco's Kirkland brand, ironically one of the safer fish oils on the market despite its low price. But for the Rolls Royce of fish oil, go for New Chapter's salmon oil, which is so high-grade that it includes additional Omega acids (Omega 5 and 7) in addition to the standard 3, 6 and 9. (It's stupendously discounted on Amazon right now.)
3. Avocados (Monounsaturated Fat)
An excellent source of good fats (monounsaturated), which can improve blood flow and lower blood pressure, thereby improving brain function. Throw some in salad or spread on toast. You can also use avocado oil both for cooking and as moisturizer.
4. Whole Grains (Complex Carbs)
Processed grains are the devil. Whole grains—or, even better, sprouted grains—have a low glycemic index and provide the body with a constant stream of complex carbohydrates instead of the quick hit of simple carbs that comes from sugar.
My favorite, and easiest, way of getting whole grains is just eating slices of Ezekiel Bread (available cheaply at Trader Joe's, Whole Foods and many supermarkets, as well as on Amazon), which is made up of a mix of seven sprouted whole grains (it's apparently made from a recipe in the Bible, of all places).
5. Tomatoes (Lycopene)
An excellent source of lycopene, which protects against free radical damage in the brain—and also boosts heart and prostate health, as well as the immune system. Alternately, supplement with pure lycopene.
6. Pumpkin Seeds (Zinc)
An excellent source of zinc, which is also excellent for skin health, as well as testosterone levels in men. You can get a TON (well, two pounds, specifically) of pumpkin seeds cheaply on Amazon—or grab a zinc supplement.
RELATED: How to Make Your Own Bulletproof Coffee (Without Breaking the Bank)
7. Fresh Sage
Grab a handful of sage from the supermarket or a local farmer's market for a memory boost—or pick up some sage essential oil (you'll have to dilute it with another oil, like olive oil, before you eat it, though).
8. Broccoli (Vitamin K, Choline)
A necessary food for all-around health, broccoli sweeps out the system and immensely boosts your functioning; consider it a maintenance food. It's also a great brain food, as it's an excellent source of Vitamin K, which can directly boost cognitive functioning. It's also an excellent source of choline, mentioned above. (Supplement with Vitamin K here.)
9. Nuts (Vitamin E)
An ounce a day of raw nuts—Brazil nuts, walnuts, hazelnuts, almonds, cashews, etc—or unhydrogenated nut butters are not only an excellent source of protein, they're also full of Vitamin E, which protects against cognitive decline due to aging. (Grab Vitamin E here.)
10. Garbanzo Beans (Magnesium)
Garbanzo beans or chickpeas are an good place to get magnesium, which accelerates message transmission between brain cell receptors, as well as relaxing blood vessels, allowing more blood to reach the brain. That makes them a go-to brain food. (Protip: Here's an incredibly cheap bulk bag of GMO-free ones here.) A lot of people supplement with magnesium, as it's missing from most diets. However, it's actually exceedingly hard for your body to absorb magnesium from supplements.
It is, however, easy to get magnesium from transdermal (spray-on) magnesium. This stuff is INCREDIBLE. You spray it on yourself at night before bed and rub it into your skin; while it stings at first, it then puts you into a state of deep relaxation, making it much easier to sleep (like taking a bath in epsom salts, but much better). You'll also wake up feeling much more rested and without muscle aches, especially if you're athletic. It's also great for skin. (This is the brand I like.)
Push it Further and Unlock Peak Mental and Physical Energy!
In a fast-paced, rat race society, there's always too much to do, and not enough time or energy.
Luckily, there are a HUGE range of behaviors, tips and tricks that can help you achieve remarkable levels of physical and mental energy to face life like a fully-fueled warrior.
To unlock incredible energy, check out our online course on how to Achieve Peak Mental and Physical Energy.
This class will arm you with the tools you need to markedly improve your daily life in every area—and, most importantly, all of the exercises, tools and foods will be simple, cheap or even free, allowing you to slice through the marketing hyperbole and over-hyped crap to get to the core practices that can quickly turn you into a stronger, clearer, healthier, happier version of yourself.